3 financial things every young woman should do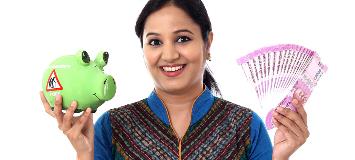 ---

In today's day and age, where women are seeking empowerment in every field, it also makes sense for women to take control of their own finances. Women are no strangers to handling finances, as they were the ones who managed all household expenditures in the earlier days. Better education, improvement in social attitude, entry of MNC's in India are some of the reasons why the woman of today can be said to be empowered.
Women today have access to world-class education, because of which they are also able to scale up the corporate ladder or maybe even create a million-dollar business. When one is earning money, it is very important for one to be able to manage the money.
Management of money isn't something that is gender specific – everyone needs to know how to manage basic stuff under money management, such as saving, investing, budgeting, allocating etc. Money management is something that doesn't seem very easy, but at its core, it embodies certain simple things that one should follow. Here are three financial things every young woman must keep in mind.
The budgeting should come first:
Management of one's money starts with management of the income itself. Ideally, the income needs to be divided for various things you need. In other words, you should allocate parts of the total income for various expenses like rent & electricity, transportation, saving, investments etc.
Money management is all about being able to set your priorities straight when it comes to money. For instance, a young woman who is fresh out of college lands a job. The job pays her well, say Rs. 30,000 a month. Now, because this young lady doesn't manage her money well, she is out of money by the 25th of the month. What happened there? Where did all that money go? This wouldn't have happened if she had set her priorities straight and allocated parts of her income to various needs.
Saving is not enough, you need to invest:
Women should educate themselves about investing. They should learn about various investment option available in the market not let just man of their life make their investment decisions.
Also, it is important to invest your money that you saved so as to grow it. There is one golden rule when it comes to investments – the power of compounding. Compounding investments leads to high return on investments. This is one of the incentives to start saving and then, investing it as soon as possible.
Take care of your finances even if you are not working:
Most likely, women have to leave their jobs due to the personal commitment like marriage, children, or taking care of family. In that case, it does not mean that women should stop thinking about finances. Even they need to save enough so that they spend it on educating themselves to join back the workforce in later years of life.
The Bottom Line:
Money management is necessary for both a pleasant present and a laid back, relaxed future. A well-planned investment scheme can be very useful, especially for young women. The money can be used for a lot of things, such as self-financing an extravagant wedding, or taking that expensive course in a foreign university. An early start in getting disciplined in money matters is all that you need in order to be successful.
Start Investing in 5 mins*
Rs. 20 Flat Per Order | 0% Brokerage
Open Free Demat Account
Mobile No. belongs to
By proceeding, you agree to the T&C.