5 paisa: Growing Your Wealth Through Strategic Partnerships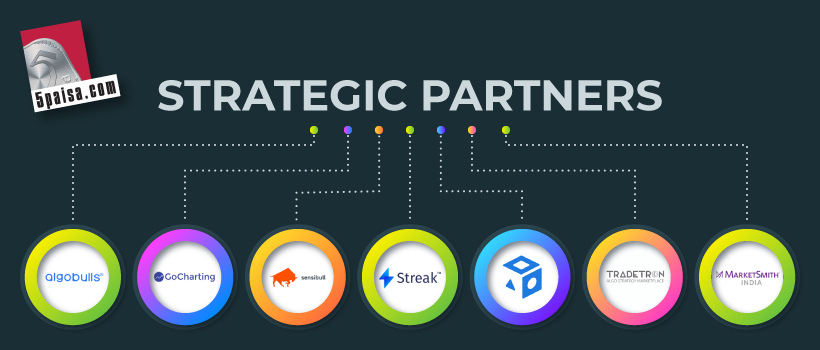 ---

At 5paisa, we are dedicated to provide our esteemed patrons with unmatched service and more value for every penny they spend. Delivering seamless and delightful customer experience is the cornerstone of all our activities. This approach has enabled us to build and strengthen enduring relationships with our customers – based on the invaluable pillar of trust.

The fact that we have crossed 2 million+ customers and are the fastest growing low-cost brokerage in India validates our approach and is a strong testimony of our success.
 
Check - 5paisa is now trusted by over 2 million customers, and counting


A key strategy behind our success has been our ability to form mutually beneficial partnerships with reputed organizations across the investing value chain. These players have each created their own niche in the trading/investing space and provide need-based, value added products/services/platforms to users.

Partnering with them enables 5paisa to create value in several ways. On one hand, they help us enhance customer experience without compromising on the aspect of quality and on the other hand, these partnerships help us accelerate organic growth at a much smaller cost of customer acquisition. Such collaborations are a win-win situation for all primary stakeholders, including our customers as well as business partners.

If you are a customer of 5paisa, you might already be aware of at least one or more of our partners and how together, we create value for you. These partnerships cater to all sets of our customers – traders, investors, new-age investors, etc. In this write-up, we explain all our prominent partnerships and how they create value for our customers.


Our partners:
 
| | | |
| --- | --- | --- |
| Streak | Traders | |
| Smallcase | Investors | |
| Sensibull | Option traders | |
| Tradetron | Traders | |
| Gocharting | Traders across asset classes, including cryptocurrency | |
| Algobulls | Traders, investors | |
| MarketSmith India | Traders, investors | |

5paisa.com has integrated Streak's platform with its own to empower our customers and retail traders in particular to take their game to greater peaks. Streak is the world's first trading platform that allows retail traders with zero coding skills to back test and deploy their trading strategies, scan through the market for opportunities using the scanner and maximize the potential of their trades.

Streak supports more than 80 technical indicators which can be used to create millions of unique trading strategies with various permutation and combinations.

Streak lets traders plan and manage their trades without coding, on the go. We have made strategic trading accessible and affordable to all. Traders can now be disciplined easily and manage risks better.

Streak Interface is
| | | | | |
| --- | --- | --- | --- | --- |
| Simple | Intuitive | Easy to use | Accessible | Affordable |
Here's how you can operate with Streak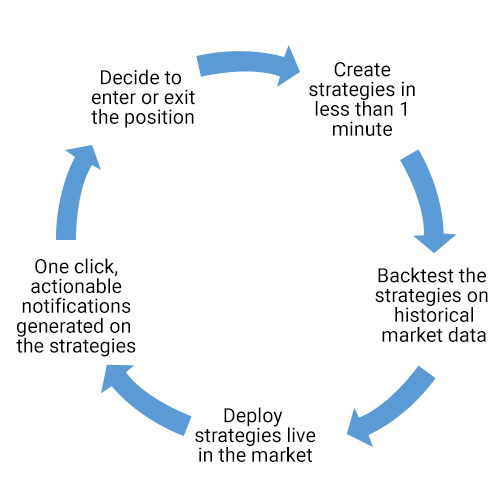 Smallcase Techologies

Our partnership with smallcase technologies caters specifically to small-ticket retail investors. Smallcases are curated theme-based portfolios, developed by Smallcase Technologies. Through smallcases, investors can invest their funds in a theme/s of their choice with just a single click.

Smallcases are a basket or portfolio of stocks and ETFs in a specified weightage, reflecting certain themes or strategies. Usually, these portfolios are created by a team of analysts and have small ticket sizes. 
Some prominent themes/strategies investors may select while buying a smallcase include:
 
| | | | | |
| --- | --- | --- | --- | --- |
| Digital businesses | Momentum stocks | Value stocks | Stocks tied to rural demand | Dividend yield stocks |
As of now, 250 basket of stocks exist, and 120 of them are managed by SEBI-registered smallcase managers. Smallcase today hosts several ready-made portfolios and investing strategies that have been created by SEBI-licensed professionals such as brokers and research analysts, using quantitative models and algorithms to screen and weigh constituents. 

Sensibull is India's first options trading platform, offering everything from simplified options trading for new investors to powerful trading tools for established professionals. Sensibull aims to make options trading safe, accessible, and profitable for all.

This platform combines features of a strategy engine that recommends option strategies to traders with a trading platform that enables executing the strategy. It also makes executing complex strangle strategies like strangles, straddles etc., easier with a single click. In simple words, the platform cuts a lot of math and technical details to make trading simpler and easier.

The platform suggests a list of strategies based on a trader's market view. Further, it provides traders with all essential information like trade, strike prices, risk, profit and loss potential. Traders can also compare different option strategies to find the right one for them.
 
Key features:
a) Easy Options for new options traders: Traders can just say if the market is up, down or neutral
b) Advisory service – Provide strategies where traders cannot lose more than a pre-defined amount
c) Virtual trading of futures and options
d) Conveniently set price and P&L alerts on WhatsApp
e) Option Strategies Wizard – Provides best option strategy based on the view of the trader
f) Builder – Create custom strategies to trade one's view and visualize the P&L 
g) Positions - Track positions, undertake a scenario analysis of trades
h) Spot trading opportunities with option chain, FII data, using volume, OI, IV, IVP, etc. 
i) Price calculator - Forecasts traders' P&L on a single leg options trade 

 

Tradetron is a low code/no code platform which makes bots that trade users' strategy for effortless execution.

It has following key features:
Trading engine

A powerful trading engine built on distributed architecture. It connects with multiple data providers to source near real-time data of multiple exchanges around the world in stocks, futures, options, currencies and commodities.

Strategy Building Wizard
Enables vol skew, a simple buy and hold strategy, complex market making, etc.

Social trading and strategy marketplace

Makes participation in financial markets easy and transparent, helpful especially for new traders and investors.

Backtesting engine

Tests traders' strategies in real-time with historical data before going live. This includes testing for keywords ranging from holidays and corporate results to IVs and HVs. The backtesting results provide deep insights into how the strategy could perform going forward.

GoCharting is an advanced web and mobile based charting, trading and analytics platform that supports all asset classes and multiple exchanges including NSE and MCX. It is world's first and only web-based platform that supports order flow charting on the web. 
With 5Paisa integration, it provides trading from charts directly in traders' account through OAuth.
GoCharting provides real-time advanced charting services to crypto traders and uses the analytics and a wide variety of metrics on cryptocurrencies. GoCharting covers 100+ cryptocurrency exchanges through its platform and provides analysis on more than 22,000 crypto pairs.

GoCharting's platform provides one of the most comprehensive free tools in analysis to meet one's trading analysis needs. It offers imbalance charts, composite and fixed volume profile, session, and it provides them free of charge and in real-time.

It also offers over 150 market indicators and drawing tools to balance out the usage of charts. Another type of analysis that the platform provides is the automatic calculation of the market and volume profile charts, DOM charts, and price ladders.

 

AlgoBulls focuses on providing investment advice by leveraging technology. 

Its key features include:

a) A simple, intuitive and self-directed platform
b) Access to same high yield assets and strategies once available only to large-ticket investors
c) Investment technology and products perceived to be tailored to individuals one at a time
d) Access to multiple channels and several technologies models in the form of back testing and paper trading engines at the same time
e) Integrates advice from multiple advisors, technology platforms, professionals, experts, etc.
f) Downside protection and hedging in the form of diversification

 

MarketSmith India helps users streamline their investing research into a single window, providing them with the resources of a stock market professional from the comfort of their desk.

5paisa offers two products in collaboration with MarketSmith India, namely, Smart Investor and TraderSmith.
 
Smart Investor

TraderSmith

1) Provides high-quality research on 4,000+ stocks

2) Helps customers identify high growth stocks

3) Sends timely notification on buy, sell and other recommendations

1) Provides short-term recommendations from experts

2) Provides regular analysis on markets
So, what do you think of these partnerships? Did you find something interesting and relevant to you? If yes, reach out to 5paisa team.
Also Read:-
Start Investing in 5 mins*
Rs. 20 Flat Per Order | 0% Brokerage
Open Free Demat Account
Account belongs to
By proceeding, you agree to the T&C.