5paisa: Delighting traders – कल, आज और कल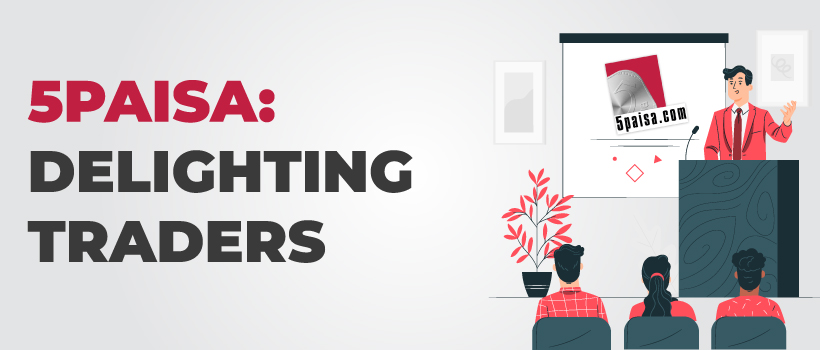 ---

At 5paisa, we take the term 'Happy trading' quite seriously. It is our constant endeavor to identify newer ways to optimize the experience of trading, find and address bottlenecks and understand the ever-evolving needs of investors.

This is one of the key reasons behind the strong pace of customer acquisitions at 5paisa with average monthly rate of customer acquisition of 1,25,000.

The quarter ending September 2021 marked our highest-ever quarterly customer acquisition at 3.4 lakh. Recently, our customer base crossed 2 million, reinstating our faith in our strategy as well as our execution capabilities.

How is 5paisa enriching the trading experience, you may ask. फ़िकर not, we are here to answer all your queries.
 
Revamped web and desktop trading applications

Recently, we launched a new and revamped web trading platform to provide users with best-in-class features, ease of operating, seamless navigation and speedier transactions. This platform now offers a renewed user interface, wherein we have embraced some of the best features and have also addressed the weaklings.

Speed has always been the strongest coat of our web trading platform and now you can complete even more activities faster. These include but are not limited to a) leveraging bracket order and cover order and b) converting positions between intraday and delivery.

This platform also provides features such as: a) portfolio summary and detailing, b) easy and improved fund transfers, c) advanced charting experience, d) market analytics, e) improved option chain with streaming rates, f) price alerts and g) fundamental and technical analysis of individual stocks.

Constant engagement and interaction with customers forms the cornerstone of our success so far. We take the feedback of our customers and translate it into actions that not just address the issue-at-hand, but also elevate the overall customer experience with us.

One such step we took in recent times was to upgrade our desktop trading application. Now, this platform packs a punch with new and revamped features such as

1) Options chain
2) OI watch
3) Spread watch
4) Real-time scanner
5) Native charts with 140+ studies 
6) Options strategy
7) Charting strategy and back-testing 
8) Workspace customization
9) Market analysis
10) Real-time news updates
 
Fortifying our position through pioneering

Since our inception five years back, we have pioneered several new products and services in the brokerage industry. This year too, we added few more feathers to our cap of 'firsts'.

We are the first brokerage in India to introduce a social sharing feature for P&L from open positions.
We are also the first brokerage to introduce one-click net banking payments enabling, faster fund transfers.

Our customers can now bid adieu to cumbersome processes of maintaining user ids and passwords, plugging in one-time passwords and using card grids.

Few more additions to our kit….
 
Margin plus plan

A) Available at zero cost
B) Carries lower delayed payment charges 
C) Provides 100% collateral benefit up to the extent of margin required on F&O positions

Traders need to maintain a minimum balance of Rs.10 lakh to avail this benefit. 

Payout without keeping 50% cash 

To improve the withdrawal process, we have started considering the collaterals while calculating the payout. This means traders can receive higher payouts despite having open positions.

How does it work?

Earlier at the time of taking payout, we consumed full margin requirement by exchange for an open position in cash so as to mitigate our risk with respect to the trader's open position. In this scenario, traders had to keep 100% margin requirements in cash, even if they had stock collaterals.

So to improve this process, we have started considering the collaterals up to 50% of a trader's margin requirement or amount of collaterals, whichever is lower.

Let us understand this with an example:

Cash balance in trader's ledger: Rs. 1,50,000

Value of collaterals: Rs. 4,00,000 

Open position: Rs. 2,00,000


In this case, let us understand the difference in payout then and now.
| | |
| --- | --- |
| Then | Now |
| Cash Balance - Open position = Amount available for payout | Cash Balance - Open position + (50% of open position or collateral value whichever is lower) = Amount available for payout |
| Rs. 1,50,000 - Rs. 2,00,000 = Rs. -50,000 | Rs. 1,50,000 - Rs. 2,00,000 + (Rs. 1,00,000 or Rs. 4,00,000 whichever is lower) = Rs. 50,000 |
| Eligible value for payout would be 0 here since the balance available for payout is negative | Eligible payout value would be Rs. 50,000 |
Order level hedge benefit

Earlier, we offered hedge benefit at trade level which means a trader's all strategy legs needed to be executed to get the hedge margin benefit.

But now, traders can get the hedge margin benefit even on order level. In other words, the margin requirement as per hedge will reduce at order level itself, when the trader has a risk defined leg in open position. 

An important point to note here is that traders must have at least one order (leg of hedge) executed to get the hedge benefit while placing hedge order and the executed leg should have a defined risk.

Some of the other important features we now provide include:

i) VTT orders - Place an order with a perpetual validity until the order is triggered
ii) Hedge benefit in commodity segment 
iii) Live position conversion to carry forward the position
iv) Buying options on the basis of net available margin and not on clear cash position

.. and the ones coming soon

a) Basket orders - With this, users will be able to add multiple orders and place them all together at one go with a single click.

b) Quick options 

I wish happy trading to you all, while humming this beautiful Sahir Ludhianvi song, "तदबीर से बिगड़ी हुई, तकदीर बना ले अपने पे भरोसा है तो एक दाँव लगा ले, लगा ले दाँव लगा ले "
Also Read:-
5paisa is now trusted by over 2 million customers, and counting
Start Investing in 5 mins*
Rs. 20 Flat Per Order | 0% Brokerage
Open Free Demat Account
Account belongs to
By proceeding, you agree to the T&C.