Best Apparel Stocks to Buy in India 2023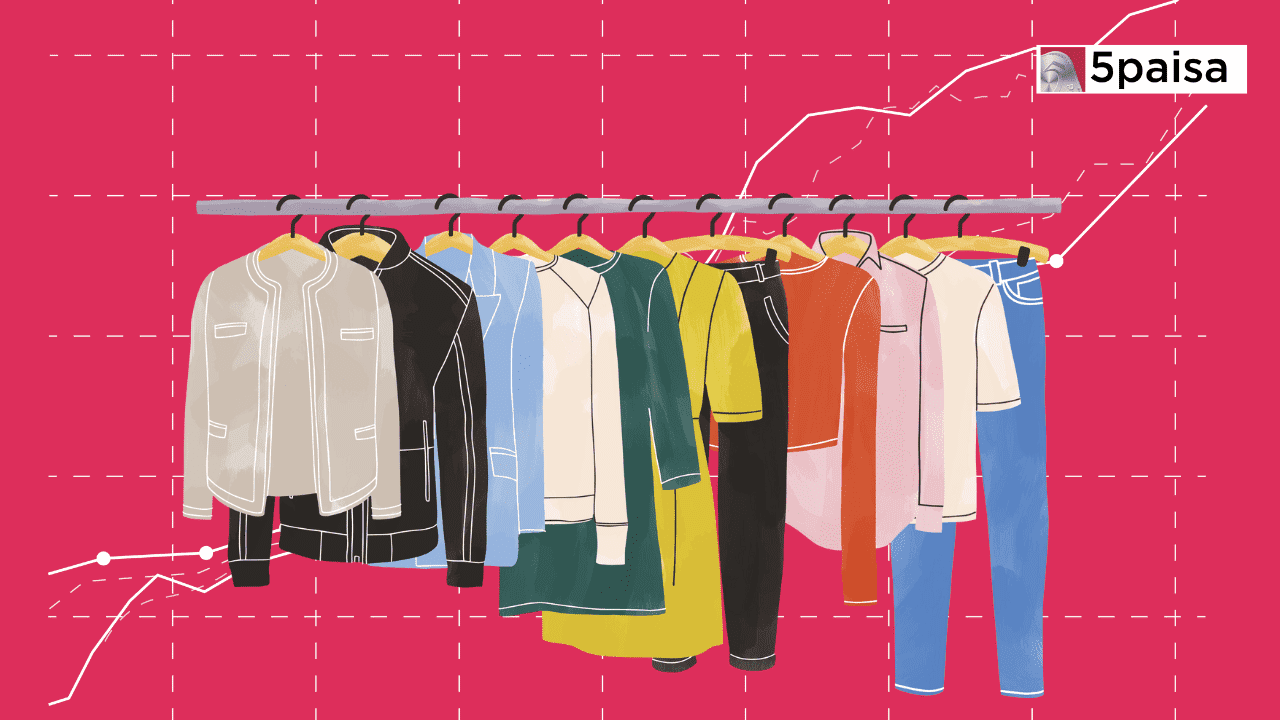 ---

India's apparel market suffered a slowdown in 2020 and 2021 due to the lockdowns imposed to control the Covid-19 pandemic. While demand fell because schools, colleges and offices were closed for several months, supply was restricted as factories, shops and shopping malls remained closed, too.
The size of the ready-made garment retail market is estimated to have increased at a compound annual growth rate of about 9% to Rs 5.7 trillion between 2014-15 and 2018-19, according to industry estimates and Crisil Research. The market size fell about 30-32% in 2020-21 due to the impact of the pandemic.
However, demand began to rebound last year as the economy recovered and the restrictions eased. The market size is now projected to reach Rs 8.1-8.2 trillion by 2024-25, registering a CAGR of 18-20% between 2021-22 and 2024-25, driven by new store additions, pent-up demand, changing consumer lifestyle, and growing brand awareness. This growth will directly benefit apparel companies, offering investors an opportunity to deploy their capital.
Defining the Best Apparel Stocks
India has a large number of publicly listed textile and apparel companies. These companies operate in a variety of segments, so a strict like-to-like comparison to ascertain the top 10 apparel stocks would be difficult.
Some companies, for instance, manufacture technical textiles while others may focus on producing clothing and accessories. Some companies are also into apparel retail, but even here there are several segments such as occasion wear or luxury wear, business wear and sportswear.
The list of the top apparel stocks in India includes Page Industries Ltd, KPR Mill, Raymond, Go Fashion (India) Ltd, Gokaldas Exports, Arvind Ltd, Lux Industries Ltd, Kewal Kiran Clothing Ltd, Dollar Industries Ltd and Rupa & Co.
Overview of Best Apparel Stocks
Page Industries: The company is the exclusive licensee for manufacturing and distribution of the Jockey brand of innerwear in India, Sri Lanka, Bangladesh, Nepal and the UAE. It is also the exclusive licensee for the manufacturing and distribution of the Speedo brand of swimwear in India. While its share price is high in absolute terms, it has a good track record with return on equity of about 47% over a three-year period and a healthy dividend payout.
KPR Mill: The company is a vertically integrated apparel manufacturer and produces yarn, knitted fabric and readymade garments. Its share price has soared over the last few years, driven by consistent growth in sales, profit and return on equity.
Raymond: One of the most well-known apparel companies in India, Raymond is among the largest vertically and horizontally integrated manufacturers of worsted suiting fabric in the world. The company is nearly a century-old and has a wide retail network of more than 1,600 stores spread across the country. While its revenue growth has been in single digits in recent years, it has managed to deliver double-digit profit growth, pushing its shares higher.
Go Fashion: The company was founded only in 2010 and listed on stock markets only in late 2021. While the company's stock has had a roller-coaster ride since listing, the company has grown rapidly to emerge as one of the largest bottom-wear brands for women in India. The company's flagship brand is 'Go Colors'.
Gokaldas Exports: The company sells a wide range of garments for men, women, and children. It caters to the needs of several international fashion brands. The company is also expanding its overseas presence and recently acquired Dubai-based apparel maker Atraco Group for $55 million. Its stock remained rangebound for a few years but has more than doubled over the last one year, in line with a similar rise in its quarterly sales and profits.
Arvind: The company and its subsidiary Arvind Fashions are among the textile and apparel groups in the country. Arvind is best known as a denim manufacturer though it also makes cotton shirting, khakis, and shirts. The company's share price has nearly doubled over the past four-five months, outpacing the broader market.
Lux Industries: Set up in 1995, Lux has emerged as one of the largest organised players in the innerwear and hosiery business. The company has more than 100 products across 16 brands and sells its products through more than 4.5 lakh retail points across India. The company has faced pressure on sales and profit front. On the plus side, its debt levels are low and it has zero promoter pledge. Moreover, its book value per share has improved in recent years.
Kewal Kiran Clothing: The three-decade-old company makes branded readymade garments and finished accessories. It also exports to Asia, the Middle East and Europe. It has low debt on its books, its profit margins as well as ROCE and ROE have improved in recent years, helping it attract several foreign portfolio investors.
Dollar Industries: The company mainly makes hosiery products in knitted innerwear, casual wear and thermal wear. While its revenue and profit have been under pressure in recent quarters, it has low debt and zero promoter pledge. Moreover, its share price is trending above its short, medium and long-term moving averages.
Rupa & Co: Rupa is best known for innerwear and hosiery products even though it also makes textile, leather and other apparel products. Its stock price fell in the last quarter of 2022 but has trended upwards this year. Its quarterly revenue and profit have been under pressure of late, but low debt and pledged shares bode well for the company.
Performance of 10 Best Apparel Stocks to Invest
Investors looking to bet on top apparel stocks should first evaluate the financial performance of these companies and check other important metrics such as the price-to-earnings ratio. Here is a snapshot of the top apparel stocks.
Things to Consider Before Investing in Best Apparel Stocks
Investors looking to put their money into apparel stocks must keep in mind certain factors before taking the plunge. Here are some of these factors.
Check the financials: Investors should check the financial performance of the companies in which they want to invest. In particular, they should analyse revenue growth, profitability, expenditure, margins and debt levels.
Stock performance: Investors should look at the short- and long-term performance of the stock and compare it with its peers as well as benchmark indices. This will help them analyse the trends and establish patterns.
Valuation metrics: Investors should look at metrics other than just the share price and market capitalization. These metrics include the price-to-earnings ratio, earnings per share, return on equity, and return on capital employed.
Market trends: Investors should be aware of the latest trends in fashion, clothing and apparel industry. This can help them ascertain what trends can hurt or harm apparel stocks. For instance, the Covid lockdowns gave a boost to comfort wear and home wear segments but dragged down demand for business wear and school uniforms.
How to Invest in Best Apparel Stocks?
While every investor must do adequate research before investing in the stock markets, the actual investing process has never been easier with dozens of options to choose from. All that one needs to do is open a demat account with a brokerage such as 5paisa.com and complete the know-your-customer requirements. Thereafter, just choose the apparel stocks you want to bet on and start investing.
Conclusion
India's apparel and textile industry is projected to grow steadily over the next few years, and may even the broader growth in the economy. This will benefit many companies and, in turn, open up investment opportunities for stock market investors. But just like investing in any other sector, investors should do their research, decide their capital allocation and be mindful of risks before putting money into apparel stocks.
Frequently Asked Questions
Is it safe to invest in best apparel stocks?
Is it worth investing in best apparel stocks in 2023?
How much should I invest in best apparel stocks?
Who is the market leader in apparel sector?
Start Investing in 5 mins*
Rs. 20 Flat Per Order | 0% Brokerage
Open Free Demat Account
Account belongs to
By proceeding, you agree to the T&C.