Best Cosmetics Stocks in India 2023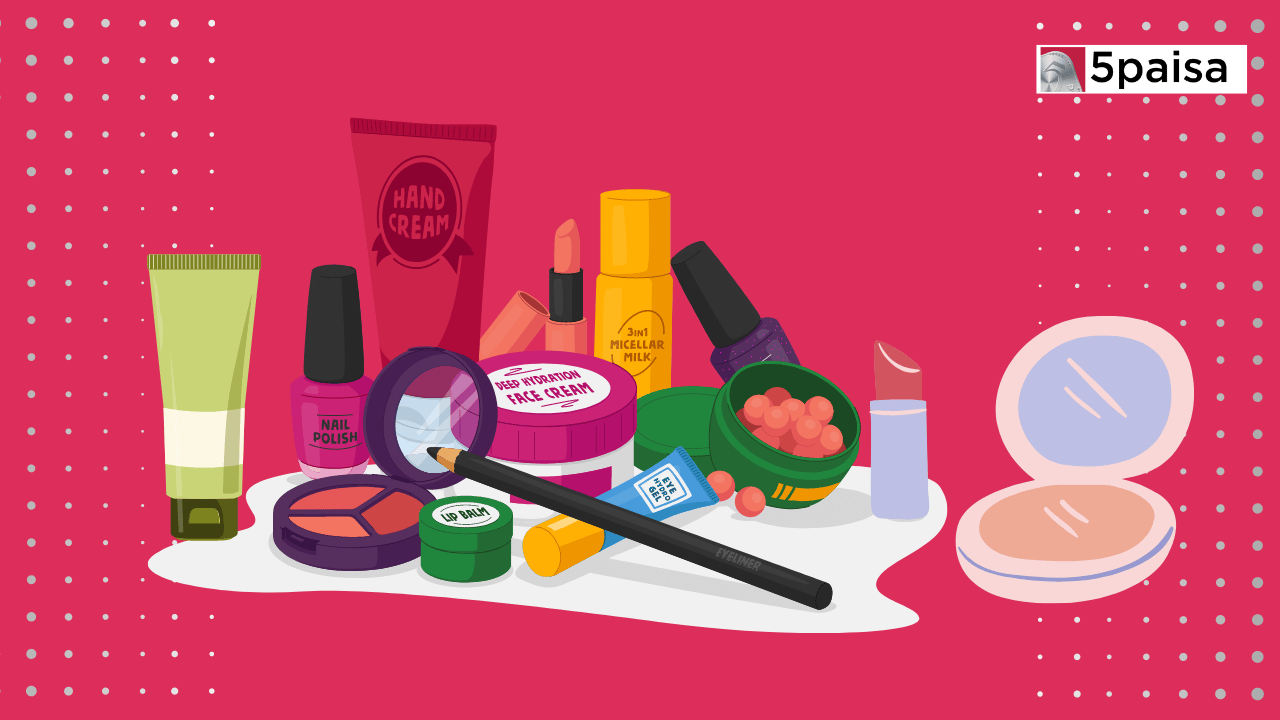 ---

Traditionally, Indian households have spent a lower amount on beauty and personal care products in comparison to other countries. And the amount spent on the cosmetics segment, a part of the broader beauty and personal care category, shrinks even further.
In 2021, for example, per capita beauty and personal care expenditure in China was 4.5 times that in India, according to RedSeer research and analysis. In fact, India's per capita spending on this category of products is even lower than in smaller economies such as Indonesia and Bangladesh. This indicates a huge potential for growth.
According to industry estimates, there are more than 3,500 beauty and personal care companies in India, with about three dozen companies clocking revenue of at least Rs 100 crore. Overall, India's beauty and personal care market is currently valued at around $17 billion, according to industry estimates. This market is expected to grow to about $30 billion in 2026 at a compound annual rate of almost 12%, thanks to rising consumer awareness and income levels.
Within this market, cosmetics is projected to be one of the fastest-growing segments due to the emergence of new-age brands, greater brand consciousness and the rapid growth of online shopping. This makes a strong case for investing in cosmetics stocks, which refers to shares of companies that make beauty products such as makeup, lotions, shampoos, perfumes, hair colours, and accessories.
Top 10 Cosmetics Stocks
India has many publicly listed consumer goods companies that make cosmetics, though several among those also make other personal care products. The list of the top cosmetics stocks in India includes Hindustan Unilever Ltd, ITC Ltd, Godrej Consumer Products Ltd, Dabur India Ltd, Procter & Gamble Hygiene and Healthcare Ltd, FSN E-commerce Ventures Ltd (Nykaa), Emami Ltd, Gillette India Ltd, Bajaj Consumer Care Ltd and Kaya Ltd.
Overview of Best Cosmetics Stocks
Hindustan Unilever: HUL is India's biggest FMCG company and is also a market leader in several segments with many blockbuster brands such as Axe, Lux, Lifebuoy, Pond's, Vaseline, Lakmé and Dove. The blue-chip company has a low debt, zero promoter pledge and is showing an improvement in return on equity. On the flip side, its valuation is on the higher side and it is facing tough competition from new-age companies, ayurvedic and organic brands.
ITC: The company is best known as India's biggest cigarette maker but it has been trying hard to shed that tag. Over the past few years, ITC has emerged as one of the country's biggest FMCG companies. It is also making its mark in the cosmetics segment with brands like Engage deodorants and perfumes, Fiama shower gels and accessories, Vivel body wash, Superia shampoos and Charmis cream.
Godrej Consumer Products: The Godrej Group firm is not only a formidable cosmetics company in India but also has a strong presence in several other countries across Southeast Asia, Africa, Latin America and Europe through brands such as Cinthol, Darling, Illicit, and Mega Growth. The low-debt company has also seen higher FII shareholding in recent quarters.
Dabur: Traditionally, Dabur has been best known for its Chyawanprash health supplement, honey, hair oil and fruit juices. But it has been ramping up its product portfolio and sells several Ayurvedic products. In the cosmetics category, the company has products such as Vatika face wash and the Fem range of creams and bleach. Dabur has a healthy dividend payout history and has posted a steady growth in profit and revenue.
Procter & Gamble Hygiene and Healthcare: The company is the local subsidiary of the multinational conglomerate P&G. The parent company owns a wide range of brands such as Old Spice, Pantene, Head & Shoulders, and Olay. The company has a high return on equity and a strong history of dividend payouts.
Emami: The company has made for itself in the personal care segment and especially the Ayurvedic products category. With brands such as BoroPlus, Fair and Handsome, Golden Beauty, Naturally Fair, and Creme21. Its price-to-earnings ratio is below long-term averages and the stock has been drawing interest from institutional investors.
FSN E-commerce Ventures: The company operates under the Nykaa brand and is the most recent cosmetics stock to debut on stock markets, barely a year ago. Founded by former investment banker Falguni Nayar, Nykaa has emerged as one of India's top cosmetics brands through an online-to-offline marketing strategy that captured the imagination of young as well as middle-aged consumers. While the company's stock has fallen since listing, the fact that it has given established powerhouses a run for their money in just about a decade speaks volumes about the brand.
Gillette India: Gillette is part of P&G Group and focuses on men's grooming requirements. It is best known for its shaving products. Like P&G Hygiene and Healthcare, Gillette India also has a strong history of dividend payouts.
Bajaj Consumer Care: Like Dabur and Emami, Bajaj Consumer Care has also made its name in ayurvedic products category. The company sells its products under the flagship Bajaj brand as well as under Nomarks and Natyv. The stock is trading its 52-week high, helped by robust growth in quarterly revenue and profits.
Kaya: The company was spun out of Harsh Mariwala-led FMCG major Marico about a decade ago. The small-cap stock has a low PE ratio but has recorded sales and profit growth. Kaya sells a wide range of face and body cream, moisturisers, shampoo, hair serums, toners, sunscreens, masks and peels.
Performance of Top 10 Cosmetics Stocks
Investors looking to bet on best cosmetics stocks would do well to check the financial performance of these companies and look at other important metrics before putting their money to work. Here is a quick performance snapshot of the top cosmetics stocks.
Who Should Invest in Top Cosmetics Stocks?
Most cosmetics stocks in India are essentially part of companies that also sell personal care products and fast-moving consumer goods. These companies are generally referred to as defensive stocks since they are comparatively less volatile than stocks in some other sectors since demand for their products remains stable even when broader macroeconomic or business conditions are weak.
Since sales of say hair oil or skincare products are generally less affected than, say, automobiles or consumer appliances, personal care and cosmetics stocks can shield an investor's portfolio from wild swings, especially in bearish market conditions. Moreover, these stocks also have a history of dividend payouts. So, investors looking to earn a regular income and keeping their risk levels low can consider investing in such stocks.
How to Invest in Best Cosmetics Stocks?
While every investor must do adequate research before investing in the stock markets, the actual investing process has never been easier with dozens of options to choose from. All that one needs to do is open a demat account with a brokerage such as 5paisa.com, complete the know-your-customer requirements, and start investing.
Things to Consider Before Investing in Top Cosmetic Stocks
Investors looking to bet on stocks, be it in any sector, must do thorough research beforehand to minimize the risk of loss. Here are some of parameters to consider before investing in cosmetics stocks:
Financial performance: This is the most basic exercise that one must do. Investors should check the financial performance of the companies in which they want to invest. In particular, they should look at revenue growth, profitability, finance and other costs, and debt levels.
Brand presence: Cosmetics companies need strong brand recall to succeed in the marketplace. Companies with multiple strong brands find it easier to attract and retain customers and command premium pricing.
Competitive scenario: As pointed out above, India has hundreds of beauty and personal care companies. One must look at a company's competitors, too, before investing.
Market dynamics: Investors must check the prevailing trends within the cosmetics industry. This could mean looking at products or categories seeing a shift in demand, changing consumer preferences, and evolving beauty standards.
Distribution network: Cosmetics companies, like the broader FMCG industry, need a strong distribution network to reach customers, especially in smaller towns and rural areas. A brand's online presence, too, is gaining significance.
Conclusion
Beauty trends can often change quickly. This requires cosmetics companies to quickly adapt, innovate and improve their products. This can be an expensive task. Moreover, stiff competition can push marketing and advertising costs higher. Still, both local and multinational cosmetics companies are expanding in India as they expect strong growth in demand for the next several years thanks to rising disposable incomes of consumers and rising awareness.
Growing demand will benefit cosmetics companies and, in turn, their stocks. This can offer stock market investors an opportunity to jump on the bandwagon and score handsome gains.
Frequently Asked Questions
Is it safe to invest in top cosmetics stocks?
Is it worth investing in top cosmetics stocks in 2023?
How much should I invest in top cosmetics stocks?
Start Investing in 5 mins*
Rs. 20 Flat Per Order | 0% Brokerage
Open Free Demat Account
Account belongs to
By proceeding, you agree to the T&C.