Best Drone Stocks in India 2023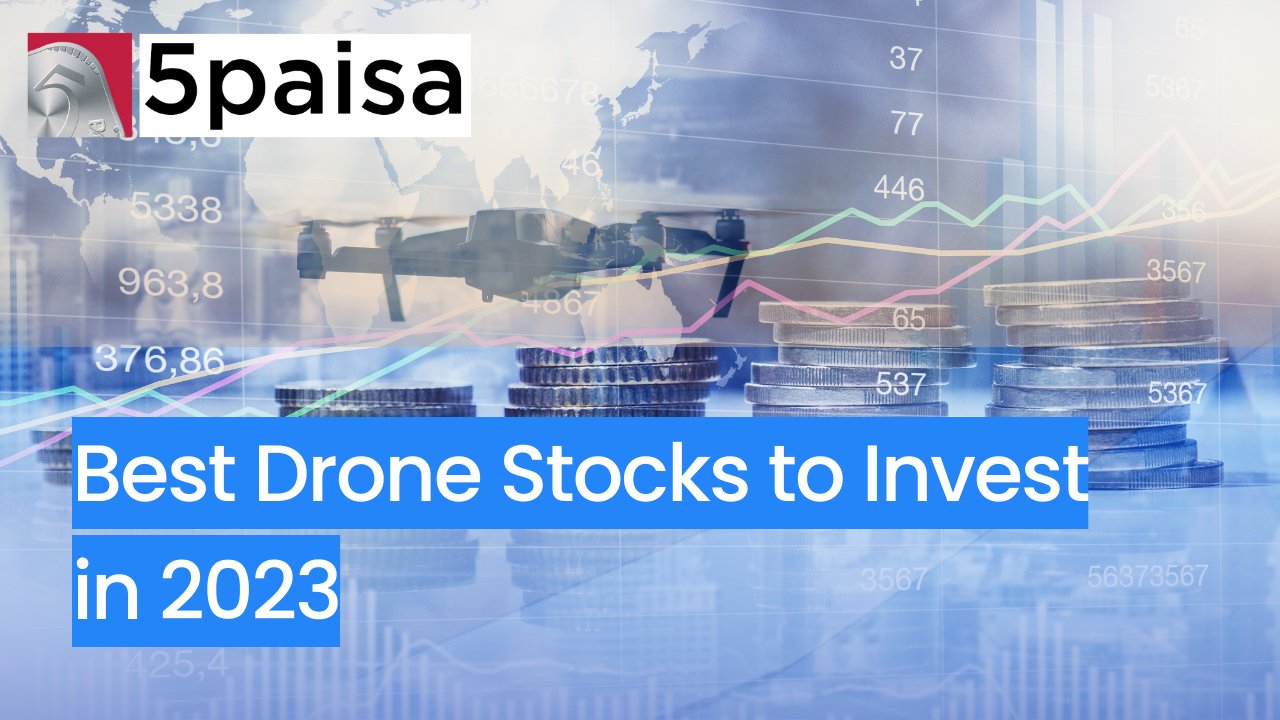 ---

Drones, also known as unmanned aerial vehicles (UAVs), have a wide range of use across industries. The drone technology has emerged as one of the many disruptive technologies that is set for a big leap given its effectiveness in cost-cutting and likelihood of mass adoption. Drones are already being seen as the future of warfare in the defence sector and the best delivery mode in the ecommerce industry.
While drones are at a nascent stage in India, they have got a foothold in many industries abroad. India has seen around 49 deals in the drone sector in the last four years, according to a 2022 report by KPMG. The government also aims to make India the global drone hub by 2030 and has taken many initiatives to meet its target.
To ensure that India is not left behind in the drone revolution, the government has launched a production-linked incentive (PLI) scheme for companies willing to make drones in India. The PLI scheme has an outlay of Rs 120 crore over three years. This is expected to act as a booster shot for the nascent industry in India. 
Common uses of drones
Drones have come to be used in several fields. And as technology continues to improve, we can expect to see even more applications of this versatile technology. Some of its common uses are:
Aerial Photography and Videography: Drones equipped with high-quality cameras are used to capture aerial photos and videos for various purposes such as journalism, filmmaking, real estate, surveying, and more.
Agriculture: Drones are used in agriculture to survey crops, monitor plant health, and even spray pesticides and fertilizers over fields.
Search and Rescue: Drones equipped with thermal cameras and other sensors can help search and rescue teams to locate missing persons in remote or dangerous areas.
Delivery and Logistics: Companies are exploring the use of drones for package delivery to customers in remote or hard-to-reach areas.
Construction and Infrastructure Inspection: Drones are used to inspect structures such as bridges, pipelines, and buildings for damage, defects, and maintenance needs.
Mapping and Surveying: Drones can create highly accurate 3D maps and models of terrain and structures for various purposes such as land surveying, urban planning, and more.
Wildlife Conservation: Drones equipped with cameras and sensors can help monitor and track wildlife populations, including endangered species.
Security and Surveillance: Drones can be used for surveillance and security purposes, such as monitoring crowds at events, border surveillance, and tracking criminal activity.
Best Drone Stocks in India
Many companies in India have already ventured into making drones. Following are listed companies or drone stocks to watch out for in 2023:
1. Hindustan Aeronautics Ltd
The company is at the forefront of drone technology development in India, thanks to its state-owned nature and an already established reputation in air security of the country.
The company is working on multiple drones, mostly for defence requirements and is also converting Kiran range of aircraft into unmanned aerial vehicles. HAL is expected to be biggest beneficiary of Indian government's push towards developing local drone technology.
2. Reliance Industries Ltd
India's most-valued company, Reliance Industries, owns a majority stake in Bangalore-based startup Asteria Aerospace, a drone technology company providing actionable intelligence from aerial data.
The startup is also developing customized drone solutions for government and enterprise applications using its in-house hardware design, software development, and manufacturing capabilities.
3. Paras Defence and Space Technologies
Paras Defence is a defence engineering company offering products in the area of defence electronics, defence and space optics and defence heavy engineering. It claims to be the only company in India to make infrared optics in large quantities.
Its subsidiary Paras Aerospace is involved in drone services and associated technologies. Another subsidiary Paras Anti-Drone Solutions is involved in development of RF and microwave systems and sub-systems aimed at counter UAV solutions.
4.Solar Industries India
Solar Group is an industrial explosives manufacturer and is developing fragmentation cum blast warheads weighing 1- 10 kg that can be dropped from individual drones or swarms of drones. Its wholly-owned subsidiary Economic Explosives Limited has developed loitering munitions for drones and already tested it.
The company and its subsidiaries are also developing hexa-copter drones with single or multiple explosive payloads that can be dropped from a height of 300-500 metres.
5. Zomato Ltd
Food delivery and restaurant listing website Zomato has been following Amazon's footprints by experimenting with drone-based deliveries.
Zomato acquired drone start-up TechEaagle to get a foothold into the drone-based food delivery business that is in nascent stages.
6. Zen Technologies
Hyderabad-based Zen Technologies Limited designs, develops and makes combat training solutions for security forces. It claims to have produced over 40 different live fire, live instrumented, virtual and constructive training systems.
The company is working on drone detection technology for passive surveillance, camera sensors and neutralization of the threat through jamming the drone communication.
7. Rattanindia Enterprises Ltd
RattanIndia Enterprises is a tech-focussed company with businesses including e-commerce, electric vehicles, fintech and drones.
Its subsidiary NeoSky India Ltd offers drone-as-a-product, as well as drone-as-a-service. Throttle Aerospace Systems, a step-down subsidiary claims to be a market leader in enterprise, defence and delivery drones in India.
RattanIndia Enterprises has also made investments in US-based Matternet that is involved in urban drone logistics. According to media reports, RattanIndia Enterprises plans to invest around Rs 100 crore in its drone business.
8. Info Edge (India) Ltd
Info Edge has many internet-based businesses including Naukri.com and jeevansathi.com. It was also early investor in Zomato.
In 2021, it led $3 million funding in Bengaluru-based Skylark Drones, which is helping food delivery app Swiggy with its drone-based delivery technology.
9. DCM Shriram Industries
DCM Shriram Industries has a diversified portfolio from cement to textiles and is betting big on making drones for various use, including for defence establishments.
The company bought a 30% stake in Turkey-based Zyrone Dynamics and has set up a research and development facility in Delhi.
10. Droneacharya Aerial Innovations Ltd
Droneacharya Aerial Innovations is authorised by the Directorate General of Civil Aviation to conduct certified drone pilot training.
The company has also partnered with Ahmedabad-based Gridbots Technologies Pvt Ltd for making drones. In its prospectus, the company had mentioned that it plans to trains over 500 drone pilots annually.
11. Dhanuka Agritech Ltd
Dhanuka Agritech is an agro-chemical company with three manufacturing units, many warehouses and an R&D unit. With the government betting big on use of drones in agriculture in areas such as pesticide spray, the company has entered into agreements with many universities for joint research.
It has also invested in a company, IOTechWorld Avigation, that has developed a DGCA-approved drone for use in agriculture.
Conclusion
With India embarking to become a leader in the next-generation technology and services, drone manufacturing is set to emerge as a big opportunity in the country. Apart from the production-linked incentive, the government is set to give a separate thrust on many drone-based applications, especially in defence and agriculture. Drone stocks offer early investors an opportunity to join the bandwagon that is most likely to get bigger.
However, one has to be careful of the threats too, especially from overseas companies that may have stolen the march in many areas of drone technology.
Frequently Asked Questions
What is the global market for drones?
The worldwide market for commercial drones was estimated at $29.9 billion in 2022, according to Grand View Research. It is expected to expand at a CAGR of 38.6% till 2030.
What is the size of Indian drone industry?
The Indian drone industry is expected to reach Rs 15,000 crore by 2026, according to the Civil Aviation Ministry.
Which is the world's biggest drone company?
DJI of China is said to be the world's biggest manufacturer of commercial drones.
Start Investing in 5 mins*
Rs. 20 Flat Per Order | 0% Brokerage
Disclaimer
Investment/Trading in securities Market is subject to market risk, past performance is not a guarantee of future performance. The risk of loss in trading and investment in Securities markets including Equites and Derivatives can be substantial.
Open Free Demat Account
Mobile No. belongs to
By proceeding, you agree to the T&C.