Best EV Stocks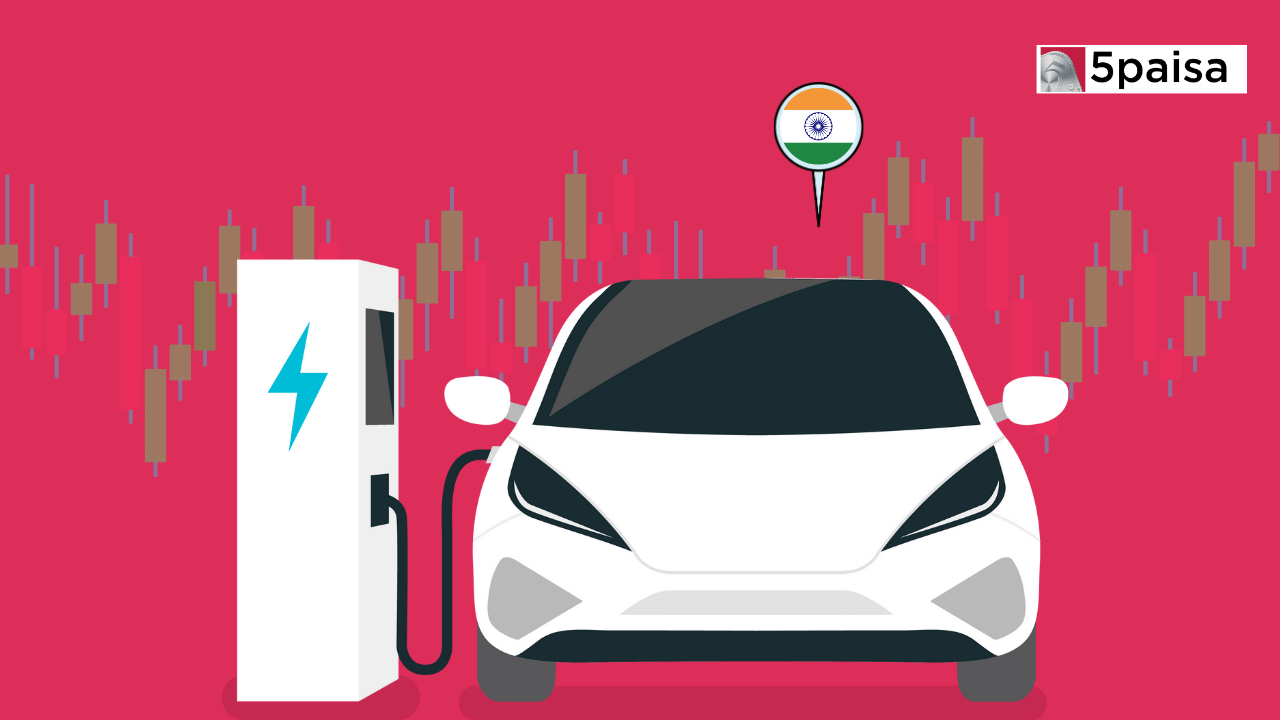 ---

Introduction
If you are into stocks and like to explore new companies to invest in, then go for EV stocks India. Some companies show innovation and research technologies that will change the world's dynamics in the coming years.
What are EV Stocks?
Electric vehicle stocks in India are the stocks you purchase for companies that manufacture and produce electric vehicles. Around 10 companies are dealing in 2-wheelers, 3-4 in the bus segment, and very few in the car manufacturing segment. So, you can buy electric vehicle stocks for these companies for your next big investment.
Overview of the EV Industry
The major reason why people are moving towards electric vehicles is because of climate change. If we look at India's ranking according to EPI (Environmental Pollution Index), we are ranked 168 out of 180 in air quality. The government has pushed to use electric vehicles to combat this problem and aims for 100% electrification by 2030.
Since there is a sudden increase in EVs and knowing that it will remain the same way, people have started investing in EV stocks. In this article, you will learn about some of the best EV stocks in India.
Why Invest in EV Stocks?
Electric vehicles are here to stay for a long time, and since our government is pushing hard to shift everyone to EVs, more players will emerge in this sector. Thus, you can witness massive growth and opportunities in the EV market. When you see the government focusing on this sector, the stock prices will surely increase, thus offering you great returns.
The government is also prompting people to buy electric vehicles by offering subsidies. The Maharashtra government has announced subsidies of up to Rs. 1 lakh to people purchasing EVs. Since then, the state has had the highest EV sales figure as of 2017. 
So, looking at such examples, it is clear that EV as a sector is there to give you your desired income returns. Now is a suitable time to invest in the top EV stocks in India.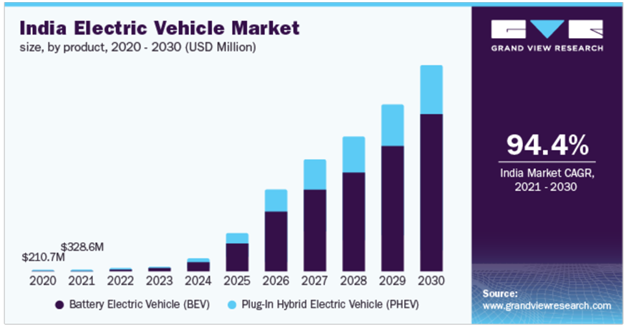 Top 5 EV Stocks to Invest in India
Here is the list of top 5 EV stocks list where you can plan to invest in this year.
1.    Reliance Industries Ltd.
2.    TVS Motor Company Ltd.
3.    Tata Motors Ltd.
4.    Indian Oil Corporations Ltd.
5.    Mahindra and Mahindra Ltd.
Segments of the EV Sector
The following comes under the EV sector and are considered its different segments: 
Auto Manufacturers
Auto manufacturers are those who are in the line assembling electric vehicles. Some of the top auto manufacturers of EVs are Tata Motors, Mahindra Electrics, and Hero Electric, to name a few. These manufacturers are the ones who complete the EV by bringing parts from different companies and manufacturers. Thus, they would have a good name in the stock exchange.
Battery Manufacturers
These are the manufacturers that produce the batteries that are used in electric vehicles. You can watch the top players like Amara Raja Batteries, Exide Industries, Tata Group, Hero Moto Corp, and Maruti Suzuki. You can also check for their names in the electric vehicle stock list.
Auto Parts and EV Software
These are the companies that are involved in developing the programming and the electronics of EVs. They also produce spare parts for these vehicles. Some of the names considered the best electric vehicle stocks in India under this segment are Motherson Sumi Systems Limited and Tata ELXSI limited.
Charging Station Network
EVs can't run without their charging stations; hence the companies that set up these stations across cities are also included in the electric vehicle stocks list in India. Some are Delta Electronics India, Quench Chargers, Mass-Tech, and BrightBlu.
Factors to Consider before Investing in EV-related Stocks in India
Before you plan on investing in stocks related to electric vehicles, do take out some time and consider the below factors.
Watch Out for the Industry Leaders
Do not just invest because the market is growing; instead, invest in the right company. The EV market is here to grow and will see a tremendous spike in the coming years. So, you should research the top players and check for market competition before buying EV stocks 2023. Once you have researched enough, you will know which companies will yield the maximum profit.
Thorough Investigation (Research on EV stocks)
One of the major mistakes people make is going by the historical data of that particular stock. Rather people should look at their financial growth potential. When you plan on buying EV stocks, do remember to carry out a thorough investigation. Since this market is new, depending on the historical data may not give you a clear picture of the stock.
Check M&As (Mergers & Acquisitions) of a Company
Mergers & acquisitions play a critical role in deciding any stock, especially electric vehicle stocks India, as the market is still developing. Mergers and acquisitions mean when businesses fully consolidate or merge only their financial transactions with other businesses. For example, a business can buy out a company or even take some part of the company as a part of its merger activities. Understanding these things and checking their pattern will help you choose the Best EV stocks 2023.
Verify Government Investment Activity
When a government decides to show interest in a particular market or industry, it also impacts its stock value in a positive way. With a sudden increase in government pushing people to buy EVs, it is very clear that EV stock India will see an increase. Therefore, investing in such stocks will yield better returns with a guarantee of long-lasting investment. 
Remove Losing Stocks from Your Portfolio
Be you a seasoned player or a newbie in the stock market business, determining which stock will perform and which will not is never easy. There will be instances when you lose money on a stock because of its underperformance. In such cases, it is always advisable to remove those from your list and add the higher growth potential electric vehicle stocks in India to your list.
Performance Overview of EV Stock List
For your better understanding, here is the performance overview of the top 5 electric vehicle stocks that we mentioned above:
Reliance Industries is a known name involved in oils, chemicals, retail, financial services, etc. Since it is an ever-growing segment, investing in Reliance Industries is always a safe bet. Logistics, aviation fuel, supply-chain infrastructure, and others are a part of its Oils to Chemical segment. While aromatics, refinery off-gas, multi-feed, etc., are part of its Oil and Gas segment. Below are a few points about the company for your reference:
●    Market Cap - 14.70 trillion
●    Face Value - Rs. 10.00
●    EPS - 77.32
●    Book Value - 1202.45
●    Roce - 9.86
●    ROE - 8.41%
●    Debt to Equity - 0.34
●    Stock PE - 23.81
●    Dividend Yield - 0.36%
●    Promoter's Holdings (%) - 49.11%
TVS has always been a brand name for two- and three-wheelers and other accessories. They have manufactured several scooters and motorcycles that have left their name in the market. With the introduction of their EV bike, they are back in the market with something new and thus have entered the EV stocks list. Here are its numbers for your reference:
●    Market Cap - 495.92 billion
●    Face Value - 1.00
●    EPS - 26.73
●    Book Value - 1043.80
●    Roce - 11.29%
●    ROE - 19.87%
●    Debt to Equity - 0.33
●    Stock PE - 38.63
●    Dividend Yield - 0.57%
●    Promoter's Holdings (%) - 50.27%
Tata Motors need no introduction and are internationally recognized for manufacturing various automobiles. They have a huge portfolio of sports cars, utility cars, trucks, buses, and defense vehicles. Many of their utility cars are available in the electric vehicle segment and are considered among the best. Tata Motors have links with companies such as Tata Steel for the body and Tata Chemicals for batteries for their EVs. Their performance update makes them famous electric vehicle stocks in India.
●    Market Cap - 1.49 trillion
●    Face Value - 2.00
●    EPS - 12.12
●    Book Value - 68.36
●    Roce - 1.40%
●    ROE - 22.3%
●    Debt to Equity - 1.17
●    Stock PE - 34.47%
●    Dividend Yield - NA
●    Promoter's Holdings (%) - 1.82%
4. Indian Oil Corporations Ltd.
Indian Oil Corporation is an oil-based company, and its segments include petrochemical, petroleum, and other business products. Indian Oil Corporation has been a huge name in the stock market, and since it had tied up for setting up charging stations for EVs, it has introduced itself in EV stocks India. Indian Oil Corporation has aimed to provide all users with a seamless EV driving experience and achieve zero carbon emissions. Below is its performance data:
●    Market Cap - 1.13 trillion
●    Face Value - 10.00
●    EPS - 26.34
●    Book Value - 86.05
●    Roce - 17.65%
●    ROE - 20.00%
●    Debt to Equity - 0.84
●    Stock PE - 15.78
●    Dividend Yield - 10.45%
●    Promoter's Holdings (%) - 51.50%
Like Tata and TVS, Mahindra and Mahindra Ltd. do not need any introduction; the company manufactures utility cars, trucks, tractors, and other farm equipment. They even have their name in aerospace, boats, clean energy, consulting, and many other businesses. Mahindra and Mahindra Ltd. have always been one of the favorite EV stocks. It has launched many EVs, has the capacity to manufacture batteries, and has also invested in promoting EV charging stations. Here is the performance update:
●    Market Cap - 1.40 trillion
●    Face Value - 5.00
●    EPS - 88.52
●    Book Value - 422.46
●    Roce - 15.34
●    ROE - 13.44%
●    Debt to Equity - 1.52
●    Stock PE - 15.76
●    Dividend Yield - 0.99%
●    Promoter's Holdings (%) - 19.39%
 
| | | | | | | |
| --- | --- | --- | --- | --- | --- | --- |
| S. no. | Company Name | Net Sales | EBITDA | Net Profit | EBITDA Margins | Net Profit Margins |
| 1 | Reliance Industries Ltd. | 445375.00 (cr) | 352.47 billion | Rs 60705.00 Cr. | 18.32 | 8.6 |
| 2 | TVS Motor company ltd. | 20790.51 (cr) | 18.5x | Rs. 277.60 crore | 10.2 | 3.73 |
| 3 | Tata Motors Ltd. | 47263.68 (cr) | 9.9K cr | Rs. 2,958 crore | 6.9 | 3.34 |
| 4 | Indian Oil Corporation Ltd. | 228168.34 (cr) | 10,981 | Rs. 6,022 crores | 8.83 | 0.38 |
| 5 | Mahindra and Mahindra Ltd. | 57445.97 (cr) | 62,240 | 1,430.2 crore | 17.78 | 8.66 |
| 6 | Hindalco Industries Ltd. | Rs 53,151.00 crore | Rs. 3,930 crore | ₹1,362 crore | 19.8 | 2.56 |
| 7 | Olectra Greentech Ltd. | 585.43 crore | 287.33% | ₹14.38Cr | 61.10 | 5.61 |
| 8 | Ashok Leyland Ltd. | 21688.29 (cr) | 800.99 | 140.24 | 3.5 | 3.07 |
| 9 | Hero MotorCorp Ltd. | 29245.47 (cr) | 3925.68 | Rs 865 crore | 11.45 | 8.94 |
| 10 | Amara Raja Batteries Ltd. | 8,696 (cr) | 121.45 | Rs 222 crore | 12.67 | 8.41 |
Conclusion
EVs are the new favorite, and with the government taking so much interest, people will look forward to buying EV stocks. Since the market is still growing, it is recommended to not only go with the historical data of the company whose share you wish to purchase. Rather, check its growth potential and buy electrical vehicle stocks India accordingly.
FAQs on EV Stocks

1.    Which Indian company is investing in Electric Vehicles?
The top companies investing in electric vehicles whose EV stocks India you can purchase are Tata Motors, TVS Motors, Bajaj Auto, and Olectra Greentech, to name a few.
2.    What is the future of EVs in India?
With the support and initiative of the Indian government, it is clear that EVs have a bright future in India. The government is planning to move to 100% electrification by 2030.
3.    Who is the largest manufacturer of lithium batteries in India?
Exide Industries are the largest manufacturer of lithium batteries in India. You can check for its name in the electric vehicle stocks India to see where it ranks.
4.    Why are electric cars expensive in India?
The batteries of EV cars are very expensive and cost up to 30 to 50% of the total cost. Additionally, India is not an economy that can effectively utilize large-scale production.
5.    Who is leading in the Electric Vehicles in India?
Tata Motors is leading the chart in the sales of electric vehicles in India. You can look for their EV stocks and thoroughly research them before purchasing any.
6.    Which company produces electric vehicles in India?
The top companies producing EVs in India are Tata Motors, JBM Auto, Kia Motors, Hyundai, Mahindra, and Ashok Leyland.
7.    How can I invest in EV stocks using the 5paisa App?
5paisa app is a mobile trading app that provides all the information on current EV stocks and their performance. You can create your account, research the various stocks, and invest using their platform.
8.    Are there any provisions from Govt, for EV Sector in India in Budget 2023?
Yes, to make EVs more affordable for the public, the government has announced that the subsidies on EV batteries will be extended for one more year. It will, in return, make EVs cheaper.
 
Start Investing in 5 mins*
Rs. 20 Flat Per Order | 0% Brokerage
Disclaimer
Investment/Trading in securities Market is subject to market risk, past performance is not a guarantee of future performance. The risk of loss in trading and investment in Securities markets including Equites and Derivatives can be substantial.
Open Free Demat Account
Mobile No. belongs to
By proceeding, you agree to the T&C.