Best Footwear Stocks in India 2023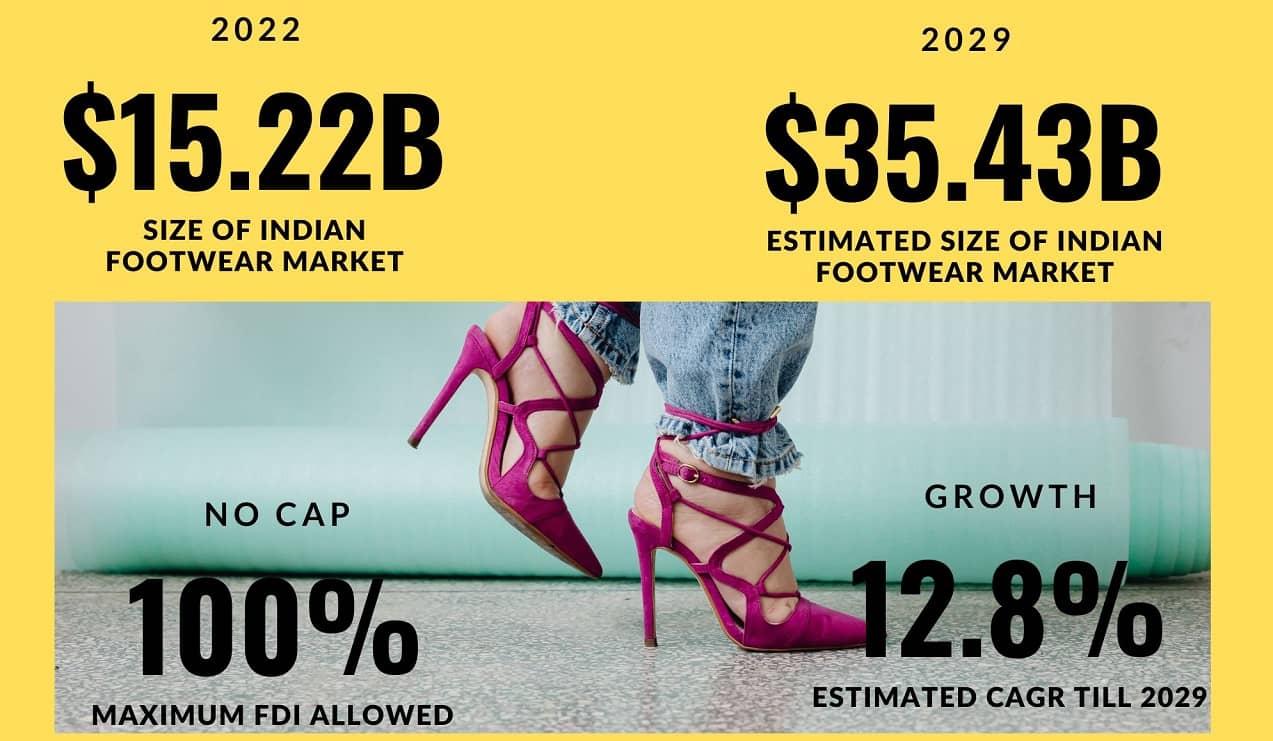 ---

India is the second-largest producer of footwear after China, accounting for around 13% of global footwear production. As per a recent research report by Maximize Market Research, the Indian footwear market size was valued at $15.22 billion in 2022 and the total revenue is expected to grow at a compound annual growth rate of 12.83% through 2023 to 2029, to touch around $35.43 billion.
What does the Indian footwear sector include?
While India boasts of the presence of international footwear brands such Nike, Adidas, Reebok, and Puma, nearly three-fourths of the footwear industry in India is still in the unorganized sector.
The Indian footwear industry is classified into two main segments—leather and non-leather. Of this, it is the leather segment that drives demand.
However, the non-leather footwear market is now expanding in India and has significant room for expansion in the future. In terms of volume, over 86% of the world's footwear consumption now consists of materials other than leather.
With the explosion of social media and its reach, a number of niche players have also emerged with a focus on categories, such as quirky shoes, flip flops, sandals, shoes made with recycled materials, etc.
Many domestic brands have now established a solid presence in the market and have cemented their position in the Indian stock exchanges as well. This provides a good avenue for investors to diversify their portfolios.
Here is a look at some of the best footwear stocks in India in 2023.
Metro Brands
Metro Brands, formerly known as Metro Shoes, is an Indian multi-brand footwear retail company based in Mumbai. It owns brands such as Metro Shoes, Mochi Shoes, Walkway, FitFlop, Da Vinchi, and Cheemo.
From being a standalone shoe store set up in 1955 in Colaba, Mumbai, the company was incorporated as Metro Shoes in 1977. Subsequently, in 2021, the company launched its initial public offering (IPO) to list on the Indian stock markets.
As of September 30, 2022, the company operated 739 Stores in 174 cities in India.
Relaxo Footwear
New Delhi-based multinational footwear manufacturer is one of the largest in the country. It owns a number of footwear brands including Flite, Sparx, Bahamas, and Schoolmate.
Incorporated in 1984, Relaxo launched its IPO in 1995. The company now has a pan-India distribution and also operates over 350 of its own retail outlets, with availability on all major e-commerce portals as well.
It currently has eight manufacturing facilities with the capacity to produce 10 lakh pairs per day.
Bata India
Bata India is a part of the Czech footwear giant brand Bata Corporation. The Indian unit was incorporated as Bata Shoe Company in 1931. The company was set up initially as a small operation in Konnagar (near Calcutta) in 1932. It went public in 1973 when it changed its name to Bata India.
It has a retail network of over 1,375 stores and also operates a large non-retail distribution network through its urban wholesale division and caters to millions of customers through over 30,000 dealers.
Some of its brands are Hush Puppies, Marie Claire, Dr Scholls, North Star, Bubblegummers, Power, Comfit, etc.
Campus Activewear
Incorporated in 2006, Campus is now one of the largest sports and athleisure footwear brands in India. It is one of the newer entrants on the stock market among footwear companies, as it went public in 2022.
The company has a pan-India network of over 15,000 brand retail stores, over 35 company-owned exclusive outlets, and a presence in large format stores and all the leading e-commerce portals.
Mirza International
Founded in 1979 as Mirza Tanners, Mirza International is one of the leading leather footwear companies in India. Our company has an international presence across 28 countries and 6 continents.
The company went public in 1994 and subsequently changed its name to Mirza International in 2005.
It has four integrated manufacturing facilities and manufacturers, markets, and exports products under three brands: Thomas Crick, Off The Hook, and Oaktrak.
Sreeleathers
Kolkata-based Sreeleathers was incorporated over three decades ago with the aim to provide affordable leather footwear. 
The company is now engaged in the business of dealing in all kinds of footwear and leather accessories both as a retailer and wholesaler.
The company currently has 42 stores in 10 states in India with over 300 employees.
Liberty Shoes
Liberty Shoes began as a small shop in 1954 manufacturing four pairs a day. It has grown to manufacture 50,000 pairs a day. The company has also added a range of accessories like shoe care items, smart back backs, and ladies hand bags.
Liberty has over 400 exclusive showrooms across India and has a presence in more than 25 countries around the globe.  Some of its brands include Coolers, Footfun, Gliders, and Senorita, among others.
Khadim India
Khadim India, which operates under the brand name Khadim's, was incorporated in 1981. It was focused on the wholesale business until 1993 when it opened its first retail store in Kolkata.
The company, which went public in 2017, is primarily present in the eastern and southern parts of India. It currently has over 800 retail outlets in the country.
It owns shoe brands such as British Walkers, Waves, Cleo, Bonito, etc.
Superhouse
Superhouse Group is a manufacturer and exporter of leather footwear and other leather goods. The parent company was incorporated at Aminsons Leather Finishers in 1980. It was converted into a public limited company in 1984 and its name was changed to Aminsons Ltd.
Following the merger of various group companies, the name of the company was changed to Superhouse Leathers in 1996 and finally Superhouse Limited in  2006.
The company has 22 manufacturing units in different cities in India and wholly-owned subsidiaries in the United States, United Kingdom, Germany, France, Spain, and UAE. It also manufactures textile garments.
Phoenix International
Phoenix International was incorporated as a private limited company in 1987 and it was converted into a public limited company in 1988. It manufactures footwear and footwear components such as shoe uppers, and other related products.
It owned the footwear brands such as Tuffs and Cactus. The Company has two subsidiary companies namely Phoenix Industries Ltd, and Phoenix Cement Ltd.   
Lehar Footwears
Incorporated in the year 1994, Lawreshwar Polymers is based out of Jaipur and became a public listed company in 1996.
As the company was known in the market as Lehar Footwear, it changed its name from Lawreshwar Polymers Limited to Lehar Footwears Limited in 2019.
Its products include leather and rubber footwear for men, women, and kids, including flip-flops, sandals, slippers, and school shoes, among others.
Why invest in footwear stocks?
The Indian footwear industry has seen a steady increase over the years. Despite facing hurdles, like the other sectors, during the COVID-19 pandemic, the industry has returned to growth.
Therefore, the Indian footwear sector can be seen as a good option for an investor to diversify their portfolio. Multiple research reports indicate steady growth in the sector over the next few years, making it a viable sector for investment.
The government is also providing a push to local manufacturing, through schemes such as Make in India, which has proven beneficial to the footwear industry. The government has also provided incentives like allowing 100% foreign direct investment (FDI) via automatic route to provide a boost to the sector.
With eyes on global expansion, Indian footwear manufacturers have also begun adapting to global quality standards and are now focusing on enhancing footwear quality using technology. This will open up more avenues for growth for Indian footwear companies.
Conclusion
India's footwear market has seen massive growth in recent years driven by the rise in disposable income, urbanization, changing fashion trends, and the surge in the presence of social media.
Therefore, this sector provides a good option for investors looking to diversify their portfolios. However, as the industry is still very fragmented, one must study carefully the company and the stock performance of the potential investment target.
Start Investing in 5 mins*
Rs. 20 Flat Per Order | 0% Brokerage
Open Free Demat Account
Account belongs to
By proceeding, you agree to the T&C.