Best Green Energy Stocks in India 2023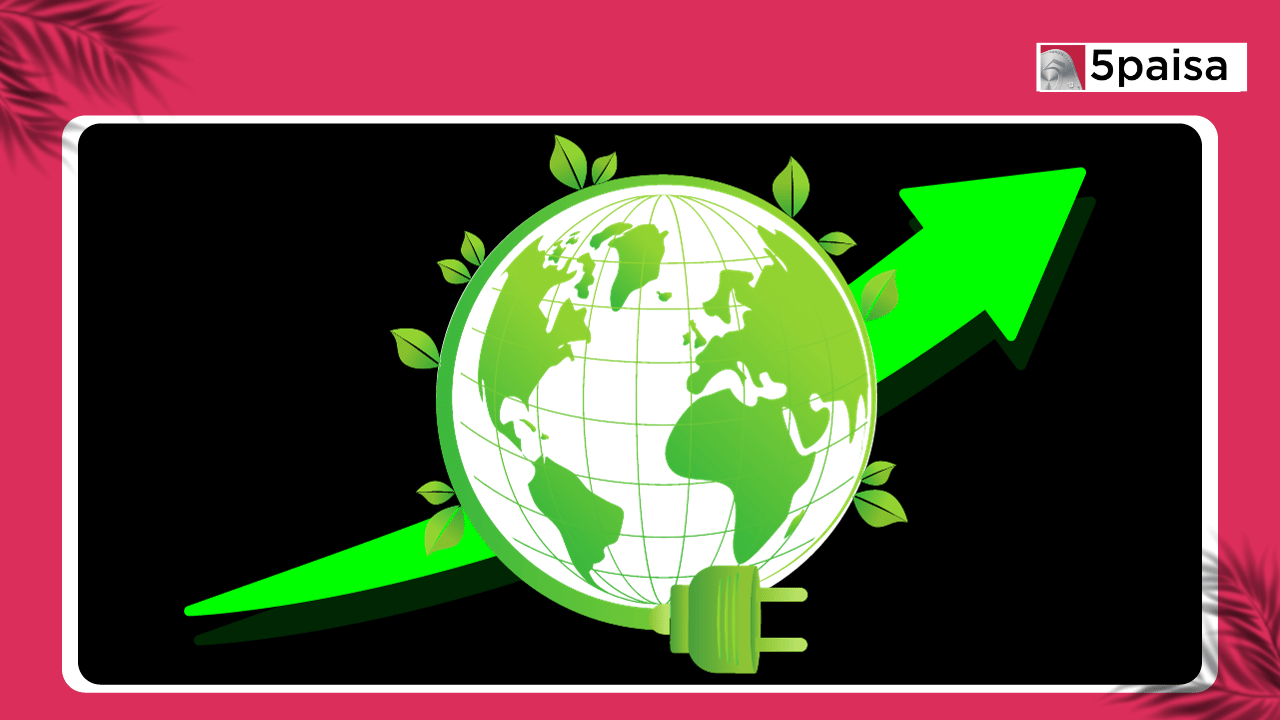 ---

Best green energy stocks shine brightly as a response to the growing environmental concerns of our time. As people worldwide increasingly worry about climate change and its effects, there's a strong desire to find good solutions for the planet. At the same time, how we think about money and investing is also changing. People want their investments to do well financially, but they also want to ensure they support things that help the environment and society. 
This is where the idea of "best green energy stocks" comes in. These are special stocks from companies that make clean and renewable energy, like energy from the sun and wind. These stocks are a way to invest money while helping the environment and improving the world. In 2023, these stocks are becoming a great opportunity, giving a chance to make money and take care of the planet simultaneously.
What is the Best Green Energy Stock?
Best green energy stocks refer to shares of companies operating in the renewable energy sector. These stocks represent entities that harness and generate power from environmentally sustainable sources such as solar, wind, hydro, etc. Investing in these stocks means aligning financial interests with ecological responsibility. These companies are pivotal in reducing carbon emissions, mitigating climate change, and promoting a transition towards cleaner energy sources. Green energy stocks offer investors the dual advantage of potential financial gains and active contribution to a more sustainable and eco-friendly future.
1. Adani Green Energy Limited
(NSE: ADANIGREEN, BSE: 541450)
Adani Green Energy Limited, a subsidiary of the Adani Group, holds a central position in India's renewable energy landscape. The company is a key contributor to the growth of solar and wind projects, aligning with the nation's ambitious renewable energy targets. 
2. Reliance Industries
(NSE: RELIANCE, BSE: 500325)
Reliance Industries is a diversified conglomerate expanding its footprint in green energy. Focusing on technology, innovation, and sustainable practices underpins the company's strategic pivot towards renewable power generation.
3. GAIL (India) Limited
(NSE: GAIL, BSE: 532155)
GAIL (India) Limited, a leading natural gas company, is diversifying into clean energy initiatives. Exploring biogas and other eco-friendly projects, GAIL aims to reduce its carbon footprint and contribute to the nation's sustainable energy objectives.
4. ONGC
(NSE: ONGC, BSE: 500312)
ONGC, India's largest oil and gas exploration company, is extending its reach into renewable energy, particularly offshore wind projects. As it navigates the transition to cleaner energy, ONGC seeks to align with global trends and emerging environmental priorities.
5. Indian Oil Corporation Limited
(NSE: IOC, BSE: 530965)
Indian Oil Corporation Limited, a state-owned oil major, embraces sustainable energy solutions, including biofuels, hydrogen, and solar projects. The company aims to foster India's more sustainable and eco-conscious energy landscape through these endeavors.
6. Tata Power
(NSE: TATAPOWER, BSE: 500400)
Tata Power is a prominent integrated power company focusing strongly on renewable energy sources. Its diverse portfolio encompasses thermal, hydro, solar, and wind power generation, strategically emphasizing expanding its renewable capacity through partnerships and innovative projects. 
7. JSW Energy
(NSE: JSWENERGY, BSE: 533148)
JSW Energy stands as a diversified energy player with a growing commitment to clean energy initiatives. By embracing a mix of wind and solar energy, the company aims to reduce its carbon footprint while contributing to India's renewable energy goals.
8. Sterling and Wilson Renewable Energy
(NSE: STERLINWIL, BSE: 542760)
Sterling and Wilson enjoy global recognition as a solar EPC (Engineering, Procurement, and Construction) solutions leader. The company's expertise lies in executing utility-scale solar projects across multiple countries, driven by a steadfast dedication to quality and efficient project delivery. 
9. INOX Wind
(NSE: INOXWIND, BSE: 539083)
INOX Wind is a notable participant in the wind energy sector in India. With an end-to-end approach covering manufacturing, installation, and operations, INOX Wind underscores its commitment to sustainable growth and operational excellence.
Performance List of Top Green Energy Stocks to Invest in
 
Mkt Cap (Rs. Cr.)
Sector PE
Dividend
Revenue 2023 (Rs. Cr)
Profit 2023 (Rs. Cr)
ROE
Adani Green Energy
153,999
15.10
–
 
7792
914
16.56
Reliance Industries
1,644,983
30.05
0.37
877835
73646
9.31
GAIL
77,323
6.48
3.40
145668
4087
8.64
ONGC
221,539
6.48
6.39
632325
32743
12.62
IOCL India
128,503
30.05
3.30
841755
10842
7.00
Tata Power
79,755
15.1
0.80
55109
610
11.58
JSW Energy
59,150
15.1
0.55
10331
1460
7.93
Sterling and Wilson
7,208
7,208
—
2015
(-1174)
0
Who Should Invest in the Best Green Energy Stocks?
Environmentally Conscious Investors: Those committed to supporting sustainable practices and minimizing carbon footprints.
Long-Term Investors: Individuals looking for stable returns over time, as the best green energy stocks India are poised for growth.
Diversification Seekers: Investors aiming to diversify their portfolios with exposure to a thriving industry.
Risk-Tolerant Investors: Individuals prepared to navigate potential volatility for long-term benefits.
Government Policy Observers: Investors who recognize the support and incentives governments offer to bolster the green energy industry.
Market Trend Followers: Those capitalizing on the global shift towards cleaner energy alternatives.
Futurists: Individuals who envision a world with reduced dependence on fossil fuels and want to contribute to that vision.
Benefits of Investing in the Best Green Energy Stocks in 2023
Green energy stocks offer the prospect of capital appreciation as the sector expands and gains market traction.
Investing in these stocks supports the transition to eco-friendly energy sources, contributing to a cleaner environment.
Many governments provide incentives, subsidies, and favorable policies to promote renewable energy, potentially benefiting investors.
Adding green energy stocks to a portfolio enhances diversification by accessing a distinct sector with its own growth drivers.
As the world shifts towards renewable sources, green energy stocks are positioned to withstand long-term energy market shifts.
The sector drives innovation, offering the potential for breakthrough technologies that can create significant value.
Investors in green energy demonstrate commitment to sustainability, enhancing their public image and attracting socially conscious partners.
By supporting companies that reduce carbon emissions, investors contribute to mitigating climate change-related risks.
The renewable energy sector's long-term stability can provide a steady income stream for patient investors.
With rising energy demand, green energy stocks tap into a growing market with a sustained need for cleaner alternatives.
Things to Consider Before Investing in the Best Green Energy Stocks
Understand government policies, subsidies, and incentives for renewable energy.
Research the company's history, past projects, and commitment to sustainability.
Evaluate the company's innovation in renewable technologies and its growth potential.
Stay updated on market shifts, demand for green energy, and emerging technologies.
Analyze the company's financial statements, debt levels, and revenue sources.
Assess the competitive landscape and the company's unique position within it.
Consider the actual environmental benefits the company's projects provide.
Be aware of market risks and potential stock price volatility in the sector.
Gauge the company's alignment with long-term sustainability goals and market projections.
Consult financial advisors or experts familiar with the green energy sector before making decisions.
How to Invest in the Best Green Energy Stocks?
Step 1: Understand the basics of green energy stocks, their benefits, and the companies you are interested in.
Step 2: Select a reputable brokerage platform with a user-friendly interface and reliable customer support.
Step 3: Create an account on the brokerage platform by providing the information and completing the necessary verification.
Step 4: Deposit funds into your brokerage account through various payment methods.
Step 5: Research and identify specific green energy stocks you want to invest in based on their performance, potential, and alignment with your goals.
Step 6: Use the brokerage platform to place buy orders for the selected stocks at your preferred price.
Step 7: Keep track of your investments' performance, market news, and any relevant updates.
Step 8: To spread risk, consider building a diversified portfolio by investing in multiple green energy stocks.
Conclusion
Investing in the best green energy stocks offers a dual advantage of financial growth and environmental contribution. As the world embraces sustainable practices, these stocks symbolize a shift towards cleaner energy sources. By aligning investments with eco-conscious values, investors can reap rewards while actively supporting a greener, more sustainable future.
 
Frequently Asked Questions
Is it safe to invest in the best green energy stocks?
Investing in green energy stocks, like any investment, carries risks. However, with a growing global focus on sustainability and government support, the sector offers potential for financial gains and positive environmental impact.
Is it worth investing in the best green energy stocks in 2023?
Yes, 2023 presents a favorable time for green energy investments. The industry's growth trajectory and increased awareness of climate change position these stocks as valuable portfolio additions.
How much should I invest in green energy stocks?
The investment amount depends on your financial goals, risk tolerance, and overall portfolio strategy. Consider consulting a financial advisor to determine an appropriate allocation.
Who is the market leader in the green energy sector?
Companies like Adani Green Energy, Tata Power, and Reliance Industries are among the prominent players leading the green energy sector in India, each contributing significantly to renewable energy initiatives.
Start Investing in 5 mins*
Rs. 20 Flat Per Order | 0% Brokerage
Disclaimer
Investment/Trading in securities Market is subject to market risk, past performance is not a guarantee of future performance. The risk of loss in trading and investment in Securities markets including Equites and Derivatives can be substantial.
Open Free Demat Account
Mobile No. belongs to
By proceeding, you agree to the T&C.