Material Stocks to Buy in 2023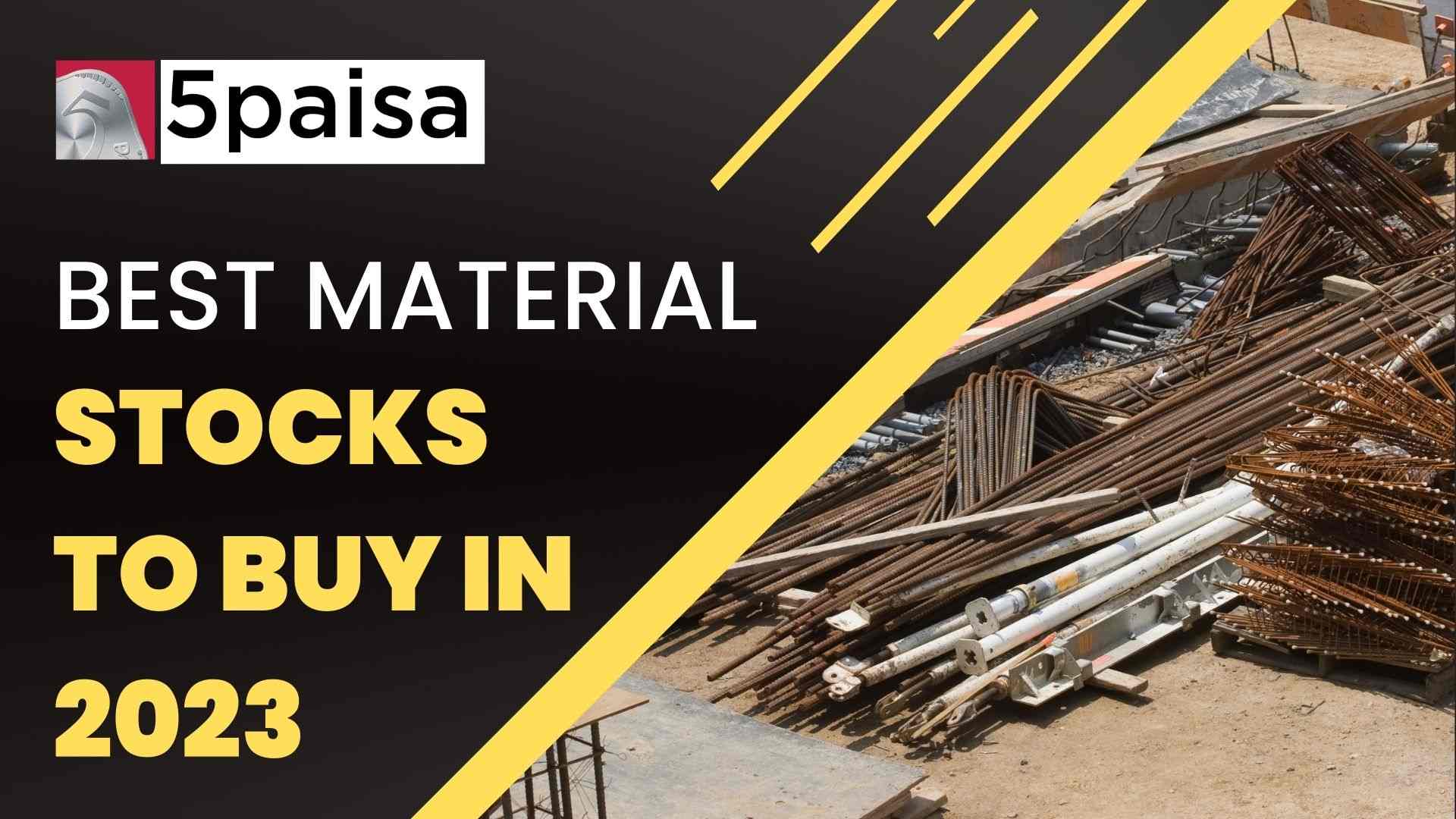 ---

One of the common industrial classifications used in equity research and analysis is materials sector stocks. According to the NSE classification, materials sector stocks are not a single sector but they are a set of sectors or you can call them a cluster of stocks and sector themes. Hence such material stocks would be closer to an investment theme rather than a particular industry or sectoral classification.
By default, materials sector stocks tend to be cyclical, both in terms of supply and in terms of demand. Typically, materials sector stocks encompass a number of commodity-related manufacturing industries. These include oil, chemicals, construction materials, glass, paper, forest products, mining companies etc. The moral of the story is that these materials have derived demand as their demand is based on the output and stocking plans of companies.
 
What are material stocks
It must be remembered that all physical goods are made up of a combination of basic materials, which are processed and transformed into finished goods. Basic materials companies (materials sector stocks) represent the very first step of the supply chain and then there is value addition at each stage. Another  possible definition for Materials sector is Commodities, which broadly means one and the same thing. Essentially, thee material stocks represent themes that are not differentiated the way brands are.
One unique feature about commodities or materials is that there is not much differentiation between one manufacturer and another. This is unlike brands, which have distinction especially in products like detergents, toiletries, textiles etc. That is why commodities or materials generally have standardized prices, which also explains why these stocks tend to get lower P/E valuations in general in the market. This is something very important to keep in mind and the reason for the lower valuations normally is the cyclical risk in them.
Overview of materials industry
Obviously, being a commodity, the focus is always on demand and supply as these are the two triggers that define the profitability of materials sector stocks. Typically, the value of these commodities or raw materials fluctuates in value based on supply and demand and the cost of obtaining the commodity. For example, gold is much expensive than coal due to its rarity. Similarly, oil prices fell sharply post 2014 when US shale supply came in.
When new supply sources come in, the prices of these materials start going down. That is what we saw in 2014 when fresh shale oil supply started coming from the US. Similarly, the emergence of electrical vehicles (EV) has resulted in a sharp growth in the demand for copper. There can be many more such illustrations materials sector stocks and of materials stock 2023. This unique feature of materials rubs off on the material stocks also.
Why invest in material stocks?
But, how exactly is the market for materials sector stocks created and why should someone invest in these material stocks? The market for materials sector stocks relies on the demand for the products that use those materials in production. Any manufacture of physical goods is based on some kind of raw material. The demand and supply dynamics of each pocket determines the outcome. For example, the demand for wood and steel is heavily dictated by housing markets. The demand for specialty chemicals comes from user segments as varied as plastics, pharmaceuticals, packaging etc. This is true of every materials segment.
One unique feature of most of these commodities is that supply is finite and hence shortfall in supply or  a surge in supply tends to have an immediate impact on price. That is when the pricing power shifts from the buyer to the seller and vice versa. Let us look at some best materials stocks in the Indian context. Here we shall focus on the finest materials stocks to buy as also the best stocks in materials sector. Normally, there are tipping points in demand and the supply of these materials that makes a substantive difference to the pricing.
Top material stocks to invest in India    
One way to look at materials sector stocks is to look for a proxy or a reliable and credible representation. The Nifty Commodity index comes the closest as a proxy for the raw material stock story in India. The Nifty Commodity index is a good approximation of a portfolio of materials sector stocks in the Indian market. It comprises of 30 stocks and represents the performance of stocks from varied sectors like Oil, Cement, Chemicals, Sugar, Metals and Mining. Remember, all these are material stocks that rely heavily on derived or downstream demand from industry. Below is the chart of the Nifty Materials Index.
Here are some of the highlights of Nifty Commodity Index as a proxy for materials in India.
•    Reliance Industries
•    Ultratech Cements
•    Tata Steel
•    NTPC
•    JSW Steel
This is just a partial list of materials stocks in India and the actual detailed list can be much longer. For a better understanding, the segments of materials stocks have been explained separately.
Factors to consider before investing in material stocks in India
How do you evaluate the top materials stocks to invest in and the best materials stocks for 2023. Here are the factors to be considered before you invest in good materials stocks.
•    Every commodity or material segment has a short term cycle and a long term cycle. Short term cycles last for a few months to a few years while long term cycles can last up to 15 years. You must be able to identify which stage of the commodity cycle the material is operating in before investing in the stock. 
•    Commodity stocks or raw  material stocks are essentially a play on demand and supply. It is the factors of demand and supply that determine the direction of the commodity price and therefore the stock price of the commodity stock or material stock.
•    Raw material stocks tend to be influenced by global factors. For example, copper is influenced by demand from China and supply from Chile. Silver is largely based on supply from Latin America. These factors have to be tracked regularly and for any short term trader in these stocks, commodity prices must be tracked on a real time basis.
•    Before investing in any material stock, it is also essential to closely track the underlying commodity spot prices and the futures prices very closely. Otherwise, a lot of the effort would be lost if the basic commodity story is not understood.
•    Valuations tend to be low for raw material stocks since differentiation is limited and the demand is largely derived demand. Also, the bargaining power matters a lot when it comes to such commodity or material stocks.
Any investment in a material stock must be done after taking these factors into account.
Segments in the materials sector in India
Here are some of the highlights of Nifty Commodity Index as a proxy for materials in India. That will give you an idea of the various segments of the materials sector in India.
•    In terms of sector composition of the Nifty Commodity index; it includes Oil (26.10%), Metals & Mining (24%), Construction materials (21.64%), Chemicals (16.40%) and Power (11.86%). 
•    In terms of top stocks in the Nifty Commodity index based on weightage; the top 5 stocks in the commodity index are Reliance Industries (10.13%), Ultratech Cements (7.52%), Tata Steel (7.52%), NTPC (7.26%) and JSW Steel (5.64%).
•    The Nifty Commodity Index has a P/E ratio of 13.4X, Price to Book Value of 2.06X and a dividend yield of 3.38%. Typically, commodity companies tend to be high dividend yield companies, especially in the commodity up-cycle.
The index of commodities in India almost went nowhere between 2007 and 2020, but post the COVID crisis, there has been a sharp 3-fold rally in the commodity index, clearly showing supply chain constraints driving the index higher. Here supply chain constraints refer to the global supply chain getting affected due to the prolonged COVID lockdowns in China.
Performance overview of materials stocks in India
The table captures a bird's eye view of the Nifty commodity index stocks with the index performance overall. We have captured the yearly highs and lows of each of the components of the Materials index as well as the returns on each of the stock in the index as well as the index overall for the last one month and the last one year.
| | | | | | |
| --- | --- | --- | --- | --- | --- |
| Stock Name | Market Price | 52-Week High | 52-Week Low | 1-Year Return (%) | 1-Month Return (%) |
| ADANIGREEN | 1,031.45 | 3,050.00 | 439.10 | -46.42 | 101.01 |
| AMBUJACEM | 370.50 | 598.00 | 288.50 | 24.85 | 10.36 |
| BPCL | 346.20 | 398.80 | 288.05 | -4.14 | 7.75 |
| HINDPETRO | 239.15 | 306.70 | 200.05 | -11.99 | 7.54 |
| SRF | 2,371.15 | 2,865.00 | 2,002.20 | -8.92 | 6.19 |
| PIDILITIND | 2,365.30 | 2,918.95 | 1,988.55 | -3.74 | 4.25 |
| ULTRACEMCO | 7,380.05 | 7,492.00 | 5,157.05 | 17.31 | 3.19 |
| RAMCOCEM | 745.00 | 823.80 | 575.65 | 2.28 | 2.80 |
| NTPC | 172.75 | 182.95 | 132.20 | 28.16 | 1.83 |
| IOC | 78.20 | 90.70 | 65.20 | -34.01 | 1.55 |
| NAVINFLUOR | 4,233.95 | 4,848.35 | 3,432.85 | 6.74 | 1.53 |
| GRASIM | 1,597.90 | 1,839.50 | 1,276.60 | 0.20 | 0.88 |
| SHREECEM | 25,475.00 | 27,049.00 | 17,865.20 | 9.68 | -0.48 |
| DEEPAKNTR | 1,777.00 | 2,391.00 | 1,681.15 | -20.12 | -0.74 |
| ACC | 1,697.85 | 2,785.00 | 1,659.00 | -17.60 | -1.55 |
| TATACHEM | 950.40 | 1,214.90 | 773.35 | -2.17 | -1.94 |
| COALINDIA | 208.30 | 263.40 | 164.65 | 12.01 | -3.00 |
| SAIL | 82.00 | 112.35 | 63.60 | -20.13 | -3.00 |
| ATUL | 6,920.00 | 10,647.40 | 6,745.65 | -31.59 | -3.30 |
| DALBHARAT | 1,825.15 | 1,989.80 | 1,212.50 | 34.60 | -3.36 |
| ONGC | 149.20 | 180.40 | 119.85 | -15.02 | -3.39 |
| TATAPOWER | 192.90 | 298.05 | 190.00 | -20.14 | -4.25 |
| JSWSTEEL | 660.10 | 790.00 | 520.05 | -8.81 | -6.20 |
| UPL | 697.00 | 848.00 | 607.50 | -12.73 | -6.48 |
| RELIANCE | 2,204.90 | 2,856.15 | 2,180.00 | -15.12 | -6.94 |
| PIIND | 2,929.00 | 3,698.45 | 2,364.55 | 4.96 | -7.17 |
| JINDALSTEL | 533.00 | 622.75 | 304.20 | 0.84 | -8.02 |
| TATASTEEL | 102.05 | 138.67 | 82.70 | -92.37 | -8.88 |
| VEDL | 269.75 | 440.75 | 206.00 | -34.30 | -10.94 |
| HINDALCO | 388.00 | 636.00 | 308.95 | -37.63 | -11.01 |
| NIFTY COMMODITIES | 5,454.90 | 6,458.45 | 4,774.15 | -9.28 | -0.80 |
The above table is a good guide to buy the best materials sector stocks as also to identify the best materials stocks to buy. The Materials index has corrected from the peak, but has also bounced from lower levels on hopes of a recovery in China. This index is expected to a lot better once production demand for materials picks up with a revival in GDP growth in the coming quarters.
Conclusion
In a nutshell, this is about how to approach the stock market materials sector and how to identify and invest in the best materials stock 2023. By default, materials stocks tend to be low on valuation multiples but high on long term demand. They also form the core of any economy and hence are vital. If you are at the right side of the commodity or materials cycle while investing, there are big profits to be made.
FREQUENTLY ASKED QUESTIONS (FAQ)
1. Which Indian Company is investing in  Materials Sector?
There are several Indian companies that are investing in materials sector and these include big names like Reliance, NTPC, Vedanta, ONGC etc. Materials stocks may not be all that profitable, but their demand despite being cyclical is normally a lead indicator of growth.
2. What is included in the materials sector?
The materials include all the inputs or raw materials that go into the final manufacture. Broadly, it would include chemicals, crude, ores, select metals. Such inputs could be in the form of agricultural inputs, base metal inputs or even precious metal inputs.
3. How can I invest in Materials  stocks using 5paisa App?
Investors can log into the 5paisa APP either through the internet trading interface or through the 5paisa mobile app and invest in such materials stocks. Traders need to be registered clients with 5Paisa with an authorized digital interface for placing such orders.
 
Start Investing in 5 mins*
Rs. 20 Flat Per Order | 0% Brokerage
Disclaimer
Investment/Trading in securities Market is subject to market risk, past performance is not a guarantee of future performance. The risk of loss in trading and investment in Securities markets including Equites and Derivatives can be substantial.
Open Free Demat Account
Mobile No. belongs to
By proceeding, you agree to the T&C.