Best Recycling Stocks in India 2023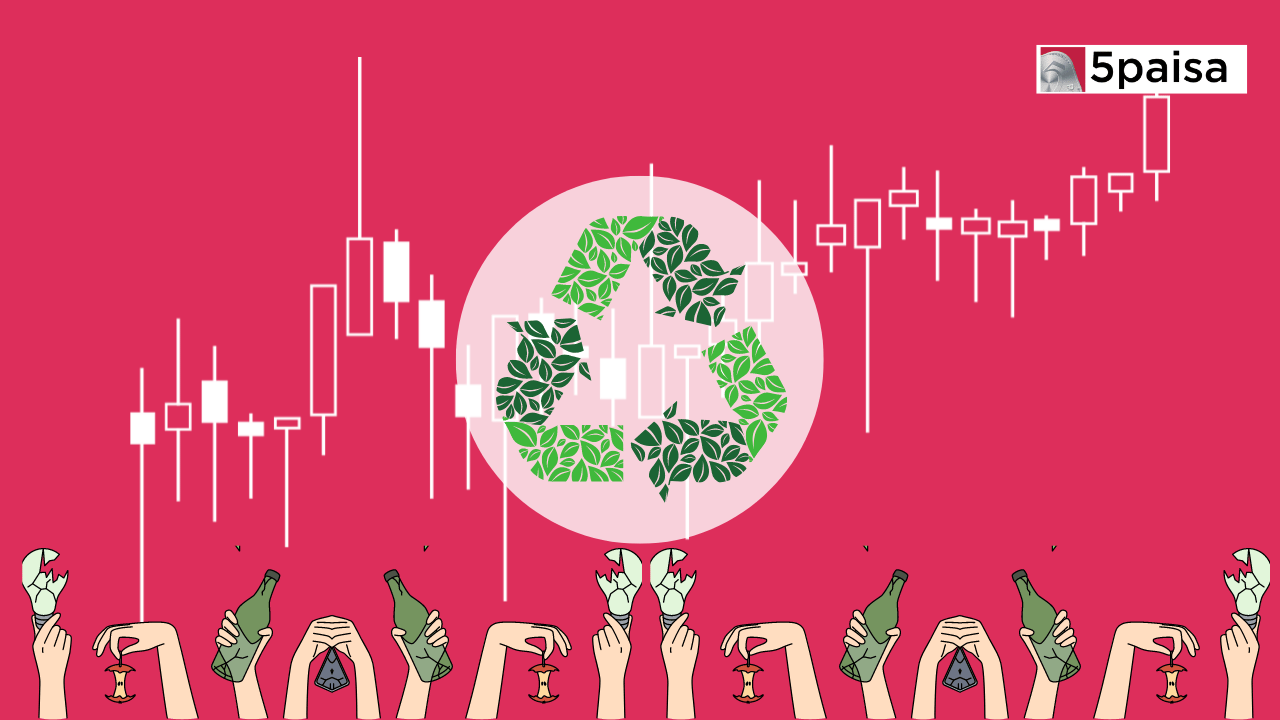 ---

Investing in recycling stocks in India offers a gateway to a crucial sector in sustainable development and environmental responsibility. Recycling companies assume a critical role in waste reduction, resource preservation, and the advancement of circular economies by converting discarded materials into valuable assets.
As India grapples with mounting ecological concerns and a drive toward conscientious consumption, the recycling industry is poised for expansion. Encompassing a diverse spectrum of activities, from paper and plastics recycling to e-waste management and renewable energy generation, this sector aligns with the growing global trend toward eco-conscious practices.
What Are The Best Recycling Stocks To Buy Now? 
Not many recycling stocks are listed on Indian exchanges. But most of them offer chances of good long-term growth if one stays invested. However, one has to keep a watch on fundamentals all the time for any downside and on various sops the government may introduce for such companies for upsides.
Overview of Best Recycling Stocks
Gravita India: The company's business is organized across four specialized verticals of lead, aluminum, plastic recycling and Turnkey projects. The stock price is at a near 52-week high and also above long-term averages. It has shown high EPS growth and seen a positive recovery breakout from the third resistance level.
Eco Recycling: Eco Recycling is in the business of providing an end-to-end seamlessly integrated solution for e-waste management and recycling. It has low debt and zero-promoter pledge. The revenues have been increasing for the past three quarters, and margins have been improving.
A2Z Infra Engineering: A2Z Group is an infrastructure engineering and services business group providing services in various fields such as engineering, procurement and construction, municipal solid waste management, facility management services, renewable energy generation and waste-to-energy generation. The stock's price is above short-, medium- and long-term moving averages. The stock has gained more than 20% in the past one month and has seen highest recovery from 52-week low.
Baheti Recycling Industries: Baheti Recycling Industries is primarily engaged in processing aluminium-based metal scrap to manufacture aluminium alloys in the form of ingots and aluminium de-ox alloys in the form of cubes, ingots, shots and notch bar.  The stock has gained more than 20% in the past one month and its RoA has improving since last two years. Annual net profits also have been improving for last 2 year and it has zero promoter pledge.
Felix Industries: Felix Industries offers total water and environmental solutions with e-waste recycling.  The stock's price is above short-, medium- and long-term moving averages. The company has low debt and zero promoter pledge and its book value per share has been improving for last 2 years.
Performance of Top 5 Recycling Stocks
Who Should Invest in Best Recycling Stocks? 
Investing in the top recycling stocks can be a suitable option for a diverse range of investors who value both financial gains and active participation in sustainable initiatives. Those individuals who integrate their investment objectives with environmental awareness and aspire to contribute to eco-friendly ventures could find recycling stocks particularly compelling. Moreover, ethical investors and those who prioritize ethical factors in their investment choices might be attracted to companies committed to waste reduction and preserving resources.
Benefits of Investing in Best Recycling Stocks 
Investing in the most promising recycling stocks offers an array of advantages for investors seeking not only potential financial returns but also a meaningful contribution to the environment and society. Such investment offers environmental stewardship, resonates with the prevailing global shift towards sustainability and heightened environmental consciousness, helpful regulatory momentum, diversification of portfolio and growth prospects with rising public awareness of environmental issues.
An emphasis on Environmental, Social, and Governance (ESG) principles is becoming increasingly pronounced. Recycling stocks are likely to resonate with the growing segment of ESG-focused investors.
Things to Consider Before Investing in Best Recycling Stocks 
Prior to investments in the top recycling stocks, it's crucial to assess a range of factors that will guide informed decisions:
Industry Understanding: Cultivate an in-depth comprehension of the recycling sector, encompassing its distinct segments, operational processes, and prevailing market dynamics.
Regulatory Issues: A firm grasp of pertinent environmental regulations and policies shaping the conduct of recycling companies is instrumental in shaping your investment strategy.
Company Evaluation: Undertake a comprehensive evaluation of the recycling companies on your radar. Scrutinize their financial performance, underlying business models, operational efficiency, and alignment with sustainable practices.
Market Demand: Evaluate the demand for recycled materials across various industries. Identifying sectors reliant on recycled inputs and gauging their growth potential directly informs the fortunes of recycling enterprises.
Innovations in Technology: Remain current with the latest technological innovations driving recycling processes. Companies leveraging innovative technologies for efficient waste recovery and optimal resource utilization can present compelling investment prospects.
Diversification Strategy: Infuse recycling stocks into a diversified investment portfolio. Diversification acts as a bulwark against risks associated with overexposure to a single sector.
How to invest in Best Recycling Stocks? 
One should first decide the percentage of the portfolio they want to invest in recycling stocks. Thereafter, thoroughly research the sector, pick the companies you want and spread the investment over time.
Conclusion
The Indian government has been promoting recycling in a big way to help tide over environmental issues and to generate power from waste. Most recycling stocks in India have reaped advantage of this and may continue to prosper with proper government patronage and environmental awareness.
Frequently Asked Questions
Is it safe to invest in best recycling stocks?
Is it worth investing in best recycling stocks in 2023? 
How much should I invest in best recycling stocks?
Start Investing in 5 mins*
Rs. 20 Flat Per Order | 0% Brokerage
Open Free Demat Account
Account belongs to
By proceeding, you agree to the T&C.