Best Software Stocks in India 2023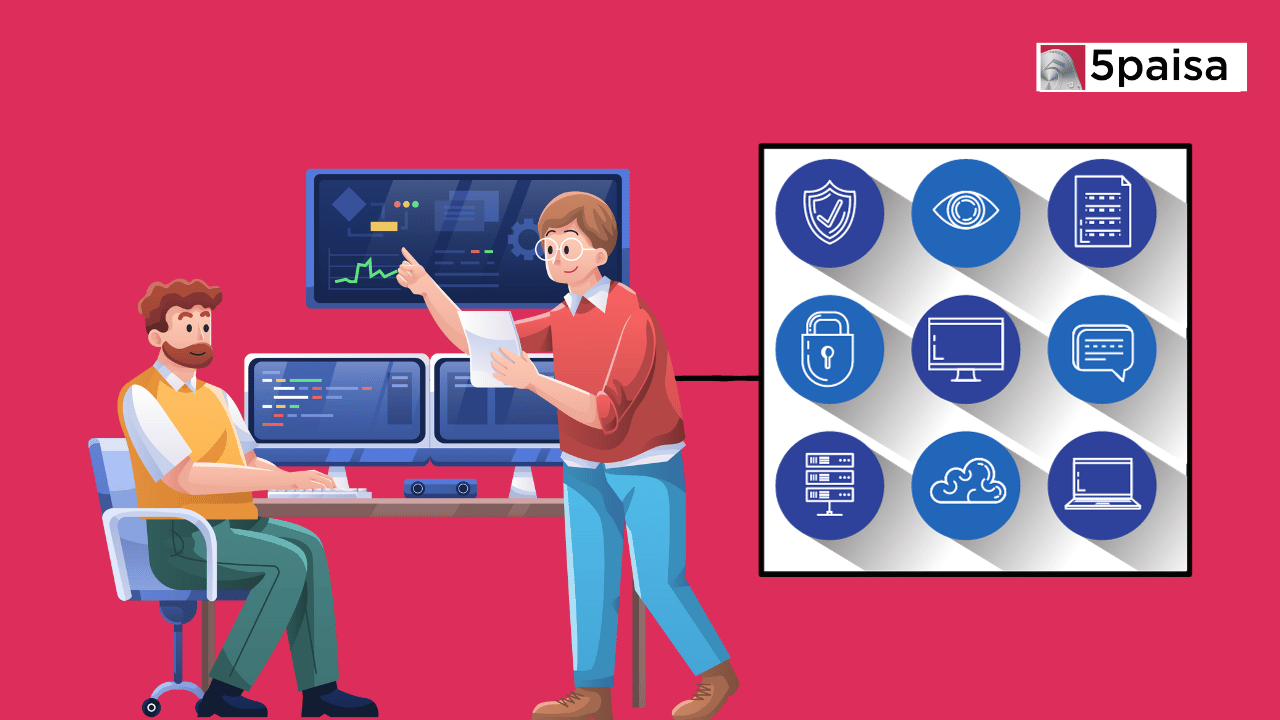 ---

Best software stocks stand at the forefront of innovation as technology transforms several industries. They provide solutions ranging from cybersecurity to artificial intelligence, alluring investors with the promise of future growth. The year 2023 ushers in a strong focus on the software sector in the vibrant environment of India's stock market. As digital transformation and technology breakthroughs reshape businesses worldwide, Indian software stocks have come to the attention of investors looking for growth and innovation. These stocks represent businesses at the vanguard of the software industry, delivering everything from enterprise software and cloud computing to cybersecurity and artificial intelligence. The demand for effective software services is growing as organizations continue to adopt technology-driven strategies, boosting these software companies' growth prospects. This introductory look at the best software stocks in 2023 examines the intriguing arena where technology meets money, highlighting the major players poised to capitalize on India's digital revolution and potentially give investors profitable opportunities in this evolving landscape.
What are the Best Software Stocks?
Best software stocks in India are investments in top technology firms that are experts in creating, delivering, and managing software solutions for various industries. In India, significant competitors for 2023 include Wipro, Infosys, and Tata Consultancy Services (TCS). While Infosys excels in digital services and consulting, TCS has a solid IT service industry track record. Wipro is famous for providing a wide variety of software solutions. These businesses are ideal prospects for investors looking to gain exposure to the software sector's potential for expansion in India's dynamic market since they have excellent financials, a history of innovation, and a worldwide clientele.
Overview of Best Software Stocks
1. Tata Consultancy Services (TCS)
The leading head of IT services and consulting in India is Tata Consultancy Services (TCS). TCS offers a wide spectrum of software solutions, from cloud computing and cybersecurity to breakthroughs driven by artificial intelligence, and has a long history of innovation and international recognition. Its extensive reach and technological know-how firmly establish its status as an industry mainstay.
2. Infosys
A well-known Indian IT firm that excels in digital services and consulting is Infosys. It serves a varied multinational clientele and has competence in blockchain, analytics, and artificial intelligence. Infosys has established itself as a major player in the software industry with a reputation for innovation and game-changing solutions, making a substantial contribution to India's technical growth on the international scene.
3. Wipro
A significant leader in India's IT industry, Wipro is renowned for its all-inclusive software services. Wipro caters to a global clientele specializing in application development, data analytics, and cybersecurity. Its dedication to technological innovation and wide range of products and services has reinforced its standing as a trustworthy supplier of software solutions, greatly enhancing India's position in the digital era.
4. HCL Technologies
A well-known provider of IT services, HCL Technologies is well-known for its broad range of software offerings. HCL serves a global clientele and prides itself on its IoT solutions, engineering services, and software development expertise. Its dedication to innovation and technology-driven services has made it a key participant in the software sector, strengthening India's position as a leader in the digital era.
5. Tech Mahindra
A prominent provider of IT and digital transformation services, Tech Mahindra is renowned for its innovative software offerings. Tech Mahindra provides services to international businesses and specializes in data analytics, cloud computing, and cybersecurity. The company has established itself as a prominent participant in the software industry, emphasizing innovation and technology-driven solutions, enhancing India's prominence in the digital landscape.
6. Mindtree
A reputable provider of digital solutions and consulting is Mindtree. With expertise in e-commerce platforms, AI, and machine learning, Mindtree caters to a global clientele. Thanks to its dedication to innovation and transformational technology, it has established itself as a significant participant in the software business. The contributions made by Mindtree improve India's technological position in the current digital environment.
7. Persistent Systems
A leader in software development, Persistent Systems provides state-of-the-art solutions for data, cloud computing, and digital transformation. With a focus on technology-driven services and innovation, Persistent Systems serves a global clientele in various industries. Its dedication to quality and innovative solutions validates its position as a vital contributor to India's leadership in the software industry.
8. L&T Infotech
Application development, data analytics, and AI-powered solutions are well-known strengths of L&T Infotech, a top provider of IT solutions. L&T Infotech stands out for its technological innovation and dedication to excellence while serving wide international customers. The organization, which focuses on providing revolutionary software services, substantially contributes to India's standing as a technology-driven superpower on the international scene.
9. Cyient
A major participant, Cyient, is an engineering and GIS software solutions expert. Cyient has a global footprint and serves sectors like aerospace, defense, and utilities. The company's efforts, emphasizing innovation and technology-driven solutions, strengthen India's dominance in the software industry, particularly in sectors crucial to developing modern industries and infrastructure.
10. KPIT Technologies
KPIT Technologies is a significant player in the automotive software industry, providing electrification, connected car, and mobility solutions. KPIT Technologies services the international automotive industry, emphasizing innovation and cutting-edge solutions. Due to its dedication to advancing technology, the company has a big impact on India's reputation in the software industry, particularly in the automobile industry.
Performance List of Top 10 Best Software Stocks to Invest
This table lists the best software stocks in india: 
| | | | | | | | | | | |
| --- | --- | --- | --- | --- | --- | --- | --- | --- | --- | --- |
| Stock | 52 Weeks Range | MarketCap (in Crores) | P/E | P/B | Volume | Current Ratio | Debt to Equity | ROE | EPS | Net Profit Margin |
| TCS | 2,926.10 - 3,575.00 | 12354 | 28.25 | 13.66 | 1,936,096 | 2.34 | 8.23% | 47.70% | 119.49 | 18.85% |
| Infosys | 14.71 - 20.57 | 72095  | 24.19 | 7.91 | 9,860,139 | 1.67 | 11.34% | 32.61% | 0.72 | 16.41% |
| Wipro | 352.00 - 426.00 | 2128  | 19.30 | 3.18 | 5,395,932 | 1.72 | 26.09% | 17.24% | 21.14 | 12.70% |
| HCL Technologies | 882.00 - 1,202.60 | 3141  | 20.77 | 4.76 | 2,555,818 | 2.61 | 7.43% | 23.76% | 55.72 | 14.44% |
| Tech Mahindra | 981.05 - 1,270.75 | 1168  | 24.15 | 4.14 | 2,865,239 | N/A | 9.65% | N/A | 49.60 | 8.17% |
| Mindtree | N/A | N/A | N/A | N/A | N/A | N/A | N/A | N/A | N/A | N/A |
| Persistent Systems | 3,092.05 - 5,278.95 | 392806  | 41.58 | 9.79 | 349,297 | 1.66 | 13.90% | 24.81% | 122.80 | 10.67% |
| L&T Infotech | 1,797.40 - 2,766.80 | 3822  | 33.68 | 4.24 | 1,668,263 | N/A | 116.50% | N/A | 80.74 | 5.67% |
| Cyient | 723.80 - 1,654.40 | 177321  | 31.55 | 5.02 | 544,344 | N/A | 35.26% | N/A | 50.82 | 8.77% |
| KPIT Technologies | 545.50 - 1,202.00 | 316801  | 75.14 | 19.11 | 1,348,289 | N/A | 17.23% | N/A | 15.38 | 11.34% |
Who Should Invest in Best Software Stocks?
Those who want exposure to the dynamic tech-driven market might consider investing in the top software stocks. With an awareness of the possibilities of software-driven improvements, those inclined towards growth-oriented investments can profit. For investors with a long-term desire for technical advancement, software stocks present prospects across IT services, cloud computing, and AI. While these companies can be risky, they can potentially produce significant returns for investors prepared to manage the digital revolution and benefit from expanding India's software industry in a more linked globe.
Benefits of Investing in the Best Software Stocks
Purchasing shares of computer software companies may provide the following advantages:
Technological Advancements: Software firms frequently set the bar for innovation, riding the crest of rapidly developing fields like the Internet of Things, AI, and 5G, which have the potential to fuel substantial expansion.
Cyclical Demand: As consumers and businesses frequently update their gadgets, software upgrades, and replacements are cyclical and produce recurring income streams.
Stable Cash Flow: Established software companies with a strong market presence can provide steady cash flows by selling their products and services.
Global Reach: Many software companies have a presence worldwide, utilizing different markets and profiting from economies of scale.
Diversification: Including software stocks in your portfolio will help you spread out your risk and provide a buffer against the performance of other industries.
Longevity: Software businesses frequently have enduring value because of their well-known brands and devoted clientele.
Mergers and Acquisitions (M&A): Software firms may engage in M&A activities, which could increase the stock price as consolidation occurs.
Things to Consider Before Investing in Best Software Stocks
Several things should be carefully considered before investing in the best software stocks, such as:
Start by evaluating the company's financial situation by looking at indicators like sales growth, profitability, and debt levels. 
Examine the company's ability to innovate and adapt in a fast-changing tech environment and its competitive position. 
Recognize the trends and potential disruptions affecting the software industry. 
Use valuation metrics like the P/E and P/B ratios to ensure the stock isn't expensive. 
Take into account the management's abilities and the business's history. 
Your portfolio should be diversified to reduce risk. 
Finally, monitor political and governmental events that may impact the software sector. Successful software stock investments require thorough study and a long-term outlook.
How to Invest in the Best Software Stocks?
These steps can be used to invest in the best software stocks in India:
Step 1: Research and choose the best software stocks before investing. Analyze market trends in the software sector, assess companies' performance and product lines, and select the best performers with room for expansion.
Step 2:
Open a brokerage account online.
Add money.
Set up trading with a platform that sells software stocks.
Step 3:
Place orders on the software stocks of your choice.
Diversify your portfolio.
Match your strategy to your investment objectives.
Step 4: For the best outcomes, monitor stock performance, remain current on industry news, and frequently analyze and tweak your portfolio.
Conclusion
The importance of the top software stocks is seen as India navigates the best software stocks in 2023. These stocks are well-positioned to take advantage of technology's ability to reshape industries since innovation is at their core. Accepting these investments creates growth prospects by aligning portfolios with the revolutionary momentum of the digital era and the exciting array of software-driven opportunities.
 
Frequently Asked Questions
Is it safe to invest in the best software stocks?
The best software investment stocks have a chance to rise, but risks are involved. Their performance is impacted by market sentiment, technical change, and industry instability. Conducting a thorough study, evaluating the risks, and keeping the whole picture in mind is crucial. For a balanced strategy, consult specialists and diversify.
Is it worth investing in software stocks in 2023?
In 2023, purchasing software stocks may be profitable. Software solutions are in more demand due to quick technical breakthroughs and rising digitization. Comprehensive research, monitoring market trends, and considering risk considerations are essential for wise investing selections.
How much should I Invest in software stocks?
Your financial objectives, risk tolerance, and the diversification of your whole portfolio all affect how much money you should put into software stocks. Generally, begin with a sum you feel comfortable with and avoid over-committing. Consult financial counselors to choose an investment size that fits your unique situation and goals.
Who is the market leader in software stocks?
Tata Consultancy Services (TCS) is a well-known market leader in the software stocks industry. TCS is among the most well-known and reputable players in the software industry thanks to its strong global presence and broad range of software solutions and services.
Start Investing in 5 mins*
Rs. 20 Flat Per Order | 0% Brokerage
Disclaimer
Investment/Trading in securities Market is subject to market risk, past performance is not a guarantee of future performance. The risk of loss in trading and investment in Securities markets including Equites and Derivatives can be substantial.
Open Free Demat Account
Mobile No. belongs to
By proceeding, you agree to the T&C.