Best Tech Stocks in India for 2023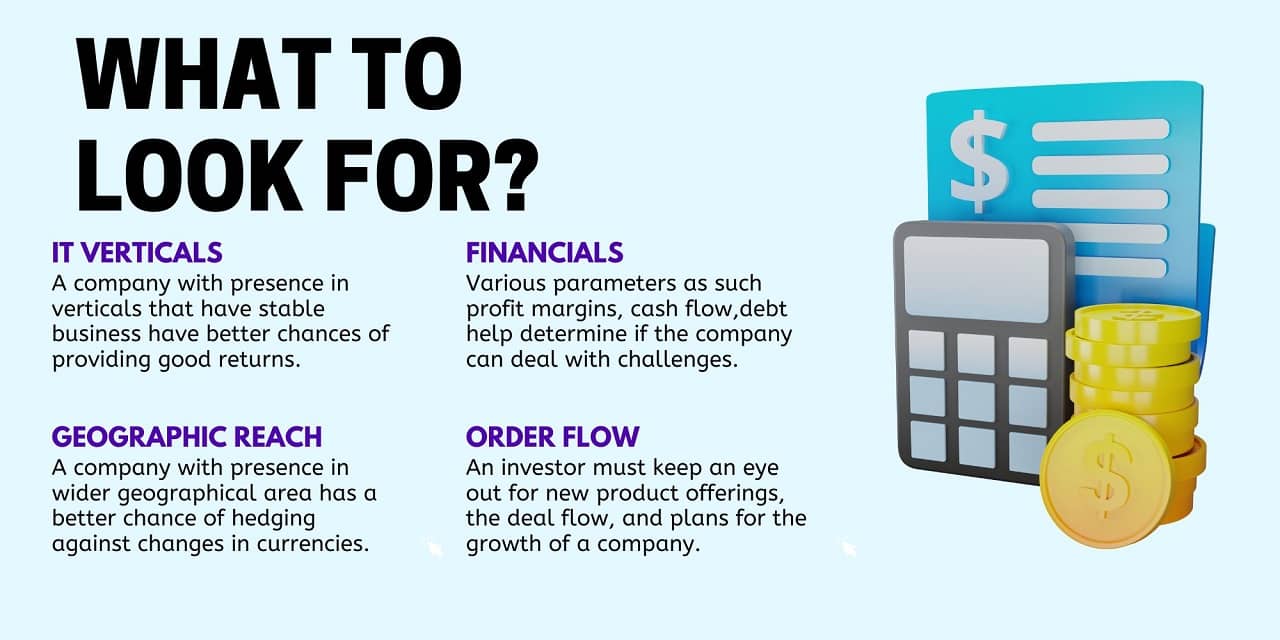 ---

One of the most important industries in India and a major source of export earnings is the information technology (IT) sector. In fact, India now leads the world in providing IT services. And by 2025, the IT industry is estimated to contribute roughly 10% of GDP.
The availability of highly skilled and reasonably priced labour gives India an advantage in this space. The country is the top outsourcing services provider in the world, accounting for 40% of the business process management (BPM) market worldwide.
With steady growth in the sector over the years, some of the top companies in the country are, therefore, not surprisingly from the IT industry. Most of the big ones have been listed for a number of years and are counted among the blue-chip stocks offering a safe and reliable investment option.
The sector has seen its fair share of ups and downs as was evident in the surge of interest during the COVID-19 pandemic, where there was a drastic growth in the adoption of technology and digital services. However, after that phase the IT companies are facing headwinds due to the global economic slowdown.
Despite the risks involved, IT stocks can be profitable for long-term investors. Here is a quick snapshot of the top tech stocks in India in 2023.
Tata Consultancy Services, commonly known as TCS, is India biggest information technology services and consulting company. With its headquarters in Mumbai, it is a part of the salt-to-steel Tata Group and operates in 150 locations across 46 countries with over 614,000 employees.
The company is one of the most valuable IT companies worldwide in terms of market capitalization and is considered to be the best IT stock in India.  
It was first established as "Tata Computer Systems" in 1968. In 2004, it was listed on the Indian stock exchanges.
Infosys is an Indian multinational information technology giant  that provides business consulting, information technology and outsourcing services. Headquartered in Bangalore, the company was set up over 40 years ago and now has clients in more than 56 countries.
In 2021, Infosys became the fourth Indian company to reach US$100 billion in market capitalization.
It was registered as Infosys Consultants Private Limited in 1981 in Pune and two years later shifted its base to Bangalore. The company later floated its initial public offering (IPO) in the Indian market in February 1993, and subsequently in 1999, Infosys listed on Nasdaq.
HCL Technologies, formerly Hindustan Computers, is headquartered in Noida and was formed as a subsidiary of HCL Enterprise that was founded in 1976.
In 1991, HCL Tech was spun off as a separate unit to provide software services. The company went on to list in the Indian markets in 1999.  HCLTech now operates in 52 countries, including its headquarters in Noida, India.
The company now has over 225,900 employees across 60 countries, with capabilities focused on digital, engineering and cloud, powered by a broad portfolio of technology services and products.
The company was incorporated in 1945 by Mohamed Premji. In 1966, after Mohamed Premji's death, his son Azim Premji took over Wipro as its chairperson. Under his leadership, Wipro diversified from producing vegetable oil to providing IT services, software solutions, and consulting services.
Wipro's Initial Public Offering was in the year 1946. And October 2000, Wipro raised gross aggregate proceeds of approximately US$131 million in initial U.S. public offering of its American Depositary Shares ("ADSs") on the New York Stock Exchange.
In 2004, Wipro became the second Indian IT company to earn US$1 billion in annual revenue. The company now has over 250,000 employees serving clients across 66 countries.
Indian technology services company Tech Mahindra, was founded as a joint venture in 1986 between Indian conglomerate Mahindra & Mahindra and British Telecom, which exited the company in December 2012.
In 2013, Tech Mahindra announced the merged the operations of with Mahindra Satyam, which was the entity formed as a result of the acquisition of scandal-hit Satyam Computer Services.
Tech Mahindra is now an over US $6.5 billion organisation with 152,000 professionals across 90 countries. It is now focused on leveraging next-generation technologies including 5G, blockchain, quantum computing, cybersecurity, artificial intelligence, among others to enable end-to-end digital transformation for global customers.
The company was founded under the name L&T Information Technology Ltd in 1996 as a subsidiary of Indian engineering and infrastructure giant Larsen & Toubro. Its name was subsequently changed to Larsen & Toubro Infotech.
The company went public  through an initial public offering (IPO) in July 2016, and rebranded itself as LTI in 2022.
In 2022, Mindtree, another IT services subsidiary of Larsen & Toubro, was merged into LTI, to create the exiting entity LTI Mindtree. On completion of the merger, LTIMindtree became India's fifth largest provider of IT services by market capitalisation.
The company is now valued at over US$4 Billion and has a presence in over 30 countries with an employee base of more than 84,000.
MphasiS was formed in June 2000 as MphasiS BFL, through a merger between the US–based IT consulting company MphasiS Corporation and the Indian IT services company BFL Software.
Its management has seen many change of hands since then. In June 2006 Electronic Data Systems (EDS) purchased a controlling stake of 42%, after which in 2008. When Hewlett-Packard acquired Electronic Data Systems, Mphasis changed its brand identity and became an independent HP subsidiary.
Private equity major Blackstone bought a majority  stake in Mphasis from Hewlett Packard Enterprise Co in 2016.
Mphasis now provides technology solutions specialising in cloud and cognitive services. It currently has about 37,500 employees across 21 countries.
Based out of Vadodra, L&T Technology Services is an engineering research and development services company. The company provides services and solutions in the areas of product software, mechanical and manufacturing engineering, embedded systems, engineering analytics, and plant engineering.
It was founded in 2006 as L&T Integrated Engineering Services and initially operated only as the engineering arm of its parent engineering and infrastructure giant Larsen & Toubro. As part of an overall restructuring of its parent group in 2013, the company grew its engineering services as a developer of corporate software under a new brand name L&T Technology Services.
The company went in for its public listing in the Indian stock market in 2016. It currently has over 22,200 employees spread across 22 global design centers, 28 global sales offices and 99 innovation labs.
Factors to consider while investing in tech stocks
Verticals covered by company: IT companies provide services to a wide and varied number of sectors including banking and finance, insurance, pharmaceuticals, communications, media and technology, energy and utilities, and manufacturing among others. Therefore, one must identify the sectors covered by the company whose stock they wish to invest in. Any company with a presence in verticals that have stable and have diversification in their revenue by verticals will have better chances of good returns.
Geographic distribution of revenue: Most big IT companies in India are mainly exporters of services across the world such as the US, Europe, and Asia among others. When making an investment, it's important to consider the revenue from various countries as well as the foreign exchange movement between the Indian rupee and the foreign currency. This is important as it can have a big impact on the company's earnings.
Financial performance: This is critical to gauge the security of one's investment as well as growth potential. Various parameters as such profit margins, cash flow, debt on books will help determine if the company can deal with any external or internal challenges.
Assess potential for dividends and buybacks: Large IT companies have frequently given out dividends and floated share buyback offers to provide shareholders better returns on their investments. Such events can prove to be an indicator of the stability of the company. However, one must be careful to take a full view of the situation to see that the company has enough cash for expenses and to fund its growth.
Determine order flow and potential for growth: An investor must keep an eye out for new product offerings, the deal flow, and plans for the growth of a company to determine the revenue flows expected for the company. Investors must also assess whether the company's financial resources are adequate to support both its organic and artificial growth.
Conclusion
Indian tech stocks have a proven track record and are seen as a must-have in diversified investment portfolio. Due to the lower expected growth in the sector, IT stocks have historically traded at lower valuation levels than some of the other sectors.
The COVID-19 pandemic gave a boost to the sector with the surge for the need for better and more efficient technology solutions and greater need for outsourcing business as the world went into lock down.
However, the sector is now facing headwinds with the global economic slowdown and clients being more cautious regarding spending. IT companies are likely to have short-term effects from the current banking situation in the US and Europe.
Start Investing in 5 mins*
Rs. 20 Flat Per Order | 0% Brokerage
Open Free Demat Account
Account belongs to
By proceeding, you agree to the T&C.