Could Amazon be Vi's knight in the shining armor?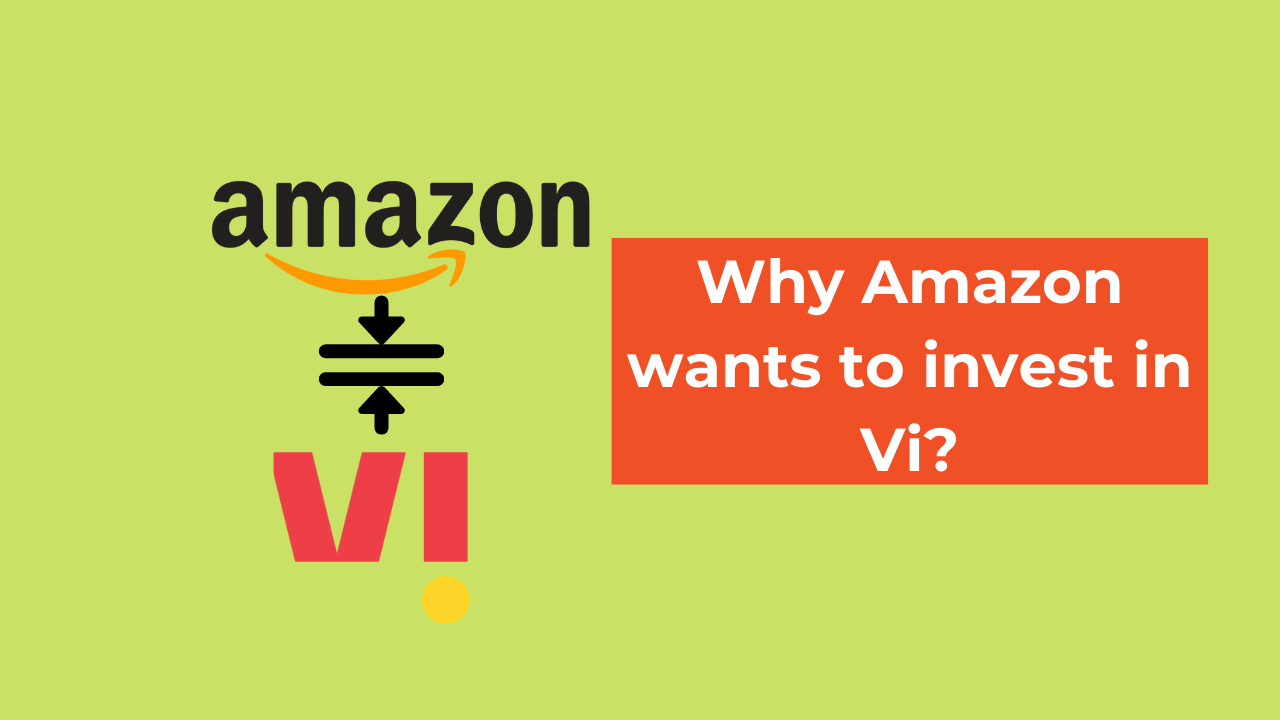 ---

Vodafone Idea was dying a few months back, although it is trying to hold up and trying to be brave, the rot in its financials is too big to go unnoticed.
Vi, India's third-largest telecom player as the subscriber base is struggling to keep its business alive, with loads of debt, and lack of cash the company is on the brink of collapse.
The cash-hungry telecom giant was looking for investors for a long time, it requires an investment of up to 20,000 crores. And recently the company has been in talks with the e-commerce giant Amazon to invest in it. 
What comes as a surprise is the matchmaker here is the GOI, which is trying hard to facilitate the merger. But the question is, why is it doing so, and why does Amazon wants to invest in VI?
To get the answers, we need to look back in the history, but before that lets learn a bit about the telecom business
Telecom by its very nature is a capital-intensive business, you need to pay government fees for spectrum, it is a fee that companies have to pay to use the Indian airwaves, through which voice calls are facilitated, and you need to pay infrastructure, maintenance expenses, etc.
So, in 2007, the government changed the policy of spectrum fees, previously telecom companies had to share a percentage of their revenue with the government as spectrum license fees, but then it changed the policy and under the new policy, companies would have to pay upfront fees, due to this major shift a lot of small companies like Telenor exited the sector and only giant companies with deep pockets were left. 
The companies sensed that the competition was decreasing and they started increasing their CAPEX, towards acquiring spectrums but in 2016, Reliance disrupted the whole industry with low costs plans, and these companies were unable to recover their spectrum dues eventually, the industry consolidated and very players survived.
Now, the blood bath was not only due to Reliance, the hidden and less known mastermind behind the disruption of the telecom industry was TRAI and the Department of telecommunication, when Reliance came into the industry with their free plans, Airtel and Vodafone knocked the doors of TRAI, competition commission, but all their request went unanswered. 
Not only that there are rumors, that both Bharti Airtel and Vodafone were quite in discord with the TRAI. TRAI as a regulator is responsible for ensuring transparent operations and fair competition in the industry, but it is believed that the company has a history of giving unfair advantages to Jio.
For example: In 2020, it blocked Airtel and Jio from launching premium plans, and both companies took it to the tribunal where the decision was struck down.
In Oct 2016, it slapped a penalty on them for not providing enough points of interconnection to Jio, based on just one day of Data.
The same TRAI allowed Jio to give free premium plans with free voice calls for nine months!
As a result, the subscribers kept on declining for both companies, they went into losses, and the debt increased most of which was of the government.
Both the companies have suffered due to this rift and as a consequence, the revenue of the sector is down by 16.5% from its peak in 2016, when Reliance had not disrupted the industry. Not just the companies, the govt is always facing the heat, as it expects its telecom revenue to decrease by 27%.
While it was a lose-lose scenario for everyone, Vodafone's idea was the worst hit amongst all, it was at its deathbed, the company as of March 2022, had Rs 1.96 lakh crore of debt, 90% of which was to the government.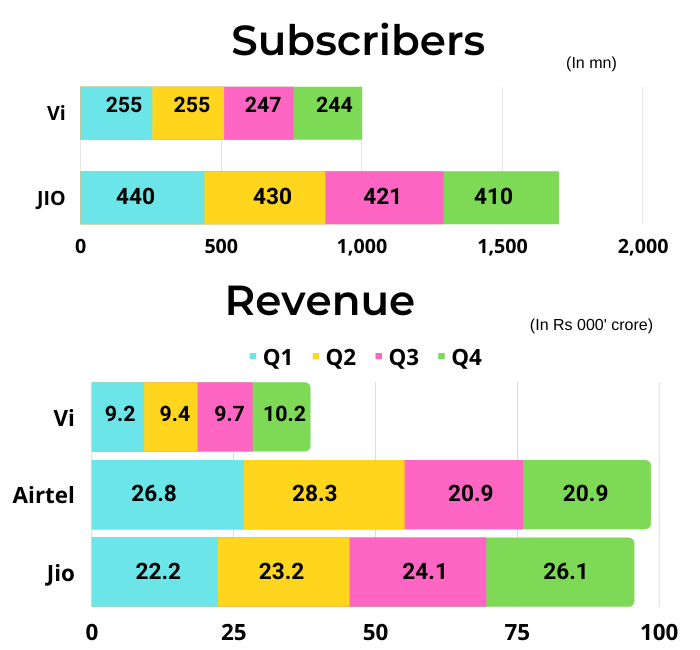 The government now wants to clear this mess, because the exit of Vi would mean a duopoly in the industry, and in the long the lesser the players in an industry, there would be less competition and investments for innovation.
To keep it alive, the government came with a rescue plan in 2021, under which it gave a moratorium of 4 years to the companies to pay license fees, further Vi opted to choose to convert the interest accrued on the deferred dues into government equity, which now amounts to a 33% stake in the company. 
Govt stake in Vi suffices, why does it want Amazon to invest in it.
That was quite a bumpy ride for VI, now enter the hero of our story Amazon.
Amazon has been in search of a telecom partner in India for a long time now, as per reports it was in talks with Bharti Airtel to invest $2 Billion in it.
Not just Amazon, all US tech joints have strategic partnerships with telecom companies in India. For example, Microsoft had struck a deep partnership with Reliance-owned Jio Platforms while Google and Facebook had already invested $10.2 billion.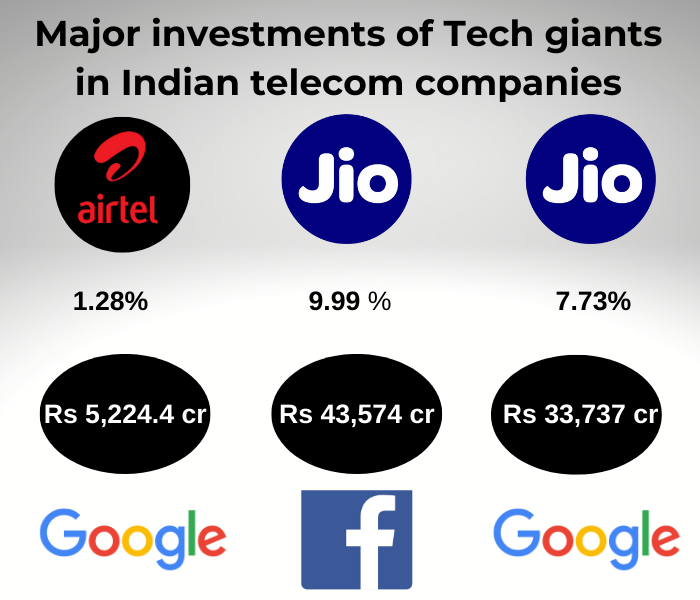 Why is Amazon Eyeing the Telecom company?
The foremost reason is Vis data centre and fibre networks, so one of the most profitable businesses of Amazon is Amazon web services, it is a leading company in providing cloud infrastructure to firms in the world, it hosts around 30% of the world's websites on its servers. Now cloud computing in the coming years would move from cloud servers to edge servers, these are those servers that are close to the physical device that is using the server.
To have data servers and fiber networks in the country, the company would require IP-1 licenses and no giant wants to get the licenses and manage the fibre networks
Vi has a large data centre in Navi Mumbai of 12 MW capacity. It also has 70 MSC centres across India which are smaller data centre that could potentially be used for edge applications. 
Also, Owning such telecom infra is important for Amazon as it is going to test its satellite broadband services, Project Kuiper, later this year.
Project Kuiper, is a project under which Amazon would have  3,236 small satellites in low Earth orbit which would deliver internet from space, it's quite similar to the SpaceX Starlink project.
So, Investments in Vi could prove to be fruitful for the company as otherwise, it would have to engage with the regulators, obtain licenses, and maintain the networks, all of which could take years.
The proposed merger would create a synergy for both the companies, as Vodafone, one of Vi's promoters, is AWS's leading partner in providing edge data centers. In the US, it's Verizon.
Most tech giants have made strategic investments in the telecom sector, Amazon is the lone member, so far. Its investment in VI could provide Amazon strategic access to its data centers, while for VI, the investment could help it turn around its business.
Start Investing in 5 mins*
Get Benefits worth 2100* | Rs. 20 Flat Per Order | 0% Brokerage
Open Free Demat Account
Account belongs to
By proceeding, you agree to the T&C.
Start Investing Now!
Open Free Demat Account in 5 mins
Enter Valid Mobile Number