Data Patterns (India) Ltd IPO - Information Note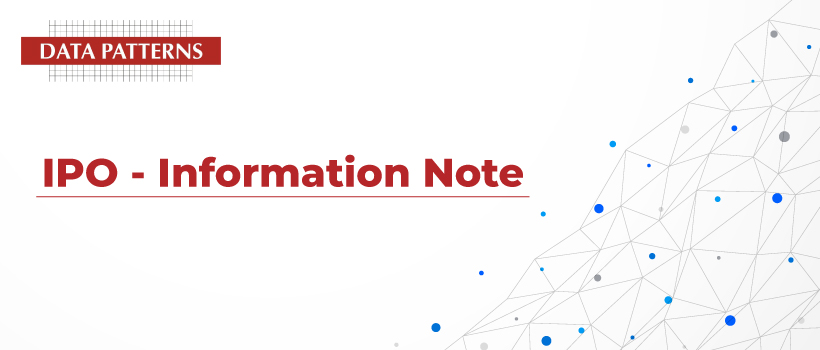 ---

Data Patterns (India) Ltd is a defence and aerospace service company with a pedigree of 23 years in the industry. It is a defence and aerospace electronics solutions provider caters to niche software and service requirements of the Tejas Light Compat Aircraft, Light Utility Helicopters, BrahMos Missile Program as well as in the field of communication intelligence as well as electronic intelligence. 

Data Patterns (India) Ltd boasts of design capabilities across the entire spectrum of defence and space electronics and works directly with most of the defence and space related departments and research organizations.

The company is also backed by highly respected private equity investor Matthew Cyriac, who was formerly heading Blackstone India. Data Patterns is likely to be a major beneficiary of the Defence related Make in India program.
 
Key terms of the IPO issue of Data Patterns (India) Ltd
 
| | | | |
| --- | --- | --- | --- |
| Key IPO Details | Particulars | Key IPO Dates | Particulars |
| Nature of issue | Book Building | Issue Opens on | 14-Dec-2021 |
| Face value of share | Rs.2 per share | Issue Closes on | 16-Dec-2021 |
| IPO Price Band | Rs.555 - Rs.585 | Basis of Allotment date | 21-Dec-2021 |
| Market Lot | 25 shares | Refund Initiation date | 22-Dec-2021 |
| Retail Investment limit | 13 Lots (325 shares) | Credit to Demat | 23-Dec-2021 |
| Retail limit - Value | Rs.190,125 | IPO Listing date | 24-Dec-2021 |
| Fresh Issue Size | Rs.240.00 crore | Pre issue promoter stake | 58.63% |
| Offer for Sale Size | Rs.348.22 crore | Post issue promoters | 45.62% |
| Total IPO Size | Rs.588.22 crore | Indicative valuation | Rs.3,035 crore |
| Listing on | BSE, NSE | HNI Quota | 15% |
| QIB Quota | 50% | Retail Quota | 35% |
Data Source: IPO Filings
 
Here are some of the key aspects of the Data Patterns (India) Ltd business model
A)
It is a vertical integrated provider of defence and space related solutions which places the company in a position to better control its margins.
B)
 Data Patterns has the complete defence suite as it caters to advanced equipment design and manufacture for the army, air-force and the Indian Navy. 
C)
Out of the annual revenues of Data Patterns, 76% comes from manufacturing, 16% from development and the balance 8% from annual maintenance contracts.
D)
It currently has a total of 105 orders worth Rs.581 crore in its order predominantly in manufacturing; followed by development and AMC contracts.
E)
Out of its total order book as of FY21, nearly 62% of its orders pertain to radar related solutions, while services and avionics put together account for 16% of the order book.  
How is the Data Patterns (India) Ltd IPO structured?

The IPO of Data Patterns (India) Ltd is a combination of a fresh issue and an offer for sale by existing shareholders and the break-up is as follows.

1) The fresh issue component will comprise the issue of 41,02,564 shares which at the upper end of the price band of Rs.585 works out to Rs.240 crore.
2) The OFS component will comprise the issue of 59,52,550 shares and at the upper price band of Rs.585, the total OFS value works out to Rs.348.22 crore. That takes the total size of the Data Patterns IPO to Rs.588.22 crore.
3) Out of the OFS of 59.53 lakh shares, promoters Srinivasa Gopalan Rangarajan and Rekha Murthy Rangarajan will sell 19.67 lakh shares each. While the promoter group will sell another 4.15 lakh shares, individual early shareholders will offer 15.29 lakh shares.
4) Post the offer for sale and the fresh issue, the promoter stake will come down from 58.63% to 45.62% due to the combination of the fresh issue and the OFS. Public shareholding overall will go up to 54.38% post issue.

Key Financial parameters of Data Patterns (India) Ltd
 
| | | | |
| --- | --- | --- | --- |
| Financial Parameters | Fiscal 2020-21 | Fiscal 2019-20 | Fiscal 2018-19 |
| Sales Revenues | Rs.223.95 cr | Rs.156.10 cr | Rs.131.06 cr |
| EBITDA | Rs.94.59 cr | Rs.47.25 cr | Rs.26.99 cr |
| Net Profit / (Loss) | Rs.55.57 cr | Rs.21.05 cr | Rs.7.70 cr |
| EBITDA Margins | 41.75% | 29.50% | 20.37% |
| Net Profit Margins (NPM) | 24.53% | 13.14% | 5.81% |
| Net Worth | Rs.207.47 cr | Rs.153.19 cr | Rs.132.59 cr |
| ROCE (%) | 34.69% | 23.39% | 12.45% |
Data Source: Company RHP

The vertically integrated model has ensured high levels of growth and margins in a non-cyclical manner. Revenues are up 70.9% over FY19 while net profits are up 7-fold over FY19. EBIT margins and ROCE have also expanded sharply over last 2 years.

Data Patterns (India) Ltd is expected to have a listing market cap of Rs.3,035 crore assigning a P/E ratio 54 times FY21 earnings. However, if we factor in the robust margins and the profit growth over last 2 years, this does appear to be a reasonable pricing for the stock.


Investment Perspective for Data Patterns (India) Ltd IPO
 
Here is what investors must consider before investing in the Data Patterns (India) Ltd IPO.

a) The vertically integrated model enables the company to grow in a de-risked and non-cyclical manner; maintaining high growth rates as well as robust margins.
b) The company supplies the complete suite of solutions for the armed forces and the missile programs, so Make in India will favour the company in future too.
c) Return on capital employed at 36.4% in FY21 is almost up 3 fold in the last 2 years and even the EBITDA margins have actually doubled in the last 2 years.
d) Sound order book of Rs.581 crore spread across the spectrum of manufacturing, services as well as AMC, with focus on radar systems, communications and avionics.
e) The bulk of the new issue proceeds will be used to improve the solvency ratios of the company by repaying and also prepaying its existing borrowings.
The valuation does look reasonable if you consider the potential of the business and its growth over the last 2 years in terms of profits and margins. For its level of RONW and ROCE, it is attractively priced compared to its peer group.
Also Read:-
Start Investing in 5 mins*
Rs. 20 Flat Per Order | 0% Brokerage
Open Free Demat Account
Mobile No. belongs to
By proceeding, you agree to the T&C.