Dodla Dairy Limited IPO information note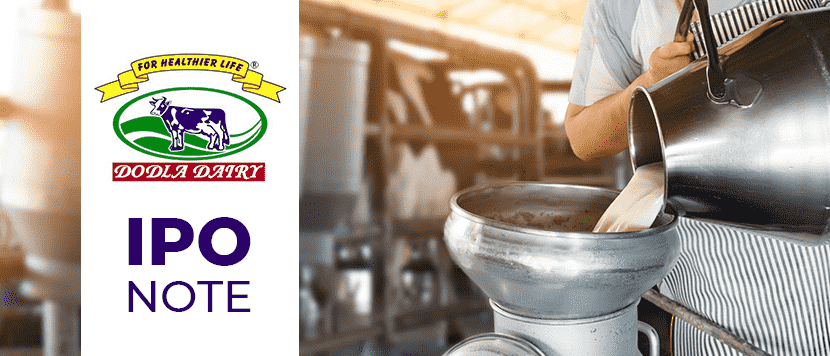 ---

Issue Opens - June 16, 2021
Issue Closes - June 18, 2021
Price Band - ₹ 421-428
Face Value - ₹10
Issue Size - ~₹520 cr (at upper price band)
Bid Lot - 35 Equity Shares
Issue Type - 100% Book building
Company Background
Dodla Dairy Limited was incorporated in 1995 and is an integrated dairy company in entire South India. Company is engaged in the procurement, processing, distribution, and marketing of milk and other dairy products. Company processes, sells milk (including standardized, toned, and double toned milk), and produces dairy products such as curd, butter, ghee, ice cream, flavored milk etc. Operations of DDL in India are primarily across the five Indian states of Andhra Pradesh, Telangana, Karnataka, Tamil Nadu and Maharashtra and overseas operations are based in Uganda and Kenya. Its Indian operations are undertaken under the brands "Dodla Dairy", "Dodla" and "KC+". Its overseas operations are undertaken under its brands "Dodla Dairy", "Dairy Top" and "Dodla +". Amongst private dairy players with a significant presence in the southern region of India, the company is the third highest in terms of milk procurement per day (Source: CRISIL Report) with an average procurement of 1.02 million litres of raw milk per day (MLPD) as of December 31, 2020 and second highest in terms of market presence across all of India amongst private dairy players with a significant presence in the southern region of India (Source: CRISIL Report)
Object of the Offer
The Offer for Sale(~Rs470cr)
The proceeds of the Offer for Sale shall be received by the Selling Shareholders after deducting their proportion of Offer expenses and relevant taxes thereon. The Company will not receive any proceeds from the Offer for Sale and the proceeds received from the Offer for Sale will not form part of the Net Proceeds.
The Fresh Issue (~Rs50 crore)
Repayment and/ or pre-payment, in full or part, of certain borrowings availed by our Company: Rs32.2cr

Funding capital expenditure requirements of our Company: Rs7.1cr; and

General corporate purposes.
Also Read: Upcoming IPOs in 2021
Financials of Dodla Dairy
| | | | | |
| --- | --- | --- | --- | --- |
| Particulars (Rs Cr) | FY18 | FY19 | FY20 | 9MFY21 |
| Revenue from Operations | 1,590 | 1,692 | 2,139 | 1,413 |
| EBITDA | 119 | 142 | 147 | 210 |
| PAT | 57 | 63 | 50 | 116 |
    Source: RHP
Competitive Strengths
Consumer focused dairy company with a diverse range of products under the "Dodla Dairy" and "Dodla" brands:
DDL has developed one of the leading brands in the dairy products industry in south India with strong consumer recognition, particularly in the States of Andhra Pradesh, Karnataka, Tamil Nadu and Telangana. Its Indian operations are undertaken under its brands "Dodla Dairy" (for milk and perishable products such as curd, flavoured milk) and "Dodla" (for VAPs such as ghee, butter, paneer, butter milk and ice creams). It primarily derived all its revenue in Fiscal 2020 and nine months period ended December 31, 2020, from sale of milk and dairy based VAPs in the branded consumer market. It is the third largest private milk company in south India in terms of procurement and second highest in terms of market presence across all of India amongst private dairy players with a significant presence in the southern region of India. It offers a diverse portfolio of dairy based VAPs targeted at various consumer segments and this enables it to cater to the changing preferences of its retail customers. It sells fresh milk, ghee, butter, curd, paneer, gulab jamun, doodh peda, basundhi and junnu, which is targeted at consumption at home and UHT milk, flavoured milk, ice - cream and beverages such as buttermilk under its brand, primarily for direct consumption. The strength of its brands helps in many aspects of its business, including expanding to new markets, entering into agreements with distributors and retailers and building relationships with its customers, investors and lenders.
Focused engagement and long term relationship with dairy farmers:
DDL's farmer-friendly policies and continuous engagement with them with welfare programs have strengthened its relationships with farmers which in turn have strengthened its raw milk procurement process. It offers a variety of initiatives for the farmers from whom it procures raw milk. As part of its diversified procurement network, it relies on third party suppliers and farmers. In order to ensure transparency, it tests the quality and quantity of the raw milk collected from the farmers with electronic milk analyzers. The Company pays the farmers once every 10 to 15 days with the money being sent directly to the bank accounts of 77.00% of its farmers as of March 31, 2021 and pay the remaining 23.00% of its farmers by way of direct cash payments, which motivates them to engage with it more frequently. It has consistently improved its direct procurement from farmers from 2018 from 0.50 MLPD to 1.03 MLPD as of March 31, 2021. It has also diversified into an ingredient input providing company by supplying upfront cattle feed under the "Orga " brand, manufactured by its Subsidiary Orgafeed Private Limited, directly to its farmers through its procurement network which is adjusted against the value of the raw milk supplied to it by such farmers. DDL's continuous engagement with farmers and its knowledge in the dairy industry combined with welfare programs for the farmers have enabled it to have a strong procurement network in the regions in which it operates and thus helped to contain the cost of raw milk and ensure supply of quality raw milk.
Financial Growth and operational efficiencies:
DDL has delivered consistent growth over the last three financial years both in terms of financial and operational metrics. Its revenue from operations increased at a CAGR of 15.98% over Fiscal 2018 to Fiscal 2020 and amounted to Rs. 21,393.73 million in Fiscal 2020. Additionally, its sales (sale of goods) increased from Rs. 15,891.60 million in Fiscal 2018 to Rs.21,361.64 million in Fiscal 2020. Despite cumulative capital expenditure of Rs.2,644.86 million over the past three years, towards inter alia, commissioning a new processing plant at Rajahmundry in Andhra Pradesh, acquisition of the processing plants at Batlagundu and Vedasandur in Tamil Nadu from KC Dairy Products Private Limited, acquisition of the cattle feed and mixing plant by Orgafeed Private Limited at Kadapa in Andhra Pradesh and establishment of new VLCCs, Its return on equity and return on capital employed for Fiscal 2020 were at 11.50% and 17.01%, respectively which is due to the successful integration of the acquisitions with its operations. Further, its receivable days were 1.23 days and 0.66 days as on March 31, 2020 and December 31, 2020 respectively with its trade receivables amounting to Rs.72.03 million and Rs.33.92 million as on March 31, 2020 and December 31, 2020 respectively.
Experienced Board and senior management team:
DDL is led by an experienced Board of Directors, who have extensive knowledge and understanding of the dairy business and has the expertise and vision to organically and inorganically scale up its business. Its Board, led by its Chairman Dodla Sesha Reddy, has led Company through sustained period of growth and has also taken initiatives to improve processes and efficiencies, implementation of enterprise resource planning system in the year 2000 and replication of India business model in Uganda and Kenya which led to its overseas operations turning profitable. The knowledge and experience of its senior and middle-level management team in the dairy business provides it with a significant competitive advantage as it seeks to grow its business. Its core managerial team has an average dairy industry experience of more than 20 years and most of them have been associated with the Company since its formative years.
For complete list of competitive Strengths kindly refer to the Red Herring Prospectus.
Key Risk Factors:
Operations are dependent on the supply of large amounts of raw milk, and inability to procure adequate amounts of raw milk from farmers and third party suppliers, at competitive prices, may have an adverse effect on the business, results of operations and financial condition.
The coronavirus disease (COVID-19) has had an adverse effect on DDL's business and operations and the extent to which it may continue to do so in the future, is uncertain and cannot be predicted.
The supply of raw milk is subject to seasonal factors, and does not necessarily match the seasonal change in demand for its products. Consequently, inability to accurately forecast demand for products, may have an adverse effect on its business, results of operations and financial condition.
For complete list of risk factors kindly refer to the Red Herring Prospectus.
See detail video on Dodla Daity Ltd IPO : 
About 5paisa:- 5paisa is an online discount stock broker that is a member of NSE, BSE, MCX and MCX-SX. Since its inception in 2016, 5paisa has always promoted the idea of self-investment and has ensured that 100% operations are executed digitally with minimal to no human interventions. 
Our all-in-one Demat account makes investment hassle free for everyone, be it an individual newly venturing into the investment market or a pro investor. Headquartered in Mumbai, 5paisa.com - a subsidiary of IIFL Holdings Ltd (formerly India Infoline Limited), is the first Indian public listed fintech company.
Start Investing in 5 mins*
Get Benefits worth 2100* | Rs. 20 Flat Per Order | 0% Brokerage
Open Free Demat Account
& get benefits worth 2100*
Have Promo code?

Use code ACT2100
Enter Promo code
By proceeding, you agree to the T&C.
Start Investing Now!
Open Free Demat Account in 5 mins