How Stock Markets Performed in May 2021?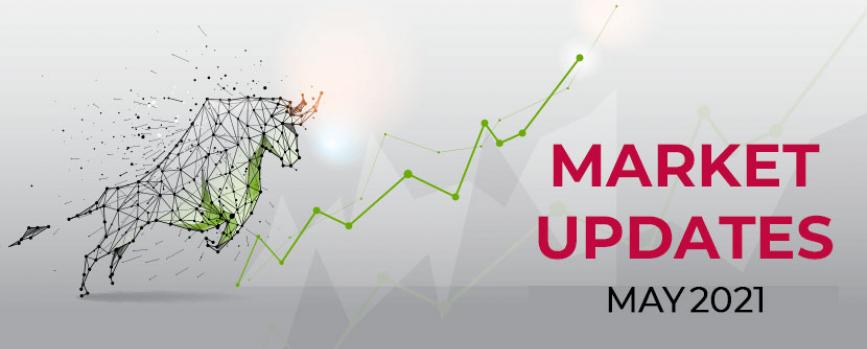 Market Update:
In May 2021, global markets largely continued their upward moment supported by encouraging sentiments that the US economic recovery from the pandemic is gaining momentum. 
Further, progress towards US's multi-trillion-dollar spending boost coupled with softness in the US 10-year bond yields despite sharp rise in inflation, added to the positive sentiments.
Indian markets played catch-up with the global markets and hit a fresh high on rapid fall in new Covid cases across the country.
Both Nifty 50 and BSE Sensex went up 6.5% in May. As the institutional investors remained absent during the month, retail and non-institutional investors lifted the frontline indexes.
Mid cap and small cap indexes outperformed frontline indexes due to very strong interest by the retail investors in the broader markets.
FIIs bought ₹197cr (vs. ₹6,559cr sold MoM) in Indian equities, while DIIs bought ₹254cr worth of equities (vs. ₹5,933cr bought MoM) during the month.
Indian Equity Markets:
On the sectoral front, PSU Bank Index led the gains (strong earnings and improved asset quality in Q4) with ~18% MoM returns followed by Energy with ~10% MoM returns (strong demand from China, weaker dollar index) 
As the states started to ease localized lockdowns after continuous decline in active cases throughout the May month, investors got enthused believing that relaxing of lockdowns would revive the economic activities in the respective regions.
Fixed Income Markets:
India's 10-year bond yields remained stable at around 6.0% on RBI's efforts to keep a lid on long term bond yields through Govt. Securities Acquisition Programs (GSAP), OMOs and Operation Twist.
India's GDP for Q4FY21 grew by 1.6% (Q3FY21: 0.5%) mainly driven by exceptional performance by construction sector, further aided by manufacturing and utilities. However, hospitality ecosystem continued to suffer due to targeted lockdown across the country. The economy contracted 7.3% for FY21 (FY20: 4.0%). 
Despite muted foreign inflows, Indian rupee strengthened due to resilient domestic equities and weaker dollar index. Rupee appreciated by 2.2% to 72.44 vs. the USD at the close of May 2021
Stock Performance:
Below are the top 5 gainers and losers on Nifty50 in May 2021.
 
| | | | |
| --- | --- | --- | --- |
| Company Name | 03-05-2021 | 31-05-2021 | Gain |
| UPL Ltd. | 617.8 | 815.1 | 31.9% |
| State Bank Of India | 350.6 | 424.4 | 21.0% |
| Indian Oil Corporation Ltd. | 91.5 | 109.3 | 19.5% |
| Asian Paints Ltd. | 2,582.2 | 2,977.5 | 15.3% |
| Bharat Petroleum Corporation Ltd. | 416.0 | 472.0 | 13.5% |
Source: Ace Equity 
UPL Ltd:
The company's signed a multi-year agreement with Soil Health Institute. Additionally, Brokerage firm CLSA has maintained its positive rating for this stock. The company also declared Q4 results which were better than expected.
State Bank of India:
Bank stocks were up during the month because of the increased interest of investors in the sector. Additionally, the bank's Q4 result were better than expected. The bank had reported an 80% rise in its net profit during the January to March quarter results.
Indian Oil Corporation Ltd.
The stock price climbed on petrol and diesel prices being increased. (IOC) share price touched a 52-week high in the month May 2021 
Asian Paints Ltd.
The company declared Q4 results which were better than expected. Revenue from operations has risen by 43.5% to Rs6,651.43cr from Rs 4,635.59cr. Profit before depreciation, interest, tax and other income (PBDIT) for the group (before share in profit of associates) increased by 53.4% to Rs1318.26cr from Rs 859.62cr. Profit Before Tax (from continuing operations) increased by 65.4 % to Rs1,156.31cr from Rs 699.22cr. Total dividend of Rs 17.85 per equity share (1785%) was distributed for FY 2020-21. The dividend payout ratio was 56.1% for FY 2020-21.
Bharat Petroleum Corporation Ltd.
The markets were expecting a huge dividend payout from the company. Also, according to a few news reports, the government is expecting bids to come in for BPCL's privatization by July end.
 
| | | | |
| --- | --- | --- | --- |
| Company Name | 03-05-2021 | 31-05-2021 | Loss |
| Bharti Airtel Ltd. | 558.9 | 534.9 | -4.3% |
| Hindustan Unilever Ltd. | 2,408.0 | 2,340.1 | -2.8% |
| Tata Consumer Products Ltd. | 677.1 | 663.9 | -2.0% |
| JSW Steel Ltd. | 723.3 | 710.9 | -1.7% |
| Shree Cement Ltd. | 27,989.9 | 27,578.0 | -1.5% |
Source: Ace Equity
Bharti Airtel Ltd.
Telecom major Bharti Airtel reported a consolidated net profit of Rs 759 crore for the quarter ended March 31, 2021 (Q4FY21). Mobile average revenue per user (ARPU) saw a dip on quarter-on-quarter basis during the March quarter to Rs 145. It was Rs 166 in Q3FY21.
 
Tata Consumer Products Ltd.
The company reported a profit in the January to March quarter but missed analyst expectations.
 
JSW Steel Ltd.
The crude steel production of JSW Steel stood at 13.71 lakh tonne in April 2021, a 5.2% drop from March. Additionally, Credit Suisse downgraded this stock as it sees multiple risks to steel prices ahead.
 
Shree Cement Ltd.
The company posted its Q4 results and posted better than expected results. The stock will down despite that.
Disclaimer: The above report is compiled from information available on the public platforms. These are not buy or sell recommendations.
Open FREE Demat Account in 5 minutes

Mobile Number
There is some issue, try later