How the Ukrainian crisis will impact Indian trade and economics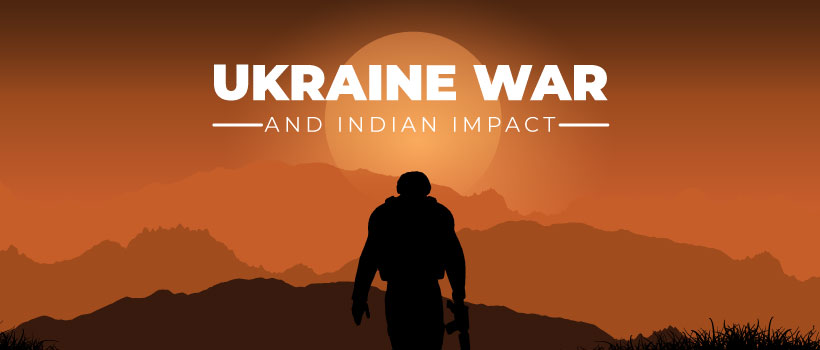 ---

Even as the situation in Ukraine degenerated into a full-fledged war, the biggest casualty was crude oil. If you look at the 1-year price chart of Brent Crude, it traversed from $70/bbl in early Dec-21 to $98/bbl in late Feb-22; a price spike of 40% in less than 3 months.

Figure 1- One Year movement of Brent Crude $/bbl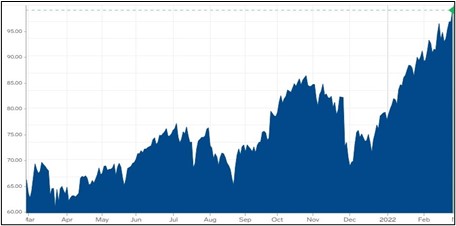 During the last week of Feb-22, the price of Brent Crude briefly touched a high of $105/bbl but traders offloaded long positions at these levels. However, oil analysts believe that if the stand-off in Ukraine continues and sanctions deepen, then oil could eventually trend towards $120/bbl, a price steeply problematic for India.

Let us look at 2 aspects of the Russia Ukraine stand-off in terms of impact on India. Firstly, let us look at how the stand-off will impact the price of oil and the implications for India in terms of inflation, fiscal deficit, current account deficit and rupee value. Secondly, we also look at how the Ukraine crisis could impact the Indian trading basket.

Russia, Ukraine, Oil and the India story

For now, it does look like Vladimir Putin is not relenting. He wants to use this opportunity to make a point to the Wild West and also give a display of Russia's military prowess. It is not like Russia has just entered Ukraine. They are at the gates of Kiev and once Russia wins this battle of attrition; Ukraine may have limited options.

One seductive argument is that India's dependence on Russian oil is very limited. That is statistically correct, since Russia's contribution is less than 2% in the India crude basket. But, that misses the point. Russia is the world's second largest producer of crude in the world after the United States and along with the US and Saudi Arabia, forms the troika that controls 35% of world oil production.

The bigger concern is the impact on oil prices if supplies to the EU get disrupted. As the war deepens, either Russia will block the pipelines or EU will impose stiffer sanctions. Either ways, EU which relies on Russia for 30-35% of its energy needs is going to be starved of oil and gas. Since Russian oil and gas cannot be replaced easily, the obvious impact would be a sharp spike in prices to as high as $120/bbl in the Brent market.

Higher oil prices will hurt India hard

India still relies on crude imports to meet 85% of daily oil needs. Of course, most of India's crude comes from the Middle East and Africa, but if benchmark prices go up, India will see the landed cost of oil going up. That will hurt the Indian economy in a number of ways. 

1) Even if oil stabilizes at $100/bbl, current account deficit could widen from 1.8% in FY22 to 3% in FY23. Higher oil prices would make matters worse.
2) It is estimated that every $10 increase in crude oil prices, adds 20-30 bps to inflation so we could see retail inflation above 6% for a prolonged period.
3) As the price of crude rallied from $80 to $100, Indian petrol and diesel prices have been static. That is due to the state elections and one can expect a huge spike once elections are over, giving a thrust to inflation.
4) Above all, higher oil prices makes the INR vulnerable (recently crossed 76/$) and heightened FPI outflows can only exacerbate matters.

In short, higher oil prices could be really painful for the Indian economy and that is the most likely outcome of a prolonged stand-off in Ukraine.
 
Check - Why is crude beyond $100/bbl and what does it really mean

War impact on India's trade with Russia and Ukraine

The good news is that neither Russia, nor Ukraine is as big a trading partner for India as names like China, the US, UAE, Saudi Arabia and Switzerland. In fact, Russia does not even feature among India's top-20 trading partners. However, let us look at the composition of India's trade with Russia and also with Ukraine.

The combined size of India's trade with Russia and Ukraine is a little over $12 billion, or 1.3% of India's annual trade. Also, India's trade with Russia and Ukraine happens through the Suez Canal route and India does not use the Black Sea route, which is most likely to be embargoed, if the war situation worsens.
The only concern is if Russia is ejected from the SWIFT payment system, it could create a problem for fund flows to and from Russia. But let us look at Indo-Russia trade in greater detail.

How the Indo Russia trade pans out?

India's total trade with Russia in FY22 till date is $9.4 billion, nearly 15% higher than the FY21 levels amidst post-COVID recovery. India runs a trade deficit of $4.4 billion with Russia. India's principal imports from Russia include fuels, mineral oils, pearls, precious or semi-precious stones, nuclear reactors, boilers, machinery, mechanical appliances and fertilisers. On the other hand, India is a major exporter of pharmaceutical products, electrical equipment, organic chemicals and vehicles to Russia.

While the numbers are small, India's trade with Russia has grown sharply this year. Also, Russia is a key market for pharma products and organic chemicals; both of which are export thrust areas under Atma Nirbhar Bharat.

How the Indo Ukraine trade pans out?

India's total trade with Ukraine stood at $2.3 billion in FY22, almost at par with last year. The principal items of imports from Ukraine are agriculture products, metallurgical products, plastics and polymers. On the other hand, India exports pharmaceuticals, machinery, chemicals and food products to Ukraine. 

Finally, there are 2 points to keep in mind. In the case of Iran, India adhered to the US sanctions, but it will be a tougher diplomatic choice in the case of Russia. Secondly, Indian students find the higher engineering and medicine courses in Russia and Ukraine much better value for money compared to the West. The war is going to leave a lot of  young careers stranded and uncertain.
Start Investing in 5 mins*
Rs. 20 Flat Per Order | 0% Brokerage
Open Free Demat Account
Account belongs to
By proceeding, you agree to the T&C.