Indian BFSI Sectoral Outlook- Feb 2022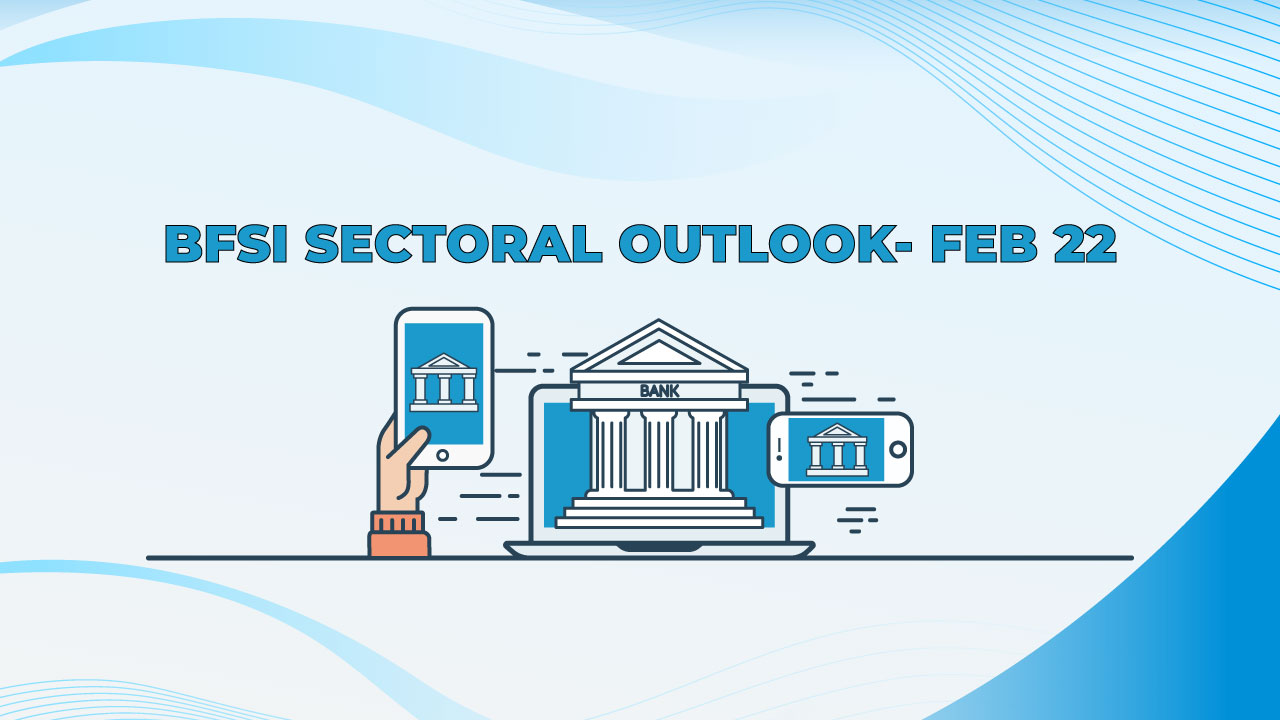 ---

In February 2022, Nifty Bank Index dropped by 10% in line with its global peers. Nifty Bank underperformed Nifty with banks & life-insurers underperforming. FPI outflows from Finance Sector were at $1.3 billion in Feb vs $4.7 billion over the period from Nov21 to Jan22.
 
Nifty Bank has underperformed Nifty over the last 12 months.

a) Nifty Bank valuations have fallen below the long-term average in terms of monthly price performance. 
b) FPI outflows from Indian financials stood at ~$1.3bn in Feb-22, following $4.7bn of outflows over Nov-21 to Jan-22. 
 
Banking:
In the month of February, multiple Public Sector Banks have subscribed to the equity shares of India Debt Resolution Company.
Subscribed stake: Canara Bank subscribed 14.9% stake to be reduced to 5% by 31st March, SBI subscribed 12.3% stake to be reduced to 5% by 31st March, Bank of Baroda subscribed 12.3% stake to be reduced to 9.9%, Union Bank of India subscribed 12.3% to be reduced below 10% in due course, PNB to 11.8% stake to be reduced to 5% and Bank of Maharashtra to 6.2% stake to be reduced to 4%.

Trends in Credit and Deposits:
1) Banking credit growth has been stable to 8% level in Feb-22, after 7% growth in Jan-22 
2) Deposit growth has slowed a bit to 8-9% levels.
3) Credit-to-deposit has dropped from 77% in May 2019 to 72% in Feb 2022.
4) Banking credit growth for January slowed to 7% vs 9% in last year December due to seasonality but has improved to 8% in February. The growth was aided by an improvement in corporate loan growth and continued momentum in retail loans.
5) Healthy loan growth across categories, led by retail, telecom, roads, and real estate.

Bond Markets:
1) Bond Market issuance more than doubled significantly in February compared to last month.
2) Small bond issuances also saw healthy growth in February
3) Outstanding Commercial Papers (CPs) were stable but were down from mid-Dec high level 
4) The issuance of Commercial Papers was stable in the month of February.
5) Outstanding Certificate of Deposits (CDs) rose significantly.
6) The issuance of Certificate of Deposits was stable in the month.
7) System credit growth has held up better than expected - amid a recent sharp uptick in bank credit and also saw some bump up due to seasonality.

Rates and Yields:
1) 3 year Government bond yields rose by 40bps while Corporate yields were up by 15-25bps in the past 30 days.
2) 1-yr MCLR rate across key banks like Axis Bank, ICICI, etc. were stable barring a 5bps increase for HDFC Bank.
3) Term Deposit (1-3 year term) rates across banks have been stable in the month of February after a rise by 5-10bps earlier.
4) 3-year AAA corporate bond yield spreads (over GSec) have eased about 20bps in the past 1 month as GSec yields rose.
5) Short-term G-sec yields rose in February, increase in long-term yields was milder
6) Long and short-term corporate bond yields were largely stable.

Insurance Industry:
In February, IRDAI has published a draft regarding the increase in motor TP premiums for FY23. The hike in long-term insurance for prime segments of new cars is proposed to be at 12-23%, depending on engine capacity.
Within new 2-wheelers, the sub-75cc segment long-term premium is given a reset with a 178% hike while the category of 75cc-150cc is likely to see a hike of 17%.
For old vehicles, the proposals are softer with a 0-6% hike for cars up to 1500cc and 1-6% for Commercial Vehicles. For old 2-wheelers, the hikes are higher at 12-21%, barring the 75cc-150cc category, where a lower 5% rate is recommended.

For Life Insurance Premiums:
1) In February, Sector retail APE (Annual Premium Equivalent) grew in single digits at 5% YoY 
2) LIC growing slightly faster; a significant drop of 5% for the sector
3) Weak growth continued for the month of February, despite the little impact from any Covid wave.
4) Among all the listed players, only HDFC Life posted positive growth in Feb-22
5) The private sector continues to lead on a YTD basis

Trends in Mutual Fund Industry:
1) Equity Mutual Funds saw inflows for the 12th consecutive month - Feb'22 equity flows were up month-on-month despite fluctuating economic sentiments.
2) Liquid inflows offset most of the outflows from debt funds.
3) Mutual Fund Industry's AUM grew by 19% YoY led by equity and ETFs

Commercial Banking:
For commercial banking, broader demand has been supportive; real estate activity has picked up, but consumption has been patchy. Rural demand is stable, but there are chances of weakness.
A sharp rise in new Commercial Vehicle (CV) prices has boosted demand for used Commercial Vehicles. Used CV prices are up 10-20% in the last 12-15 months.
While the mix of new CVs has now dropped to 5% (7% 4QFY21), a mix of new and 1-4 year vintage loans has stayed stable at 19-21%. Potential fuel price hikes should be passed on, though the impact of higher fuel prices on demand is uncertain. 

Micro Finance:
In February 2022, India Ratings has revised its outlook on the microfinance sector in India for FY23 to 'Neutral' from 'Negative', as it expects the sector to grow 20-30% for both FY22 and FY23, and it sees the impact of the pandemic on credit costs as largely absorbed.
It has been stated that the collections in the sector have improved and refinancing has become relatively easier. 
The recent framework for microfinance loans is positive for NBFC-MFIs. It expects the market to expand since the threshold income for availing MFI loans has been increased to Rs.300k from Rs.125-200k (these customers were earlier being catered by individual loans, where interest rates are generally higher at 22-26%). Risk-based pricing would offer a level-playing field for all players.
Start Investing in 5 mins*
Rs. 20 Flat Per Order | 0% Brokerage
Open Free Demat Account
Mobile No. belongs to
By proceeding, you agree to the T&C.