Indian Railway Catering and Tourism Corporation (IRCTC)- IPO Note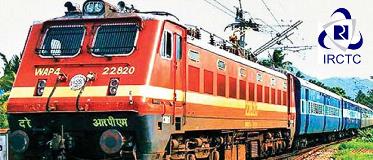 ---

Rating: Subscribe
Issue Opens: September 30, 2019
Issue Closes: October 03, 2019
Price Band: Rs 315- 320
Issue Size: Rs638cr
Bid lot: 40 Equity shares
Issue Type: OFS
Employee Reservation: 1,60,000 Equity Shares
Employee & Retail Discount: Rs.10
| | | |
| --- | --- | --- |
| % Shareholding | Pre IPO | Post IPO |
| Promoter | 100.0 | 87 |
| Public | 0 | 13 |
Source: offer document
Company Background
Indian Railway Catering and Tourism Corporation Limited (IRCTC) is a Central Public Sector Enterprise wholly owned by the Government of India (GoI) under the administrative control of the Ministry of Railways. IRCTC is the only authorized entity by Indian Railways to provide online railway tickets, catering services to railways, and packaged drinking water at railway stations and trains in India. Company currently operates in four business segments viz. internet ticketing (12% of revenue in FY19), catering (55%), packaged drinking water under Rail Neer brand (9%), and travel & tourism (24%). IRCTC operates one of the most transacted websites i.e. www.irctc.co.in, with transaction volume averaging 2.5cr-2.8cr transactions per month during the five months ended August 30, 2019.
Issue Details
The offer comprises of the Offer for Sale (OFS) of 2.0cr shares by the promoters to carry out the disinvestment. Company will not directly receive any proceeds from the offer.
Financials
| | | | | | |
| --- | --- | --- | --- | --- | --- |
| Consolidated RsCr | FY17 | FY18 | FY19 | FY20E | FY21E |
| Revenue | 1,520 | 1,466 | 1,868 | 2,183 | 2,529 |
| EBITDA Margin (%) | 20.6 | 18.6 | 19.9 | 23.1 | 25.7 |
| PAT | 229 | 221 | 273 | 377 | 531 |
| P/E (x) | 22.4 | 23.2 | 18.8 | 13.6 | 9.7 |
| RONW (%) | 29.1 | 23.1 | 26.1 | 29.9 | 33.8 |
| ROCE (%) | 23.6 | 18.0 | 21.4 | 26.8 | 31.6 |
Source: RHP, 5paisa Research
Key Points
Under the Ministry of Railways, IRCTC is the only authorized entity to manage the catering services on board trains and major static units at railway stations under the Catering Policy 2017. In FY03, catering service of Indian Railways was handed over to IRCTC on "as is where is" basis along with its staff until 2010, where the Ministry of Railways mandated majority of these catering services to be handed back to Indian Railways. With the Catering Policy 2017, the responsibility for the entire catering services on all mobile units having pantry car service from Indian Railways, as well as part of static catering services of Indian Railways have been handed over to IRCTC as on FY19. The company is planning to roll out at least 10 new pantry cars in FY20E once the design is approved by Indian Railways. Catering services are divided in two focus areas viz., (a) Mobile Catering - catering services on trains, (b) Static Catering – off-board catering services at stations and (c) e-catering (online ordering). Revenue from catering is estimated to remain broadly flat due to the high penetration level.
Currently, company operates ten Rail Neer plants with an installed capacity of ~1.09 million litres per day (MLPD), catering to ~45% of the current demand of packaged drinking (1.8 MLPD) water at railway premises and in trains. To increase the presence and meet the remaining and future requirements of the packaged drinking water at station premises and trains, IRCTC is setting up six new Rail Neer plants at Nagpur, Bhusawal, Jabalpur, and Una. Once these plants are completed, company expects to deliver up to ~80% of the total market demand of packaged drinking water at railway premises and trains. With the completion of these plants, we estimate the revenue from Rail Neer to report CAGR of 26% over FY19-21E.
Four additional plants, at Vijaywada, Ranchi, Vishakhapatnam and Bhubneshwar, have been approved by the Board of Directors of the company and will be set up by year 2021. Cost of putting up of one water plant is Rs.10-Rs.12cr.
IRCTC is the only authorized entity by Indian Railways to offer railway tickets online through the IRCTC website and its mobile application (Rail Connect).  The growth in number of online rail bookings slowed down between FY14-17 due to moderation in online bookings as well as levying of service charge of Rs.20/ticket and Rs.40/ticket for Non- AC and AC classes respectively. It was later withdrawn w.e.f. November 23, 2016, providing a boost to rail e-booking with e-booking penetration rising to 68-70% in FY19 (from 51% in FY14). However, the withdrawal of service changes led to sharp decline in IRCTC's internet ticketing revenue in FY18 and FY19; it was partly compensated by the government till July FY20 (Rs80cr in FY18, Rs88cr in FY19 and Rs32cr for four months in FY20).
From September 01, 2019, IRCTC has levied a convenience fee of Rs15/ticket for Non-AC and Rs20/ticket for AC classes. Further, aided by the rise in domestic tourism, widening of rail network, increase in number of young travelers, growing awareness about domestic tourist destinations and potential of increasing penetration of e-booking in the smaller cities/towns, the online rail bookings are expected to grow at 8-9% CAGR to reach 42.5-43.5cr in FY24E. Thus, the introduction of convenience fee, coupled with increase in penetration of internet ticketing (81-83% by FY24E) is expected to boost the revenue from internet ticketing; estimated CAGR of 72% over FY19-21E.
Key Risk
IRCTC's business and revenues are substantially dependent on Indian Railways. Any adverse change in policy of the Ministry of Railways may adversely affect the business and financials.

Currently, IRCTC is the sole provider of online railway ticketing, catering services, and packaged drinking water for trains and stations, etc.; if the Government allows open competition in all or any of these areas, it may adversely impact the company's performance.
Start Investing in 5 mins*
Rs. 20 Flat Per Order | 0% Brokerage
Open Free Demat Account
Account belongs to
By proceeding, you agree to the T&C.