ITC: A safe bet amidst volatile markets?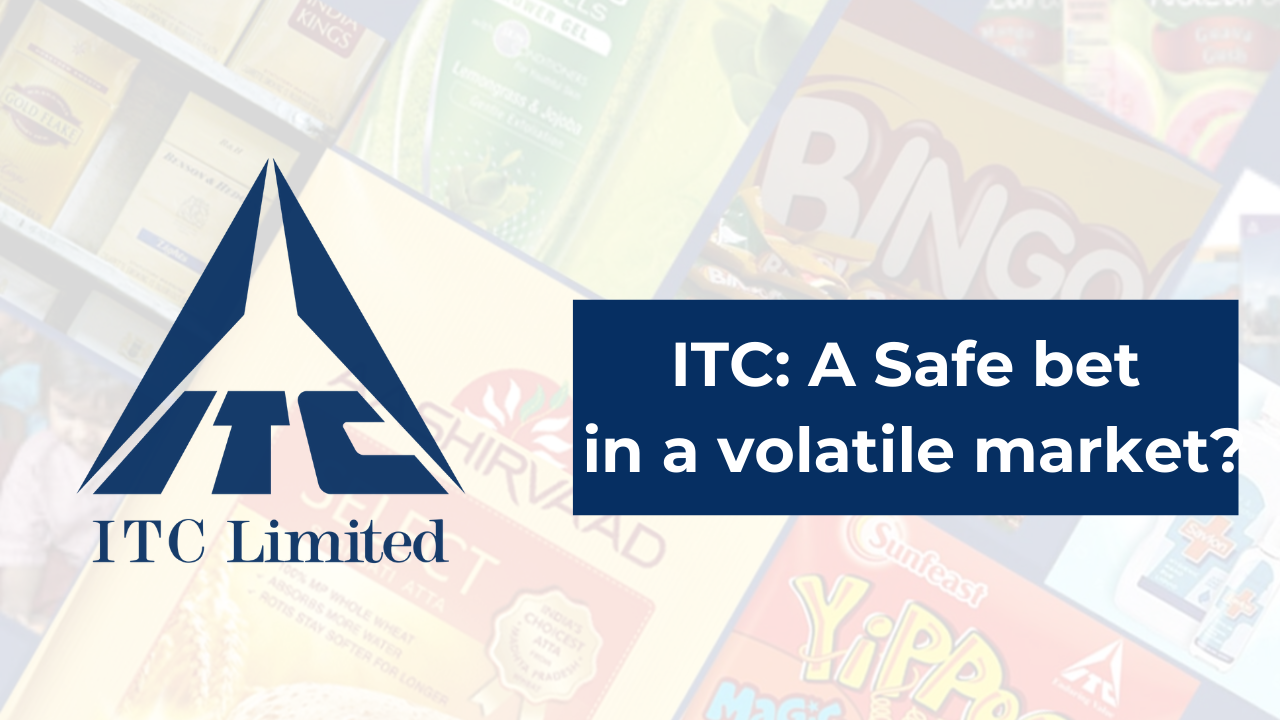 ---


This meme had been circulating for quite some time, and it is true now more than ever! ITC stock has been different. Why do we say so?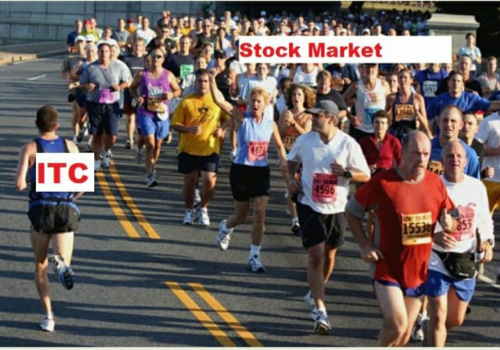 The company operates in the FMCG sector and while NIFTY FMCG has fallen by 2% in the last 6 months, the share price of ITC has grown by 12% in the same period. 
Not just that, from CY2017 to CY2021, when FMCG stocks were having a dream run and rose 81%, ITC's shares fell 10%.
ITC has a habit of going against the markets, and in this bear market if a stock is rising there must be something special about it. So, Let's find out.

ITC, formerly known as Indian Tobacco Company, is one of India's largest conglomerates. The company has the Indian Tobacco market for decades now, its brands Classic, Gold Flake, and American Club have ruled the hearts of chain smokers in India. It is profitable, cash-rich, and debt-free.
It has everything that an investor looks for, a high market share, sustainable moat, and free cashflows. 
Apart from tobacco, the company has been making strides in FMCG, Paper, and Agri-products markets as well. 
The company's FMCG division boasts of some renowned brands like Ashirwad,Savlon and Bingo.
Even after so many feats under its hat, ITC trades at a reasonable, its stock price has moved at a snail's pace, even when the Sensex has flirted with new peaks. And now when the markets are bearish, ITC has become a safe shade for investors to park their investments. So, should you invest in it? Let's find out in this blog.

ITC's business can be divided into 5 verticals
Cigarettes
FMCG
Agri-products
Paper board and packaging products
Hotels and Hospitality
Before moving on to ITC's business, I would like to take you through some of the mental models that ITC uses to be the market leader.
1. Using the Top-bottom approach:  
Do you recall, that when we were younger there used to be only a few sizes of Dairy milk in the market. The company started with 5 and 10 rupee packs and then later it kept on introducing premium chocolates like Silk and Bubbles and whatnot, this is called the bottom-up approach. ITC does the exact opposite, it first launches a premium product and when people like it and more people aspire to buy the product, they introduce a similar product in the mid-range segment as well. They do this to create aspiration in the mind of the people, to own the product. For ex. ITC entered the stationery business with Paperkraft (premium, expensive range) in 2002 and established a brand in the segment. Then, they went ahead with a mass-market range of stationary products with Classmate in 2003. Today, it is the largest notebook brand in India
ITC entered the personal care segment with premium range brand Essenza Di Wills in 2005, then they entered the sub-premium range Fiama Di Wills within two years, then mid-segment Vivel, and eventually the massmarket range under the brand Superia.
Recently, the company entered the premium chocolate business under the brand Fabelle.
2. Backward integration:
Backward integration is when a business produces parts of its supply chain internally. Say, you have a lemonade shop, and instead of sourcing the lemons, you are growing them yourself. 
ITC has a deep backward integration in all its business segments. ITC sources raw materials it needs through its e-Choupal network of 4-million-plus farmers to produce Cigarettes & FMCG goods. 
ITC's paper plants supply raw material for Classmates & Paperkraft notebooks, and their packaging segment is responsible for packaging Cigarettes & FMCG products. Recently, the company noted that they will use their dairy sourcing capabilities to enter mass-market chocolates segment with Fabelle.
Backward integration gives ITC control over its raw material, helps it manage the production, and increases its margins. In the long term having backward integration is a deep moat for a company. Remember, how the semi-conductor shortage affected the business of most companies? The companies that had their own manufacturing would have gained a lot.
These were some of the hacks, that ITC has used to become the leader. These aren't just its hacks but deep moats that will contribute to its future growth.
Moving on to the business of ITC. 
Cigarettes
ITC is apparently addicted to tobacco. Tobacco sales contributed around 38% to its sales in 2021, and about 83% to its profits. Analysts for years have bashed ITC for its dependence on the cigarette business.'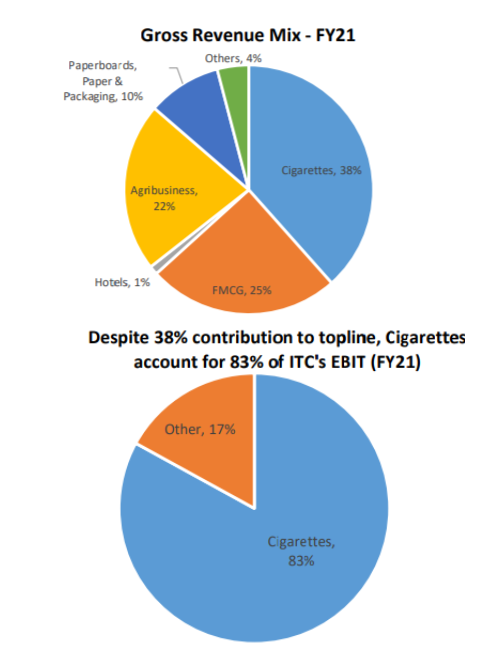 It isn't like ITC hasn't taken notes of it. While the overall revenue of its Cigarette division is growing, its contribution has declined from 62% in 2016 to 37% in 2022.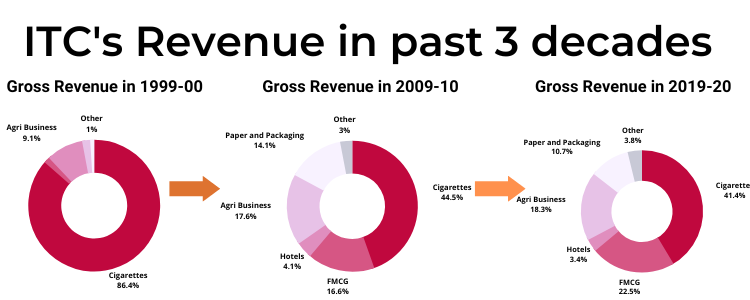 But, Why do investors bash ITC for its cigarette business? 
Because it is a Sin product. Government can tax these products highly to discourage people from consuming them. 
And that's exactly what they did, but the reason wasn't just to discourage people but also to increase their tax collections. Tobacco contributes around Rs. 43,000 crore to the tax revenue. 
With 64% excise duty, 25% GST and 5% cess, the tax rate on cigarettes is among the highest in the world.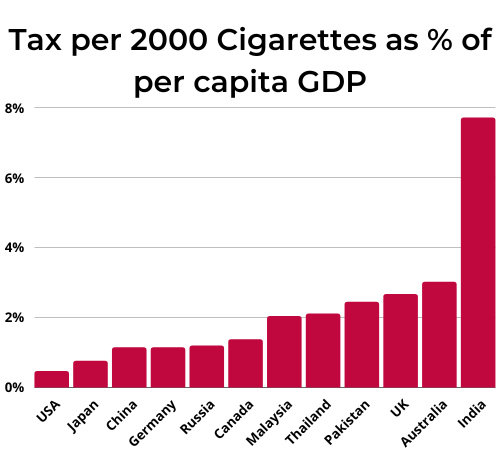 With these exorbitant taxes, a common man can barely afford cigarettes now, but if you know any smoker, you must know that they are not quitters. So, in case of a price rise, there can two probable scenarios.
1. Smokers who cannot afford ITC cigarettes will shift to lower-quality products like beedi.
2. Smokers will buy illegally smuggled cigarettes.
Both of the scenarios have taken place in India, the consumption of legal cigarettes is on the decline, while the consumption of illicit tobacco has increased at a CAGR of 5%.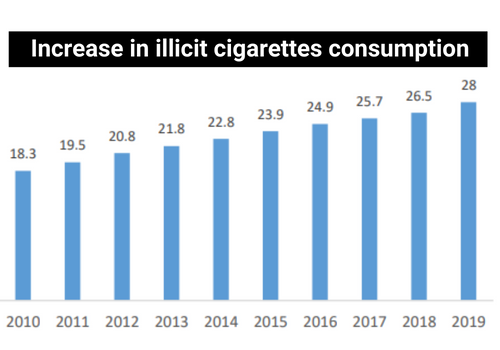 ITC, which has a lion's share of 78% in the Indian tobacco market saw a decline of 1.53% CAGR in the tobacco volume in the last decade due to high taxation.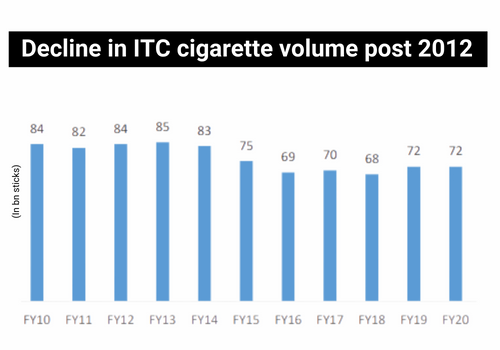 With this decline, the government seems to have understood, that they cannot really stop the people from smoking, and high taxation would only result in the government losing out on the tax money from legal cigarettes. Reportedly government has lost Rs. 17000 crore due to the consumption of illicit cigarettes, and this may be a reason, they have not changed the taxation of cigarettes in the last two budgets.

With these declining numbers in play, most people argue that tobacco is a dead segment with declining consumption. But speak to any smoker and you'll know, that tobacco is here to stay! It is the most common addiction in the world, ahead of alcohol, cocaine, and marijuana. India hosts around 234 million daily tobacco users. Even though legal cigarette consumption is declining, ITC has a humongous market with addictive customers to cater to.
FMCG
ITC has been in the FMCG sector for almost two decades now, but it wouldn't be wrong to say that it has lagged behind the giants like HUL, and Nestle in this segment.
Though, The company ranks third-largest by the revenue it has lagged behind its peers when it comes to margins. While Nestle and Britannia have OPM of 24% and 16% in FY 22, ITC's FMCG margins were around 9%.
Even though the margins are skewed, the company's FMCG division is at a CAGR of 7.14%. Its margins have improved drastically in the last 5 years from 2.5% in 2017 to 10.8% in 2021.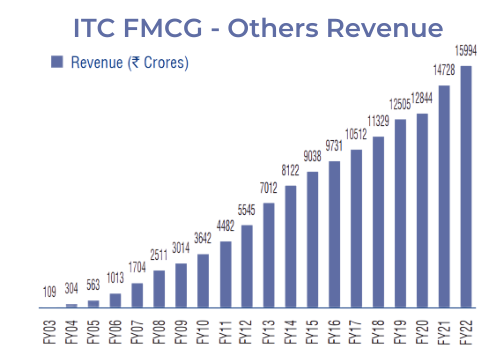 The company has reportedly tweaked its strategy to improve the margins, it isn't now just selling all its products throughout the country, rather it is now selectively selling certain products in a certain region.
For example, its Aashirvaad Svasti ghee, launched five years ago, is sold only in the southern states of Tamil Nadu, Karnataka, Kerala, and Puducherry, and the National Capital Region. Similarly, ITC has chosen to focus on the eastern states of West Bengal and Bihar for its fresh dairy products.
The company wants to focus on areas where it can gain a significant market share because you see FMCG is a fiercely competitive segment. Its differentiated geographical approach, though uncommon can be a game-changer for the FMCG giant.

ITC Infotech: 
The unsung hero of ITC is ITC Infotech. It is the least spoken about segment but it is the fastest growing segment of the company
ITC Infotech's revenue grew 22% over FY19-21 to Rs 2,454 Cr, while its net profit quadrupled to Rs 451 Cr. Its operating margin has leapfrogged—going up from 8% in 2019 to 25% in 2021.
In H1FY22, the company's operating margin was 28.2%, which is among the highest in the industry 
The company has been doing really since past 2 years mainly because of the change in the management. In early 2019, ITC Infotech brought in Mr. Sudip Singh, former executive at Infosys, as chief executive officer (CEO). After he came on board he simplified the business, and rather than catering to a lot of different segments he focused mainly on a handful of high value companies.
ITC Infotech is a leading global technology services and solutions provider, led by Business and Technology Consulting. It provides technology solutions and services to businesses across industries such as Banking & Financial Services, Healthcare, Manufacturing etc.
To keep this blog short and simple, we have discussed ITCs business that has contributed meaningfully to the bottom line. The company is cash-rich, profitable, and debt-free. Even with so many attributes, investors have been divided on this stock, primarily because of its dependence on the cigarettes business which is declining. Well, it's true that at the end of the day it's a Cigarette company, but can we ignore the fact that just in two decades it has built brands like Ashirwad, Sunfeast, Bingo, Classmate and it is making strides in the FMCG sector? Not really.
Start Investing in 5 mins*
Rs. 20 Flat Per Order | 0% Brokerage
Disclaimer
Investment/Trading is subject to market risk, past performance doesn't guarantee future performance. The risk of trading/investment loss in securities markets can be substantial. Also, the above report is compiled from data available on public platforms.
Open Free Demat Account
Account belongs to
By proceeding, you agree to the T&C.