LIC IPO - Steps to apply as a LIC policyholder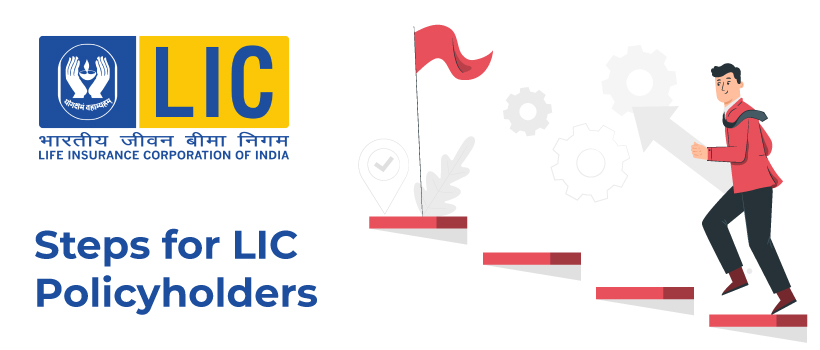 ---

With the LIC IPO likely to open in the first half of March 2022, so as to enable LIC to list before the end of March, grand plans are already afoot. One of the important drivers for LIC IPO subscription will be the over 24 crore policyholders of LIC. For generations, LIC was the first port of call to put surplus money as soon as a young man or woman started earning. This has created a brand that is not only top-of-the-mind but also recognizable and almost synonymous with trust and long term commitment.

How can LIC policyholders apply for the LIC IPO

Being one of their largest captive customer base, LIC is obviously offering extended privileges to its policyholders in the form of an assured quota of 10%, discounted price for policyholders and a very simple and elegant IPO process flow. The level of interest and enthusiasm among policyholders is quite high when it comes to investing in the LIC IPO.

15 Important steps you should know as a policyholder in IPO
 
1. Demat account is mandatory to apply for LIC IPO

Under the extant SEBI guidelines, any cash market investment, whether in IPOs or in the secondary markets has to be mandatorily done through a demat account with a registered depository participant (DP) only. Such DPs can be either affiliated to the NSDL or CDSL. There will  be no issue of shares of LIC IPO in physical form, so demat account is a must.

2. Is demat account sufficient or trading account is also a must?

Currently, the trading account is used to execute orders in equities, futures and options while demat account holds your assets like IPOs, secondary market equities, ETFs, bonds etc. For applying for an IPO, only demat account is mandatory, not trading account. However, you do need a trading account for selling the shares. Nowadays, brokers open trading cum demat account, so as well open both accounts simultaneously.

3. Conditions for policyholder eligibility and lock-in period

To be eligible for applying in the LIC policyholder quota, the individual investor must be an existing policyholder of an active LIC policy with ideally all premiums regularly paid. This quota will only apply to the individual policyholders of LIC. This quota does not come with any lock-in period so investors are technically free to sell even on the day of listing.

4. Minimum and maximum investment sizes for LIC IPO

There will be a minimum number of equity shares to be applied under the offer in all categories and the retail lot size will be applicable for the LIC IPO policyholder quota also. Applications can be made in the minimum lot size and in multiples thereof. The maximum investment will be subscribed by the retail quota of Rs.200,000 applicable currently.

5. Can policyholders apply under NII / RIB quota beyond Rs.2 lakhs?

The maximum bid amount is limited to Rs.200,000 for the policyholder quota. However, eligible policyholders can also apply for equity shares under the Non-Institutional Bidders category for additional amount of up to Rs.200,000 or even beyond that. The quantum of policyholder discount is yet to be decided. 

6. Applying for the LIC IPO in the case of joint policies

In the case of joint policies, any one of the joint applicants can apply for equity shares under the Policyholder Reservation Portion category. However, prior to that, the PAN number of the applicant bidding in the offer must be updated in the policy records. The applicant must also have a demat account and in the case of joint accounts, the applicant must be first holder. Only persons residing in India at the time of the IPO can invest in this quota.

7. Lapsed policies and eligibility for policyholder quota in IPO

Any policy that has not exited the records of LIC due to routine reasons like maturity, surrender or death of the policyholder can still avail reservation under Policyholder Reservation Quota. However, in the case of lapsed policies, you need to first check with LIC office if the policy is still in the records or whether it has been removed. For new policies, such policies must have been issued before the date of filing of the DRHP.

8. Linking PAN to the LIC Policy

This is perhaps the most important step to be eligible for applying in the Policyholder quota for the LIC IPO. LIC has provided a simple and elegant option on the LIC website i.e.https://linkpan.licindia.in/UIDSeedingWebApp/ to update PAN. You need to update PAN number, policy number, mobile number and email ID at the interface. In case you are not able to do it online, you can even approach the nearest LIC office to update the records with your PAN number. Ensure that the PAN is the same as the one being used for applying in the IPO. It is captcha based and also OTP verification based.

9. Updating KYC details of the LIC Policy

To be eligible for smooth application and allotment under the policyholder quota, the KYC details of the LIC policy must be updated. This includes updating of address, contact number, email id etc. Even the updating of KYC details pertaining to your LIC policies can be done on the LIC website i.e. https://licindia.in itself. In such cases, latest documents must also be uploaded to support KYC updates. Once LIC verifies the documents, the details are updated in the LIC policy master.

10. Unsure of whether you have linked LIC policy and PAN

Before applying for the IPO, it is always a good idea to thoroughly verify that the linking of PAN and your policy document is already done. This status can be checked on the LIC website at https://linkpan.licindia.in/UIDSeedingWebApp/getPolicyPANStatus by submitting basic details like policy number, date of birth, PAN number and the captcha code. Once it is verified, you can be doubly sure that you are all set to go ahead with the PAN based application for the LIC IPO under policyholder quota.

11. Applying for LIC policyholder quota, if you don't have PAN

PAN card is mandatory for you to be eligible to apply under the policyholder quota for the LIC IPO. Hence, if you have not yet applied for PAN card, you can do so online right away either at UTITSL or at NSDL links. In case you need the PAN to be issue quickly, you can apply online for e-PAN. Please note that LIC will not accept applications where valid 10-digit PAN number is not updated. In all these endeavours, you can also seek the help of LIC agents.

12. Eligibility of group policies for policyholder quota

All individual policies, other than group policies, will qualify for bidding in the Policyholder Reservation Portion. This also applies to annuities which have already commenced as of the date of filing the DRHP. However, if you are just the beneficiary of the policy after the death of the policyholder, then you are not eligible to apply in the policyholder quota.

13.Guarantee of allotment in the policyholder quota

There is no guarantee of allotment in the policyholder quota. The DIPAM has indicated that around 10% of the total offer size would be reserved for eligible policyholders. However, the allotment within this policyholder will be subject to competitive bidding and will depend on the demand in the bidding process. Oversubscription will result in proportionate allotment.

14.Minimum policy size, minimum premium requirement for IPO eligibility

As per the DRHP filed for LIC IPO, all eligible policyholders irrespective of the premium amount or sum assured or the number of policies held will be treated at par. A person with a single policy and paying a small premium and another person with a large number of policies and paying a hefty premium, will both be treated at par. In both cases, the equity shares under the policyholder quota will be allotted on a competitive bidding basis only.

15. Last date for updating the PAN in policy records

There has been no last date that has been communicated for updating the PAN number in the policy document. However, it is suggested that it is done at the earliest to avoid last minute rush where typical server problems and traffic related issues could delay your updating of PAN.
Also Read:-
Upcoming IPOs in February 2022
Start Investing in 5 mins*
Rs. 20 Flat Per Order | 0% Brokerage
Open Free Demat Account
Mobile No. belongs to
By proceeding, you agree to the T&C.