MSME's Post-Covid Outlook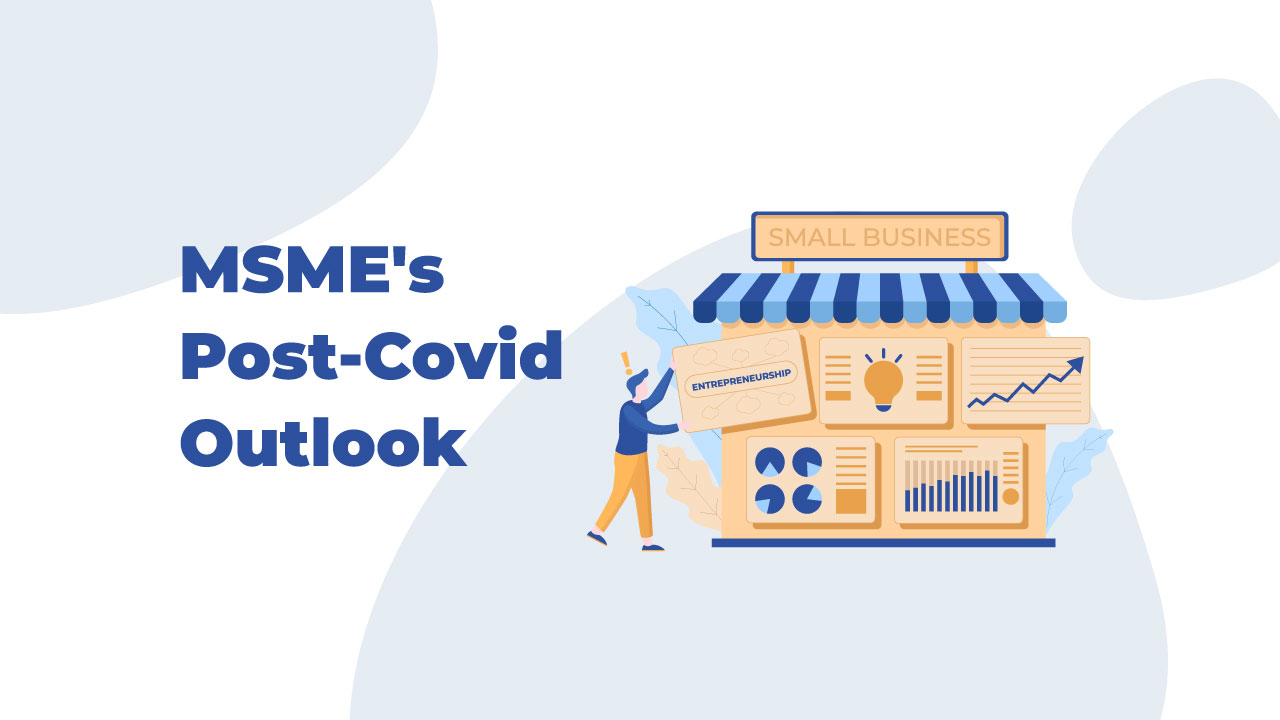 ---

Since the introduction of the Emergency Credit Line Guarantee Scheme (ECLGS) which incentivizes MLIs to provide additional credit to MSMEs to meet their operational liabilities and restart the smooth functioning of their businesses, 11.5 million MSMEs have been granted guarantees amounting to Rs.2.86 trillion and 65% of them have availed of the benefit. Maharashtra, Tamil Nadu, and West Bengal accounted for the majority of credit offtake under ECLGS, and West Bengal, Tamil Nadu, and Andhra Pradesh under the Credit Guarantee Funds for MSE (CGFMSE). Of the loans taken under ECLGS, 61% of MSMEs have been able to ease the cash flow pressures. Almost 35% of them have benefitted from reduced rates of interest. 
MSME segment credit exposure has rose by 6.6% YoY in FY21 to Rs.20.2 trillion led by disbursements of Rs.9.5 trillion in FY21. The rise in MSME lending is due to the Existing to Bank (ETB) entities as credit disbursals to such MSMEs more than doubled in June 2020 and has since sustained at pre-covid levels. Over the period of time, credit to New-to-Bank (NTB) MSMEs is also picking up after having dropped more than 90% in April 2020. In March 2021, it has already returned to higher than its pre-covid levels.
NPA rates in the MSME segment remained steady at 12.25% in FY21 vs 12.6% in FY20. This can be attributed to the high credit supply since the introduction of ECLGS as well as restructuring benefits. Moreover, NPA rates of private banks lending to MSMEs have been stable from September 2020 to March 2021 while NBFCs have seen steady growth in NPA rates during the same period. The rise in NPA rates for MSMEs for NBFCs is due to a more pronounced slowdown in credit growth to MSMEs by NBFCs. 
Covid-19 Impact on MSMEs: 
During the Covid-19 pandemic, the MSME segment witnessed a 20-50% drop in revenues, 
- 47% of MSMEs saw less than 25% decline in the same, and only 11% had greater than 50% adverse impact; The Debtor days outstanding for MSMEs increased by 30 days;
- 46% of MSMEs experienced tight to severe cash shortage to meet regular payments; 
- 42.7 thousand applications amounting to payables of Rs.151billion had been filed for MSME Samadhan scheme for debtor resolution till Nov'21; 
- The manufacturing sector got hit the most as compared to the trading or services segment; 
- 67% of MSMEs were temporarily shut for up to 3 months and 90% of them were temporarily shut for up to 6 months; 
- There were 6.3 million job losses in the first phase and 13.3 million in the second phase of the pandemic out of 100 million people associated with the MSME sector. The unemployment rate in the segment stood at 7.1% in November 2021.
Due to stretched balance sheet and rise in debtors, the downgrade ratio has been high at 35-40% in FY20/FY21. Nonetheless, FY22 has witnessed a sharp rise in upgrades due to access to funds and improved balance sheet leverage. 45% of MSMEs have been upgraded and they are predominantly in infra, textile, iron & steel, Agri, etc. Promoters of many MSME entities have infused incremental equity; loans were availed under government incentives and earnings also improved. 
Over the past few quarters, private as well as PSU banks have been actively pursuing the opportunity to provide liquidity to MSMEs. Capex financing is still dominated by PSU banks, but private banks are active in working capital finance. NBFCs, with relatively higher rates, are preferred due to ease of access, better turnaround time, and for bridge gap financing. After the client's repayment track record is established, it is refinanced by banks. Moreover, a few large private banks are now lending to MSMEs at rates at par with that of PSU banks at as low as 7.0-7.5%.
With the reclassification of MSMEs and inclusion of traders under the MSME definition, 25mn retail and wholesale traders are expected to benefit under various schemes. As per UDYAM (Udyog Aadhar Memorandum), 5.8 million MSMEs were registered till Nov'21, an increase of more than 30% in a year. The majority of MSMEs register under UDYAM to benefit from interest rate subsidies, collateral-free loans, and credit-linked capital subsidy schemes. 
Post-Covid Scenario:
Industries that were severely impacted by the pandemic like- tourism, aviation, hotel, etc. are now reviving. 
The automobile sector is moving back to its pre-covid levels and has received encouragement due to Electric vehicles (EVs) gaining traction, technology up-gradation, and product line change. The textile industry outlook is promising with a lot of restraints being put on China and various subsidies being provided to the sector. Many of the entities in this industry are either improving their capacities or incurring fresh CAPEX. On the export front, the chemical industry is doing exceptionally well. Pharma industry performance has been consistently growing. Infrastructural projects are witnessing decent traction with many projects stuck during the pandemic now up and running. Also, incrementally, the tender award has been rising. Consequently, related industries such as cement, iron, steel, etc. are also expected to do well. Most MSMEs have exhibited an improved earnings trajectory in FY22. 
Start Investing in 5 mins*
Rs. 20 Flat Per Order | 0% Brokerage
Open Free Demat Account
Mobile No. belongs to
By proceeding, you agree to the T&C.