Nazara Technologies - IPO Note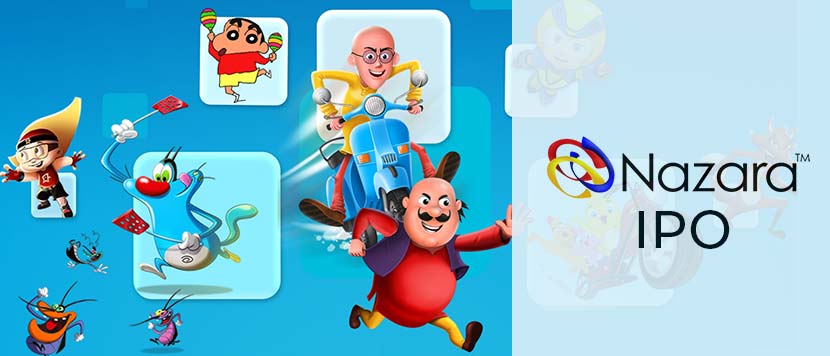 ---

Nazara Technologies India Ltd.
Issue Opens: March 17, 2021
Issue Closes: March 19, 2021
Price Band: ₹ 1,100-1,101#
Issue Size: ~₹583cr (at upper price band)
Bid lot: 13 Equity shares
Issue Type: 100% Book building
 
| | |
| --- | --- |
| Share Holding | Net Issue (%) |
| Promoter and Promoter Group | 23.0 |
| Public | 77.0 |
Source: RHP
Company Background
Nazara Technologies India Ltd (Nazara) is a leading India based diversified gaming and sports media platform with presence in India and across emerging and developed global markets such as Africa and North America. Its offerings include interactive gaming, eSports and gamified early learning ecosystems. Its content is developed in India for the Indian as well as global audience, providing economies of scale. Given its market-first position in India across sports simulation and eSports (Source: F&S Report), Nazara believes that they are well placed to leverage the opportunity that interactive mobile games, eSports content and gamified early learning apps offer. Its effort has been to grow revenue and profitability concurrently by leveraging its capabilities of in-house content creation, game engine development, technology stack development and relationships with other participants in gaming ecosystems. During H1FY21, Gamified early learning, eSports, Telco subscription, Freemium and Real money gaming accounted for 39.25%, 31.78%, 21.33%, 4.50% and 3.14% of the revenue from operations, respectively. The same for FY20 was 7.73%, 34.00%, 33.05%, 7.99% and 17.23%, respectively. Its Monthly Active Users (MAU) averaged 40.17 Mn during FY20 and 57.54 Mn during 9MFY21 across all games.
Business Segments
The company's expansion into global markets has been strategic, both in terms of geographies as well as timing for entering new markets. Nazara has built capacities and capabilities across offerings in India, targeting gamers within the country, and then replicating the business model in global markets to target gamers.
Nazara's offerings across interactive gaming, eSports and gamified early learning ecosystems include World Cricket Championship (WCC) and CarromClash in mobile games, Kiddopia in gamified early learning, Nodwin and Sportskeeda in eSports and eSports media, and Halaplay and Qunami in skill-based, fantasy and trivia games.
Offer Details:
The offer consists entirely of Offer for Sale by the selling shareholders of up to 5,294,392 shares aggregating to ₹583cr at upper end of the price band. Nazara will not directly receive any proceeds from the offer.
Financials
| | | | | |
| --- | --- | --- | --- | --- |
| (₹ Cr., unless specified) | FY18 | FY19 | FY20 | H1FY21 |
| Revenue from Operations | 172 | 170 | 248 | 200 |
| EBITDA | 59 | 33 | 9 | 13 |
| EBITDA Margin (%) | 32.3 | 17.6 | 3.5 | 6.1 |
| Diluted EPS (₹) | 1.0 | 6.3 | -0.8 | -1.8 |
| ROE (%) | 0.7 | 4.2 | -0.5 | -- |
Source: RHP
Strengths:
Leadership position in a diversified and scalable business 
Nazara believes that its current position of leadership in India across a diversified set of offerings provides it a strong foundation for continued growth. Nazara has successfully leveraged its capabilities for in-house content creation, game engine development and propriety technology stack development, ability to deliver positive LTV/CAC ratios across offerings and relationships with telecom operators, app stores and other participants in gaming ecosystems. (Source: F&S Report).
Nazara's content is developed in India for the global audience, allowing them to achieve scale. Nazara has an operating leverage in gamified early learning on account of captive development of content being undertaken in India, while it generates revenues from North America. As of December 31, 2021, its user base across offerings spanned 58 countries. 
In eSports, it has the largest market share across unique IPs, unique events, unique event days and prize pool with a market share of 78%, 82%, 85% and 73%, respectively for CY19 (Source: F&S Report). As the eSports market continues to grow in India, the company believes that its leadership position in eSports premium content (Source: F&S Report) will continue to deliver high revenue growth and improvement in EBITDA margins, thus providing huge value creation opportunity by individually developing and unlocking value for different verticals. 
The company believes that it is well-positioned against competitors operating only in India and operating only in single segment of gaming, due to its presence in multiple markets and insight of heterogeneous consumer segments due to diverse cohort of gamers, and benefits from economies of scale leading to operating leverage.
Portfolio of premium intellectual property and content across regions and businesses 
Nazara owns and has sustained access to premium IP and popular, local brands across eSports and mobile games in India. Ownership of IP as a developer and publisher for mobile games, premium esports content (live and on-demand) combined with them as an operator for eSports organising leagues and ability to distribute content leveraging its existing distribution channels, leads to significant value creation. 
The Indian Gen-Z and millennial population forms a significant portion of the gaming user-base, and companies including Nazara, have capitalised on the ever-growing interest of this population segment in sports and eSports through popular and relatable content (Source: F&S Report). It has established strong relationships with global gaming publishers and platforms including market leaders such as ESL and Valve Corporation (Source: F&S Report), allowing it to bring to India online and offline gaming leagues and tournaments with participation from Indian and international teams such as the ESL India Premiership, Airtel India E-Sports Tour, DreamHack India, Dew Arena by ESL, Counter Strike: Global Offensive, The Northeast Cup and KO Fight Nights. It also partners with other brands to create multiple gaming event IP in India, such as Mountain Dew Arena, Indian Gaming Show and Asus ROG Masters. (Source: F&S Report).
Strong leadership team backed by marquee investors
Promoters are highly experienced, with Vikash Mittersain having several years of experience in multiple business sectors, and Nitish Mittersain, who has been associated in the promotion of Nazara for 20 years. Manish Agarwal, CEO, has approximately 20 years of experience in various fields including the gaming space and marketing. Nazara also benefits from a second, specialised level of leadership in P.R. Rajendran, P.R. Jayashree, Akshat Rathee and Gautam Virk, Porush Jain, Anupam Dhanuka and Anshu Dhanuka, founders and key personnel from its subsidiaries and associates, who have significant experience in various verticals within the mobile entertainment and gaming industry. Some of the marquee individual investors include Mr. Rakesh Jhunjhunwala and Mr. Utpal Sheth.
Key Risk
The company's businesses generate and process a large amount of data, and the improper use or disclosure of such data could harm its reputation. Disclosure of customer information (including mobile numbers or other personal information) on account of security breach or otherwise could harm its reputation and the company may face liability under applicable laws or contractual obligations in relation to such confidential information.
Consumer preferences for mobile games are usually cyclical and difficult to predict, and even successful titles remain popular for only limited periods of time, unless refreshed with new content or otherwise enhanced. Additionally, there is rapid technology change in the mobile games, eSports and gamified early learning businesses, like for instance virtual reality and augmented reality have experienced significant growth and popularity in games and sports media platforms. For this, the company needs to constantly upgrade its technology to provide improved performance, increased scale and better integration among businesses, which requires investment of financial resources in research and development, upgrading hardware, software and internet infrastructure, and significant investments of time and resources.
The company is dependent on telco subscription business for a substantial portion of its profits. There can be no assurance that telco subscription business will continue to remain a successful or profitable business, or that it may not decline for any reason whatsoever, including reasons beyond company's control. For instance, changes in policies of payment collection models adopted by telecom partners, any adverse changes to the regulations governing the telecom operators or their statutory obligations, or the increasing popularity of free-to-play and freemium mobile games, the easy availability of mobile games content across platforms without the involvement of telecom operators and a reduction in payment barriers may all result in a decline of the telco subscription business.
Watch this video to know more about 
Nazara Technologies Ltd IPO
Start Investing in 5 mins*
Rs. 20 Flat Per Order | 0% Brokerage
Open Free Demat Account
Mobile No. belongs to
By proceeding, you agree to the T&C.