NMDC Share Q4 Results - Latest News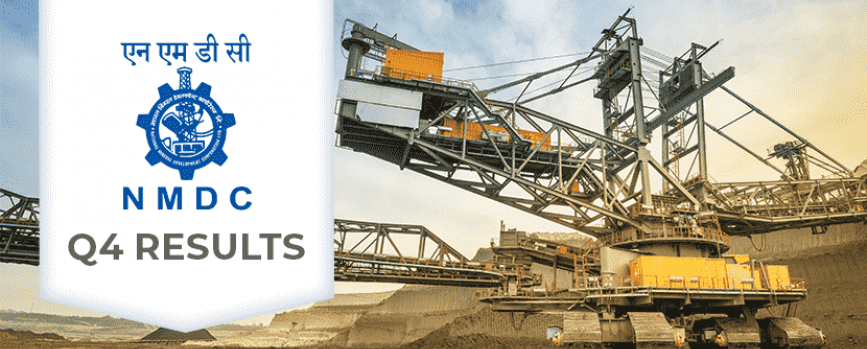 State-owned NMDC Ltd recorded a net profit of Rs2,838cr, up 708% for the fourth quarter as against Rs351cr for the corresponding quarter.
The company's turnover for FY2020-21 is Rs15,370cr as against Rs11,699cr during FY2019-20, registering a growth of 31%.
The company achieved a production of 12.31 million tonnes (MT) of iron ore during the Q4 quarter as against 9.47 MT, up 30% growth, while realising a 29% growth in sales of iron ore 11.09 MT (8.62 MT).
NMDC produced 34.15 million tonnes (up 8%) over 31.49 MT and sold 33.25 million tonnes of iron ore (up 6%) over 31.51 MT during the FY 2021 and FY 2020.
Sumit Deb, CMD, NMDC Ltd said, "this has been an excellent year for the iron and steel sector resulting in these impressive results by Team NMDC, in a year that has been challenging for the economy for more than one reason."
"All forecasts suggest the global rally in the sector will continue in FY2022, giving us confidence to achieve our targets for FY2022," Mr. Deb added.
The stock is currently trading at Rs181, down by Rs4.4 or 2.37% from its previous closing of Rs185.40 on the BSE. The scrip opened at Rs189 and has touched a high and low of Rs189.15 and Rs180.35 respectively.
Disclaimer: The above report is compiled from information available on public platforms. These are not buy or sell recommendations.
Source: This content is originally posted on indiainfoline.com
 
Open Demat Account

Enter First Name & Last Name
Start investing in just
5 minsFree Demat account,
No conditions apply
0%* Brokerage
Flat ₹20 per order
Open FREE Demat Account in 5 minutes

Mobile Number
There is some issue, try later