Nykaa IPO – Another e-tailer to debut on Dalal Street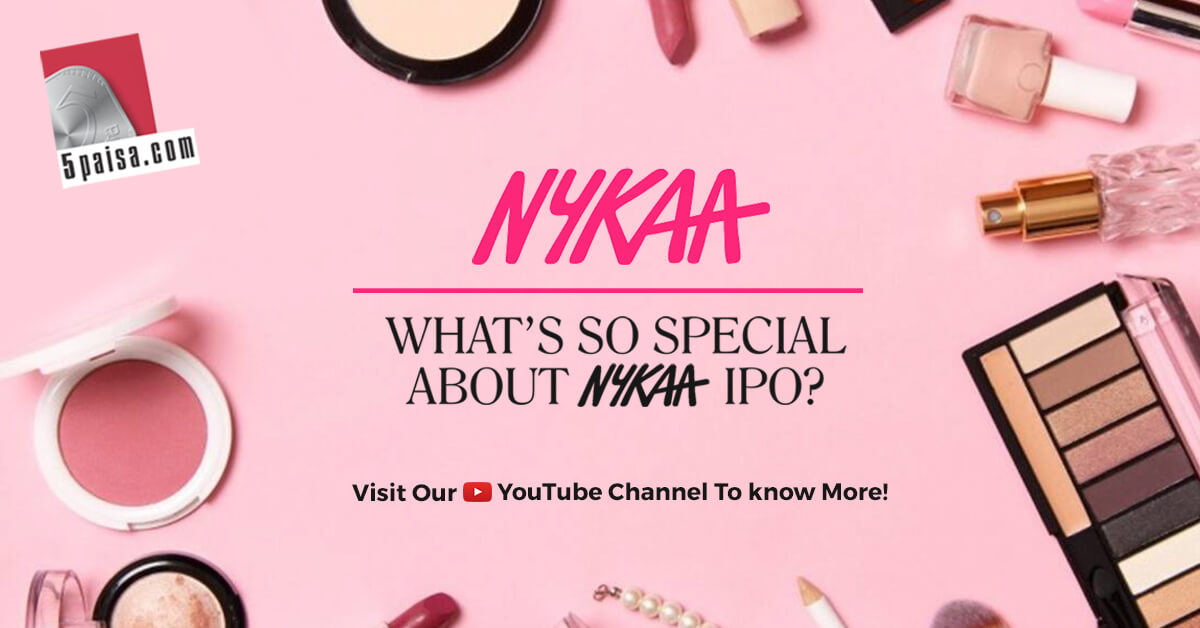 ---

Should you invest in Nykaa IPO? 
The success story of Zomato has motivated a lot of new age start-ups to file DRHP. Start-ups lining up in IPO queue includes big names like Paytm, Policy Bazaar, Delhivery and Nykaa. In the upcoming IPO, Nykaa plans to raise Rs. 4000 Crores from the IPO, targeting a valuation of $5 billion - $5.5 billion 
Among these big names what makes Nykaa standout? 
Well, chances are that if you have bought makeup in the past five years or so, it was probably from Nykaa. 
In a short span of 9 years, Nykaa has achieved what not many Indian e-commerce startups have. Not only has it achieved unicorn status, it's also the only profitable startup to file for a DRHP. It is also the biggest women led unicorns in the country.
Nykaa, the leading beauty e-tailer is stepping into the stock market.Though they do not provide discount, the quality of the products offered makes Nykaa to stand out.Lets deep dive into the success story of Nykaa and discover the reasons to invest in the upcoming IPO.
Success story of NYKAA
FSN E-Commerce Ventures (Nykaa) was incorporated in 2012 to provide beauty & personal care platform to their potential customers.The company has 2 major segments beauty&personal care and fashion. Nykaa has around 2476 brands in the former segment across the make-up, skincare, haircare, bath&body, fragrance, grooming appliances, personal care and health and wellness categories. Apart from all these Nykaa's own brands including Nykaa cosmetics, Nykaa Naturals and Kay Beauty are also available in this platform. Nykaa also reached out to customers through offline stores as well in 2014 by opening first of this king in the T3 International airport New Delhi. The company has spread to 73stores in 38cities including an exclusive fashion store as of March 2021.Nykaa Stores are operated under three formats – Nykaa Luxe, Nykaa On Trend and Nykaa Kiosks. In 2018, the company launched 'Nykaa Fashion'. As of March 2021, Nykaa Fashion sells 1,350 brands with fashion products across four consumer divisions – women, men, kids and home. Nykaa clocked the highest average order value (AOV) among leading online fashion retail platforms in India, in FY21.Nykaa Fashion has six owned brands, which are available at Nykaa's online and physical store.
 
Who buy from Nykaa
As of FY21, Nykaa's customer base has increased to 5.6million from 3.5million in FY19. Nykaa has around 35 million customers around the country which is growing larger. Potential customers of Nykaa are women and there are 663 million of women in India. Nykaa has launched 'Nykaa Man' exclusively for male grooming products. Nykaa is mainly focussed on tapping the potential customers from urban India and there are around 233million women in the cities. Nykaa products can be used by the customers aged between 15 to 45. Teenagers and youth are more benefited by the products of Nykaa contributing to 122million females in urban India. As the products of Nykaa has some pricing standards, 30% of the population can afford to buy the Nykaa products. Nykaa has around 35 million potential customers around the country which would grow more and more over the time.
How does Nykaa earn?
Revenue from sales – The Beauty & Personal Care (BPC) segment works on the 
inventory model where the company buys the goods from brands and sells these to consumers. Thus, the cost of working capital and the risk of obsolescence is reduced. 
Revenue from marketplace – The Nykaa fashion runs mainly on the 
marketplace model (although some part of the business operates on 
the inventory model). Here the company charges commission from vendors for listing and selling products on Nykaa platform. 
 
Revenue from marketing support services – This is the revenue earned for advertising and promoting brands 
on its platform and through surfing on the website or app. 
Where do Nykaa stand in the market
Nykaa's projected overall BPC market CAGR at 10.5% over FY21-41. Online channel contribution of 8% in FY21, can cross the 30% mark by FY41. Nykaa holds 2.2% market share in the overall BPC industry and 27.2% in the online channel as of FY21, per our calculations. By FY41, the company's market share in the overall BPC industry could move up to 10.5% and to 33.5% in the online channel. In other countries such as the US and China, online penetration is currently much higher than in India. 
Fashion, a relatively new business for Nykaa, is seeing rapid growth. In the Fashion segment, 'apparel' is the largest category with 35% sales contribution, followed by bags & footwear at 20-25%, jewellery & accessories and lingerie at 17% and 20% respectively, and electronics at 3-5%.Overall projected fashion market CAGR of 14% during FY21-41. Online channel contribution, which stands at 12% in FY21, couldcross the 40% mark by FY41. Nykaa holds 0.1% market share in the overall fashion industry and 0.6% in the online channel as of FY21. By FY41, its market share in the overall fashion industry could move up to 1.7% and to 4.5% in the online channel.
Why do we invest in Nykaa – Financial health and scope of investment in Nykaa
It is very important to have an idea on the financial health of a company before we invest.It helps us to reduce the risks involved in investing. A brief analysis on financial position of Nykaa is given here.
Let's see some of the financial parameters which talks about the financial position of the company.
Total assets of the company - 13020 million(Mn) rupees as of FY21.
Total revenue - 24409mn rupees of FY21
Profit after tax (PAT) - 619mn Rupees of FY21.
Net Profit Margin - 2.5% in FY21.
ROE (Return on Equity) - 15.2% in FY21.
Debt to Equity is 2.6 in FY21.
Cost of goods sold (COGS) which (COGS=Starting inventory + purchases - ending inventory = cost of goods sold) can be only used in case of a business involving inventory model and not marketplace model. So we should, calculate COGS as a percentage of net sales. As a percentage of net sales, COGS was at 68.2% in FY21, a rise of 419bps over FY20 suspected reason may be product mix, forecasted COGS as a percentage of net sales, to be constant at 67.5% over FY21-41. 30% growth for the next 3 years, which may drop thereafter to 28% or 25% in FY25-26, as revenue growth moderates. 
Nykaa reported EBITDA margin of 6.6% for FY21, and EBITDA of Rs1.6bn. . Nykaa will gradually increase its EBITDA margin from 6.6% in FY21 to 11.8% by FY26, and achieve EBITDA CAGR of 53.4%, an increase from Rs1.6bn in FY21 to Rs13.7bn in FY26. 
Should you invest in Nykaa IPO?
The potential growth of the company is illustrated with statistical data, with growth of technology and e-commerce this company has the potential to attain huge and stable growth. Hope this article is helpful for you to make safe and wise investment decisions.
 
Start Investing in 5 mins*
Rs. 20 Flat Per Order | 0% Brokerage
Open Free Demat Account
Mobile No. belongs to
By proceeding, you agree to the T&C.