Rakesh Jhunjhunwala Portfolio - September 2021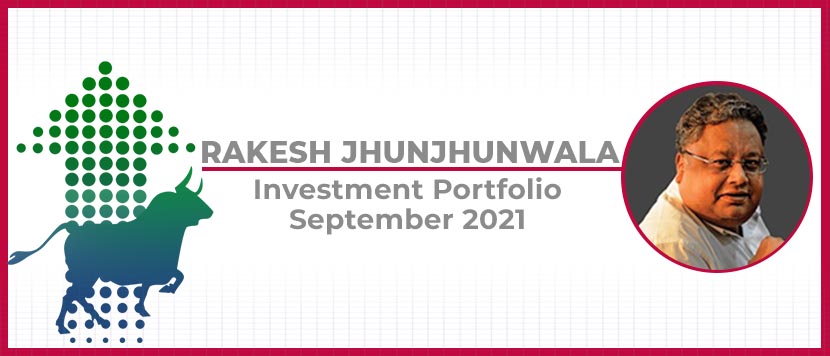 ---

Rakesh Jhunjhunwala is known in the stock market by many epithets. From being called the Pied Piper of stock markets to the Big Bull to the Indian Warren Buffett, there is no gainsaying his immense influence on investors. His portfolio changes are also closely tracked and his profits on Titan, by now, are the stuff that legends are made of. Here is a quick look at his portfolio shifts as of end Sep-21.

As of the close of September 2021, Rakesh Jhunjhunwala held 38 stocks in his family portfolio with a market value of Rs.24,235 crore as of 20th October. Here is a snapshot of his top holdings in rupee value terms.
Here is Rakesh Jhunjhunwala's portfolio as of Sept-21.
| | | | |
| --- | --- | --- | --- |
| Stock Name | Percentage Holding | Holding Value | Holding Movement |
| Titan Company | 4.9% | Rs.10,442 crore | Small Increase |
| Tata Motors | 1.1% | Rs.1,838 crore | No Change |
| CRISIL Ltd | 5.5% | Rs.1,163 crore | No Change |
| Nazara Technologies | 10.8% | Rs.942 crore | No Change |
| Escorts Ltd | 4.8% | Rs.921 crore | No Change |
| SAIL Ltd | 1.8% | Rs.866 crore | Increased in Q2 |
| Fortis Healthcare | 4.2% | Rs.812 crore | Minor decrease |
| Jubilant Pharmova | 6.3% | Rs.632 crore | No Change |
| NCC Ltd | 12.8% | Rs.614 crore | No Change |
| Jubilant Ingrevia | 5.5% | Rs.593 crore | Reduced in Q2 |

The top-10 stocks account for 78% of the value of the portfolio of Rakesh Jhunjhunwala as of end Sep-21, with Titan alone accounting for 43% of his total family portfolio.

Stocks where Rakesh Jhunjhunwala added to the holdings

Let us look at the fresh addition of stocks to his portfolio first in the Sep-21 quarter. There were 2 important new additions made by Rakesh Jhunjhunwala to his portfolio. He added a 1.6% stake in Canara Bank via the bank's equity placement with market value of Rs.569 crore. He also added a 1.4% stake in Nalco, worth Rs.274 crore. Interestingly, both his fresh additions are from the PSU space.

There were also some stocks where Rakesh Jhunjhunwala increased his positions. Firstly, he did make some marginal additions to his holding in Tata Communications. He increased his stake in Titan by around 10 bps in the quarter while his stake in SAIL increased by 40 bps from 1.4% to 1.8% in the September 2021 quarter.
Check - Rakesh Jhunjhunwala's Portfolio - June 2021

What stocks did Rakesh Jhunjhunwala downsize in his portfolio?

In the Sep-21 quarter, Rakesh Jhunjhunwala did make some marginal reductions in his holdings in Crisil, Geojit, Aptech, Fortis and Rallis. Most of these reductions ranged between 2 bps and 8 bps. However there were some significant stake reductions as under.

a) He reduces his stake in Jubilant Ingrevia, part of the Bhartia group, by 80 bps from 6.3% to 5.5% in the Sep-21 quarter.
b) He significant reduced his stake in real estate company, TARC Ltd, by 180 bps from a level of 3.4% to just about 1.6% during the quarter.
c) A very significant stake reduction was in Mandhana Retail, the manufacturers of Being Human apparel, by 540 bps from 12.8% to 7.4%.
d) In the case of 2 stocks, Rakesh Jhunjhunwala's stake fell below the 1% threshold. In the case of Multi Commodity Exchange (MCX) his stake fell from 4.9% to below 1%. In the case of one of his old favourites, Lupin, his stake fell from 1.6% to below 1%.

All the above reductions in stake happened during the Sep-21 quarter.

Rakesh Jhunjhunwala Portfolio Performance in retrospect.

How did the portfolio perform as of the end of September 2021 quarter compared to different time frames in the past. Interestingly, the portfolio of Rakesh Jhunjhunwala virtually did not make any returns between September 2015 and March 2020, when the markets bottomed out after the pandemic. The real story started after that.

Between Mar-20 and Sep-21, the portfolio value has gone up from Rs.8,356 crore to Rs24,235 crore. That is a 2.9 fold appreciation or you can almost call it a 3-fold increase. That is actually much better than what the Nifty and Sensex have done. If you just consider the last one year between Sep-20 and Sep-21, the portfolio is up by a whopping 87% from Rs.12,945 crore as of one year back.
Also Check:-

1) Vijay Kedia Portfolio - September 2021

2) Radhakishan Damani Portfolio - Sept 2021
Start Investing in 5 mins*
Rs. 20 Flat Per Order | 0% Brokerage
Open Free Demat Account
Mobile No. belongs to
By proceeding, you agree to the T&C.