Set up of National Asset Reconstruction Company (NARCL) for Bad Bank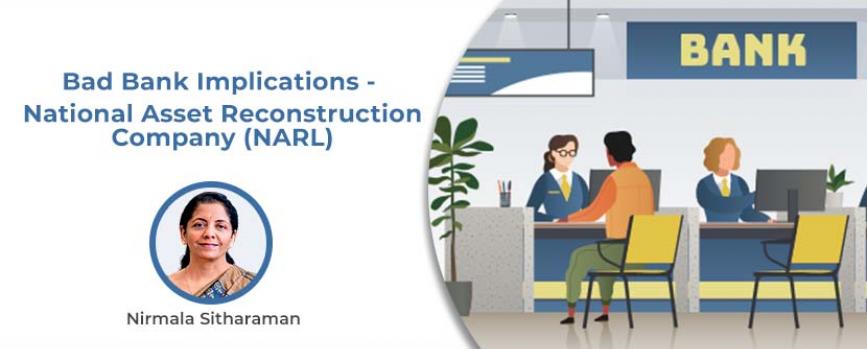 On 16th September, the government announced plans for a Bad Bank with assured government guarantees of Rs.30,600 crore. The structure will be something like this. There will be the National Asset Reconstruction Company (NARCL) which will hold and manage the assets. Then there will be the India Debt Reconstruction Company (IDRCL), which will handle the operational part like appointing consultants, turnaround specialists, assessing the net asset value of the loan etc.
The Bad Bank will be implemented in 2 phases. In the first phase, Rs.90,000 crore of loans will be taken and in the second phase Rs.110,000 crore of stressed loans will be assumed. The total loans of Rs.200,000 crore will be first assessed for NAV. Based on the NAV, the NARCL will pay out 15% in cash and the balance 85% in the form of security receipts (SR). These SRs will be guaranteed for their value by the government up to Rs.30,600 crore.
However, the government guarantee comes with 2 conditions. Firstly, the entire resolution will have to be completed within a period of 5 years, failing which the guarantee will be revoked by the government. Hence this puts a sense of urgency. Secondly, the guarantee will require the company to file for liquidation. This will ensure that they fall back upon the government guarantee only in extreme cases.
The timing of the Bad Bank coincides with the spurt in recoveries. The Finance Minister has confirmed that banks have recovered over Rs.5 trillion in the last 6 years of which over 60% were recovered in the last 3 years. The time is ripe for pushing this Bad Bank idea through so that future resolutions can be smoother.
How will it impact banking stocks. PSU banks with relatively better asset quality like Bank of Baroda and Indian Overseas Bank, that can realize good NAV on their stressed loan books, will be the big beneficiaries of this Bad Bank move.
Open Demat Account

Enter First Name & Last Name
Start investing in just
5 minsFree Demat account,
No conditions apply
0%* Brokerage
Flat ₹20 per order
Open FREE Demat Account in 5 minutes

Mobile Number
There is some issue, try later