Top 5 stocks Coffee Can stocks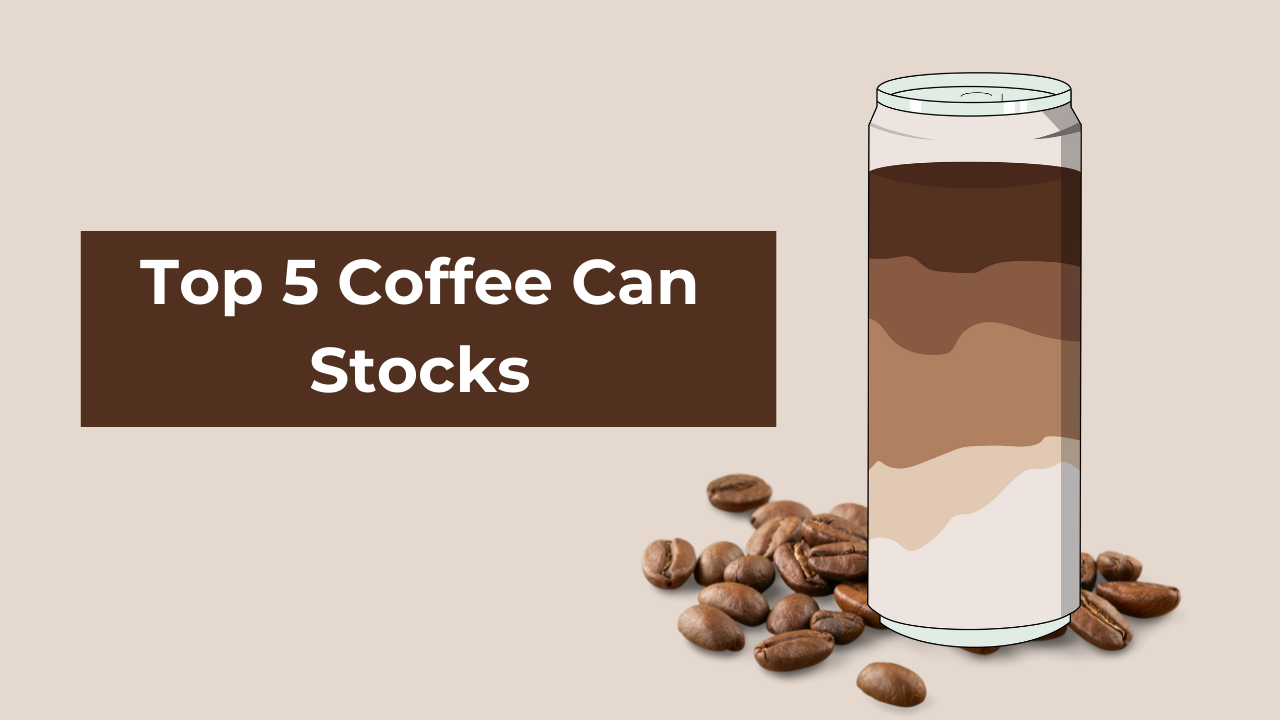 ---

"Choose it and leave it"
Did I confuse you? Ughh, sorry, but I really mean it. But wait, this blog will definitely help you decide what to do: to leave, to choose, or to do both. Again confused right? Fine, I will get to the point now.
So, in this edition we will be looking into the dynamics of a very famous investing strategy: The Coffee Can Investing. Why do you say that the name is weird? Well, maybe but it makes sense if you know the history behind it. Of course, I will also be taking you through the origin of this strategy and how it became so popular.
In earlier times around the 1980s, people in the Old West America used to use coffee cans to store their physical bonds & other valuable things. They would then place the cans beneath their mattresses and eventually forget about it. Later after around 10 to 30 years, to their utter surprise the bonds would have exponentially grown by multiple levels. They would reap the benefits of the "choosing and leaving" strategy. Hence, Robert G Kirby eventually coined the term "Coffee Can Investing".
Well, this investing technique isn't a very complicated one. If you take a quick look at all the criterias involved in categorizing stocks under such investing, it wouldn't take much effort. However, it is important to consider some of the latent criteria of this strategy that can certainly make or break your investment. Let's see how this strategy works, which stocks to choose, how to decide, for how long to keep the stocks, & how to analyze a stock. Let me help you with each one of them systematically.
First of all, before choosing the stocks be mindful of considering the qualitative as well as the quantitative aspect of stocks. Don't just choose any random stock. Trust and choose those stocks which are famous and have shown consistent positive performance and fame. To deal with the quantitative aspect, look at these –
A market capitalization of more than 100 Crores
This will provide details on multiple levels. This will also be necessary to review the performance of the company for the past 10 years. It would reflect that it is an established company and has maintained its business through the high and lows of the market.
Growth in Sales or Revenue by at least 10% each year in the past 10 years

A positive and consistent sales growth works as a catalyst for asset acquisition, increase in revenue, and profit, and for financially sound business.
ROCE of more than 15%

Return on Capital Employed (ROCE) is basically the ratio of EBIT (earnings before interest and tax) per capital employed. A ROCE of more than 15% indicates that the company is able to allocate the shareholder's funds or investment in the right assets, business, or growth prospects, providing a near-guaranteed profitable return.
So, we have covered the most crucial criteria of the coffee can strategy. Well, one major thing about this investment is to keep the pile of stocks intact (just choose and leave) without any further buy or sell activity, for at least 10 years. A longer period helps an investor and the stocks with these things –
Minimize the effect of market volatility.
Allow the companies to grow at a slow but consistent pace and make corrections as necessary.
Saves investors from the non-profitable psychological impulse of buying and selling stocks.
So, now we are clear about all the key points related to the Coffee Can Investing strategy. This strategy assures investors of a return of more or less 20% over a period of 10 years of investment. So we filtered out the stocks using this strategy and some of them are:
Do you eat Maggi? I know it is a silly thing to ask. Well, maybe Maggi has become more famous than its owner and producer Nestle India. Nestle is a subsidiary of a Swiss-MNC, and the world's largest food and beverage company. It has a spectacular ROCE of 147% which indicates that the company is well versed with its business dealings and use of investments. It has a Market Cap of ₹163,664 Cr. This stock is an absolute strong pick for investors as it has a consistent positive sales growth since March 2005. It has a total sales of ₹15,079 Cr., and a sales growth of 10.6%.
Procter & Gamble Hygiene and Health Care Ltd. (Household & Personal Products):
I am sure that knowingly or unknowingly we all have used one or more of the P&G products. Haven't you used Tide, Gillete, Whispers, or even Vicks ever in all these years? You definitely must-have. Well, P&G is an American MNC proficiently pursuing business in the Hygiene and Healthcare Business, manufacturing & selling branded FMCGs. It has a Market Cap ₹43,161 Cr. and an astonishing ROCE of 93.8%, a very promising figure for long-term investors. It also has a Sales growth of 14.3 %.
Petrol ya diesel toh ni yaad aa gaya naam sunke? Well, this company is an established player in the business of selling and manufacturing of automotive and industrial lubricants like oils and other fluids. It has a strong Market Cap ₹10,158 Cr. and a lucrative sales growth of 24.4%, thus a must pick for investors. It is a very old company established in the year 1910 and thus has a near monopoly in the lubricants sector.
Tips Industries Ltd. (Film Production, Distribution & Entertainment):
A well known Indian music record label established in 1975. It has a business of production, distribution, and promotion of films in Mumbai, Maharashtra, India. Additionally, Tips owns the soundtrack rights to at least 50 Hindi films. Each music copyright costs roughly $1 million, and an additional $1 million is used for marketing each film. It has a Market Cap of ₹1,750 Cr., and an attractive ROCE of 85.4%. It also has a massive sales growth of 49.8%, showing firm market presence, and a great pick for investors.
Page Industries Ltd. (Textile):
It is an Indian retailer, manufacturer, & distributor of innerwear, socks, and loungewear having exclusive licensee of Jockey International, India, and Speedo swimwear from Pentland Group, India. It has an enticing Market Cap of ₹43,770 Cr., and a sales growth of 37.2% with a total sales of ₹3,886 Cr.. It also has an alluring ROCE of 67.0%, making it one of the best picks for investors.
The criteria of Coffee Can Investing have been displayed through applications on real-time stocks. Just heed all key points, choose your stocks, create your portfolio, and just leave it untouched for at least 10 years.
So, now you know how to invest with lower risks and reap expounded returns. Thus, Coffee Can Investing is a great message of the "Choose and Leave" investing strategy for investors across the globe. Then, what are you waiting for? Go, and start investing.
Stay tuned to 5paisa Capital limited for more intriguing and brewing content. See you on the flip side!
Start Investing in 5 mins*
Rs. 20 Flat Per Order | 0% Brokerage
Disclaimer
Investment/Trading in securities Market is subject to market risk, past performance is not a guarantee of future performance. The risk of loss in trading and investment in Securities markets including Equites and Derivatives can be substantial.
Open Free Demat Account
Account belongs to
By proceeding, you agree to the T&C.