Vijaya Diagnostics Centre IPO Investment Note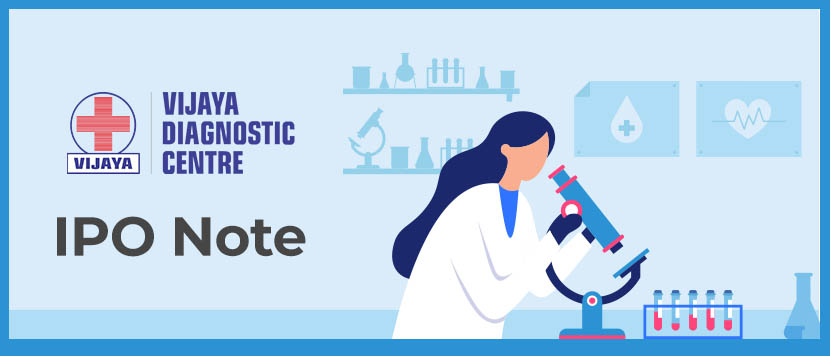 ---

Vijaya Diagnostics is a fairly well known diagnostic brand in the Southern part of India. Vijaya is the largest diagnostic chain in South India and also the fastest growing chain. It offers end-to-end solutions for pathology and radiology testing. Unlike many of the diagnostic centres, that are B2B in their model, Vijaya has adopted a predominantly B2C approach. More than 90% of its revenues come from customers directly walking into one of their diagnostic centres for a test. In 2014, Vijaya had taken over Medinova and is looking to expand further through the inorganic route.
Vijaya Diagnostics IPO is tapping the primary market with an IPO of Rs.1,895 crore consisting entirely of an offer for sale (OFS). The IPO has been priced in the band of Rs.522-531.
Key terms of the Vijaya Diagnostics IPO offer
| | | | |
| --- | --- | --- | --- |
| Key IPO Details | Particulars | Key IPO Dates | Particulars |
| Nature of issue | Book Building | Issue Opens on | 01-Sep-2021 |
| Face value of share | Rs.1 per share | Issue Closes on | 03-Sep-2021 |
| IPO Price Band | Rs.522 - Rs.531 | Basis of Allotment date | 08-Sep-2021 |
| Market Lot | 28 shares | Refund Initiation date | 09-Sep-2021 |
| Retail Investment limit | 13 Lots (364 shares) | Credit to Demat | 13-Sep-2021 |
| Retail limit - Value | Rs.193,284 | IPO Listing date | 14-Sep-2021 |
| Fresh Issue Size | Nil | Pre issue promoter stake | 59.78% |
| Offer for Sale Size | Rs.1,895 crore | Post issue promoters | 54.78% |
| Total IPO Size | Rs.1,895 crore | Indicative valuation | Rs.5,414 crore |
| Listing on | BSE, NSE | HNI Quota | 15% |
| QIB Quota | 50% | Retail Quota | 35% |
Data Source: IPO Filings
Check out highlights of Vijaya Diagnostics business model
1.   Offers over 740 routine tests and over 870 specialized pathology tests
2.   Gets 95% of its revenues from states of Telangana and Andhra Pradesh
3.   Operates through a network of 80 diagnostic centres and 11 reference laboratories
4.   Smart growth in net profits and ROCE over the last 3 financial years
5.   Promoter Surendranath Reddy, Karakoram Fund and Kedaara will offer in the OFS
6.   Company has a 40 year pedigree having been established way back in 1981
Important Financials of Vijaya Diagnostics
Vijaya diagnostics is a profit-making company with consistent growth in top-line revenues, bottom-line net profits and return on capital employed. EBITDA  has grown 50% in the last 2 financial years.
| | | | |
| --- | --- | --- | --- |
| Financial Parameter | Fiscal 2020-21 | Fiscal 2019-20 | Fiscal 2018-19 |
| Net Worth | Rs.359.23 cr | Rs.274.14 cr | Rs.207.01 cr |
| Revenues | Rs.376.75 cr | Rs.338.82 cr | Rs.292.59 cr |
| EBITDA | Rs.177.88 cr | Rs.147.98 cr | Rs.118.48 cr |
| Net Profit | Rs.84.91 cr | Rs.62.51 cr | Rs.46.27 cr |
| Net Margins (%) | 22.54% | 18.45% | 15.81% |
| ROCE (%) | 42.01% | 33.28% | 30.06% |
Data Source: Company RHP
The sharp growth in the net margins is a corollary to net profits growing much faster than growth in sales. From a shareholder perspective, what is material is the sharp increase in ROCE from 30.06% to 42.01%. This has been achieved through best in class operating revenue per customer at Rs.1,214 and operating revenue per test at Rs.428. These numbers have been benchmarked with competition by a CRISIL report.
How do the financials of Vijaya Diagnostics compare with the peer group? The CAGR growth in patient volumes between 2017 and 2021 for Vijaya was 14%, compared to 13% for Dr. Lal Pathlabs and Metropolis and 10% for Thyrocare. Vijaya has tests per patient at 2.7X compared to 2.4X for Dr. Lal Pathlabs, 2.1X for SRL and 1.9X for Metropolis. Vijaya has managed better customer penetration, especially in the particular geography.
Investment Perspective for Vijaya Diagnostics
Diagnostic testing is a fast growing business and the need to undergo regular check-ups was highlighted by the pandemic. Most of the listed diagnostic laboratories like Dr. Lal Pathlabs, Metropolis and Thyrocare have seen positive re-rating post the pandemic.
Here are key pointers for an investment view on the IPO.
  a)    Vijaya Diagnostics has the highest ratio of B2C to B2B at 93:7. This compares favourably with 23:77 for Thyrocare, 44:56 for Metropolis and 60:40 for Dr. Lal Pathlabs. Higher B2C business indicates higher level of customer brand recall and better retention.
  b)    Let us compare Vijaya Diagnostics with the peer group on operating revenues and operating profits per test. Vijaya ranks second after Metropolis in operating revenue per test and ranks on top in operating profit per test.
  c)    In terms of operating income and operating profit per patient, Vijaya Diagnostics scores substantially higher than peer group due to its strong B2C focus, which results in better customer penetration.
  d)    If you compare it's P/E ratio based on indicative post-issue valuations, it discounts profits at a P/E ratio of a little over 60X. That is still lower compared to 74X for Metropolis and 107X for Dr. Lal Pathlabs based on FY21 earnings. 
Vijaya Diagnostics offers an established story to participate in the fast growing diagnostic demand in India. In a competitive industry, Vijaya has got its profit per customer model right.
 
Start Investing in 5 mins*
Rs. 20 Flat Per Order | 0% Brokerage
Open Free Demat Account
Account belongs to
By proceeding, you agree to the T&C.