Why is 2019 the right year for you to start buying stocks?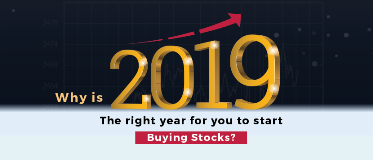 ---

Two-thousand-eighteen was a tumultuous year for the stock markets. While the markets did not lose value overall, there was a huge disparity in the performance of stocks within the indices. While companies with a solid consumption story did extremely well, those with cyclical models and corporate governance issues underperformed the markets on the whole.
So what does that tell us about how 2019 is going to be? Of course, it is easy to say that it will be a stock-specific market and that the real action will be in individual stocks rather than the markets as a whole. While the stock-specific stories will continue unabated, the question is whether 2019 offers some compelling reasons for investors to start buying stocks at the turn of the New Year. Let us look at some key factors to determine the answer to this.
Why 2019 could be an attractive year for stock market investing?
Talk of 2019 and the first topic that comes up for discussion is the General Election, especially after the state Assembly elections opened up the arena. What looked like a cakewalk for the NDA a year ago now promises to be a three-way battle in 2019! Our belief is that irrespective of the outcome of the election, there are compelling reasons for investors to start considering investing in equities seriously in the New Year.
Some stocks are at available at compelling valuations right now. When we talk of valuations, we are not just talking about traditional measures like P/E ratio and the P/BV ratio. Go a little beyond and also look at the dividend yields. Even after crude oil prices corrected 35% from their peak levels, many of the downstream oil companies are quoting at single-digit P/E ratios. But more importantly, the dividend yields in these stocks are above 8% and IOCL is actually giving double-digit dividend yields. Those expensive stocks in auto, banking, and housing finance are now available at more reasonable discounts. The year 2019 could offer a base case for all these stories.
Even Trump cannot kill free trade. That is the message for anyone who believes that the trade war could really degenerate into a global demand depressant. Neither Trump nor Xi can afford such luxuries. This, at best, is a game of who blinks first? The entire worry about a global trade war evolving into a currency war and consequently compress the global demand may be largely overplayed. Expect a more normal 2019, which is good news for equity investors any day.
The investment cycle is yet to turn around. There were strong expectations of an investment cycle turnaround in 2018, which, however, did not materialize. With average capacity utilization below 80%, most companies would now look at serious investments for the future. Normally, the revival of the capital cycle has a multiplier effect on economic growth and that is a trend that would be visible in the coming year. Investors should brace themselves to buy such stocks that will benefit from the revival.
Banks may finally find reasons to grow and that could be the big news for Indian markets. There were three building blocks here. There is a reduction in non-performing assets (NPAs), the recapitalization of public banks, and the resumption of credit. With the worries over NPAs and capital infusion being addressed, we could see credit growth pick up sharply in the coming year. We have already seen credit growth consistently stay above the deposits growth. That trend will get accentuated in the coming year.
Cheap oil will give Indian stocks a leg up. Of course, it may impact the pure upstream players but the impact on inflation, inputs costs, and trade deficit will be a lot more beneficial and significant. The volatility that we saw in yields and the Indian rupee (INR) in 2018 will not be a worry if oil remains stable at lower levels. With shale still oversupplied and demand for oil to stay under 100mn bpd, cheap oil could give positive vibes to the Indian markets. This will be especially beneficial to mid-cap companies.
In view of this, go and get yourself a systematic investment plan (SIP) for all seasons. The moral of the story is not to try and time the market. Nobody has consistently caught the tops and bottoms of the market consistently, so don't even go there. What you must do is adopt a phased and systematic approach to buying equities in 2019 with an eye on the average cost of acquisition. That will be the key.
2019 is likely to be an interesting time to buy equities. While stock-specific stories will still rule the roost, there are also some positive macro takeaways. Craft your portfolio strategy accordingly.
Start Investing in 5 mins*
Rs. 20 Flat Per Order | 0% Brokerage
Open Free Demat Account
Mobile No. belongs to
By proceeding, you agree to the T&C.