Why Millennials Prefer to Invest on Their Own?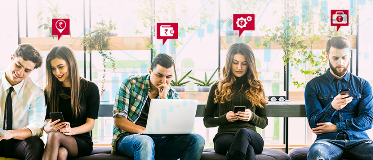 ---

Millennials in the Indian context are those who were born around the time India liberalized and moved from being a socialist economy to a capitalistic economy. Their journey over the last two decades plus has been synonymous with the technological revolution in India. This includes the PC revolution, the computing revolution, the internet revolution, the mobile phone revolution, the smart phone revolution and the digital revolution. In short, these revolutions have given them a ring side view of business and investing which positions them in a unique perspective with respect to their demands.
With limited exposure to socialistic economics, vast exposure to changing technology dynamics and having seen much greater social security; Millennials come with a unique set of needs. In a way, these are defined by the DIY approach to investing. Here is why.
Millennials are technologically savvy
If you have grown up with PC, laptops and smart phones all round you with 24-hour internet connectivity; then you are bound to be technology savvy. For the millennials, the DIY approach perfectly fits into their technology savvy approach to investing. Most millennials believe that if technology can be leveraged then knowledge can be leveraged too. Millennials prefer to read documents, understand the process, do their own research, use artificial intelligence to fine tune their decisions and invest online at the click of a button using trading app.
Millennials lay emphasise on freedom and choice
Freedom and choice are two different things but they do find their intersection in a DIY approach to investing. Here is why. If Henry Ford had told the millennials that they could have a car of any colour as long as it was black; most millennials would have asked him to take a walk. Millennials prefer to invest by first considering the options in front of them and then choose the solution that best fits them. Brokers can no longer offer solutions to millennials but they need to enable choices. That is what millennial and centennial look for before investing.
Most millennials are control freaks
As technology gets more advanced and more sophisticated, there is an increasing need to exercise greater control since there are too many X-variables in the process. That is the reason most millennials are such control freaks. A DIY approach to investing fits perfectly into their control preference. As a DIY investor, they can control everything from profiling themselves, designing the portfolio, identifying the investment mix, executing the investments, review of portfolio, making appropriate changes etc. It is this flexibility that the DIY approach offers in terms of full control that makes it so attractive to the millennials.
It is scientific and suits their temper
One of the best parts of DIY investing is that it is self-driven and totally scientific. You don't have to believe any eager relationship manager who tells you a mid cap stock is a great buy. You don't blindly allocate to your long term goals without understanding the logic beneath the allocation. You don't have to rely on the broker's word that you got the best deal; you can see the deal for yourself. The millennials genuinely believe that technology is a great enabler and can be used to simplify the investment process. The scientific approach impels them to rely more on fine tuning the process and that is best achieved by a DIY approach. That is why most millennials find the DIY approach so attractive.
DIY is actually cost effective
The millennial crowd lays a lot of emphasis on value for money. They are averse to paying a higher price for any product or service which is not justified by the output. Most millennials find the DIY approach to investing and trading a lot more cost effective.
The millennials represent what the investment world is coming to. Like in other countries, it is increasingly becoming self-driven!
Start Investing in 5 mins*
Rs. 20 Flat Per Order | 0% Brokerage
Open Free Demat Account
Account belongs to
By proceeding, you agree to the T&C.