Adani Shares
Check out the complete list of shares/stocks of Adani Group listed on NSE & BSE.
Adani Group Stocks
| Company Name | ₹ LTP (Change %) | Volume | Market Cap | 52 Week High | 52 Week Low |
| --- | --- | --- | --- | --- | --- |
The Adani Group is a trusted brand within the Indian stock market. All the companies that form part of the group are known for their diverse product range and excellent customer service. Over the years, the conglomerate has provided lucrative returns to its investors. Therefore, those sceptical about stock market fluctuations can choose business giants like the Adani Group of companies to lock their funds and earn good returns.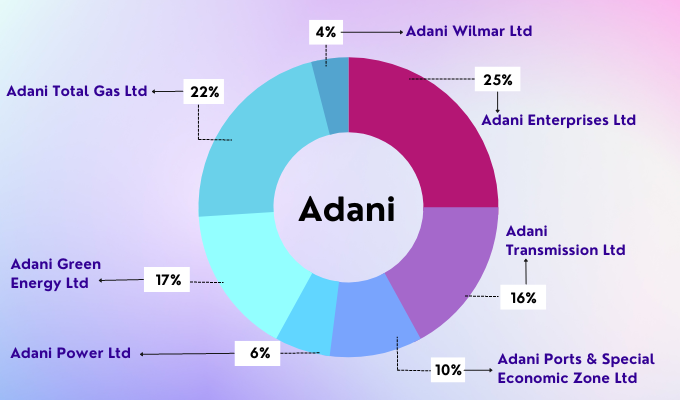 About Adani Group of Companies
Headquartered in Ahmedabad, Adani Group thrives as the unprecedented leader in the transport logistics and renewable energy sectors. Founded in 1988 by billionaire Gautam Adani, the multinational firm specialises in providing large-scale infrastructure development in India. Additionally, the conglomerate has a widescale presence across 70 countries.
The Adani Group is also an unprecedented leader in and outside India for transport services. Its diverse portfolio includes services such as port management, airport operations, electric power generation and supply, food processing, mining, and oil and gas supply. To promote the notion of "Growth with Goodness," Adani Group emphasises sustainable growth and community-focused initiatives across its global ecosystem.
Per the Q2 report of FY 2023, the total market cap of the seven publicly traded entities under the Adani Group stood at more than INR 3.77 lakh crore. The transport giant recorded a whopping 117% in PAT in Q2 against the Q2 figures of the last financial year. Furthermore, the consolidated net profit of FY23 stood at INR 460.94 crore in Q2 for the Adani Group.
If you want to make a substantial investment portfolio comprising the Adani Group shares, you can explore the complete stock list of the conglomerate listed on NSE & BSE below.
Frequently Asked Questions