Tata Shares
Check out the complete list of shares/stocks of Tata Group listed on NSE & BSE.
Tata Group Stocks
| Company Name | ₹ LTP (Change %) | Volume | Market Cap | 52 Week High | 52 Week Low |
| --- | --- | --- | --- | --- | --- |
Companies belonging to the Tata Group have become household names as they have a diversified range of products and services. The Tata Group has 29 listed companies which have delivered enormous returns to investors over time. For anyone who wants to invest systematically and build wealth over time, the shares of Tata Group companies can prove to be an ideal investment.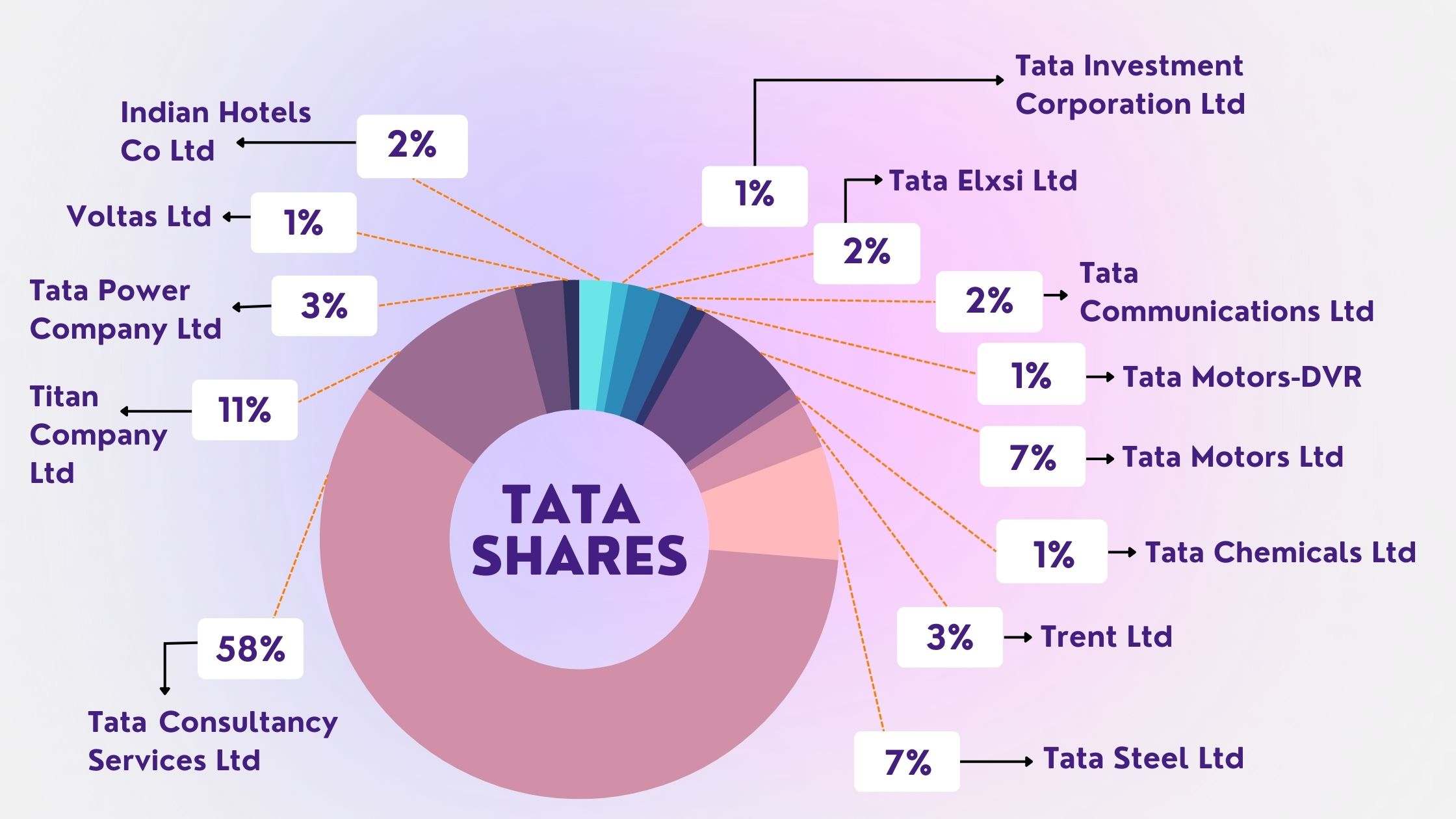 About Tata Group of Companies
The Tata Group of Companies is a multinational conglomerate with its headquarters in Mumbai. In 1868, Jamsetji Tata established the Tata Group, which currently sells its products and services in more than 150 countries, India being the largest contributor to the revenue of its included companies.
Tata group has a diversified range of companies with operations in FMCG, Jewellery, Chemicals, Communications, Hotels, Airlines, etc. Although the Tata Group has more than 100 subsidiaries, there are 19 publicly listed companies of the Tata Group on the NSE and the BSE. Each of these companies operates independently under the supervision and management of its executives, directors, and shareholders. Tata Sons have the most ownership of the group companies at 66%, while the Tata family is a minor shareholder in all the publicly listed companies and subsidiaries.
The combined market capitalisation of all 19 publicly-listed Tata Group Companies was $311 billion (INR 23.6 trillion) as of March 31st, 2022, with annual revenue for the fiscal year 2021-2022 of $128 billion (INR 10.4 trillion). Tata Consultancy Services (TCS) was the most valuable AT $153.19 (INR 12.4 trillion) among the companies.
If you want to diversify your investments and invest within the Tata Group, you can check out the complete list of shares/stocks of Tata Group listed on NSE & BSE below.
Frequently Asked Questions