Budget hospitality chain Oyo plans IPO. Here's all we know so far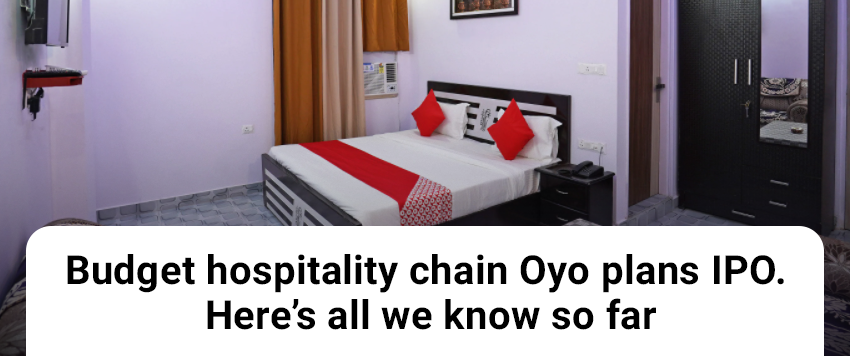 India was always known for its great hospitality and cuisine, but never really for its hotels, at latest not in the budget segment. 
Eight years ago, a startup disrupted and effectively transformed the face of the Indian hotel landscape, though not necessarily always for the better. 
And now, budget hospitality chain Oyo Hotels and Homes is reportedly going public. The company is said to be planning to raise $1 billion via an initial public offering (IPO), and could soon file its draft prospectus with the Indian stock market regulator, a report in The Economic Times has said. 
The development comes at a time when the hospitality sector is gradually recovering after being hit hard by the Covid-19 pandemic, which restricted business travel and hammered leisure tourism.
What has Oyo done to prepare for the IPO?
The news of a likely IPO comes even as the shareholders of Oyo's parent company Oravel Stays okayed its conversion from a private limited company to a public limited company. 
The company also increased its authorised share capital to Rs 901 crore earlier this month from Rs 1.17 crore. Oyo expanded its paid-up share capital through a stock split and a bonus issue. 
The stock's face value has been split into a 1:10 ratio for all equity and preference shares. The company has also allotted 3,999 bonus shares for each share held. 
For preference shareholders, the conversion ratio to equity shares has been changed to 1:4,000 from 1:1 earlier.
How big will the Oyo IPO really be?
As mentioned, the IPO could raise $1-1.2 billion (Rs 7,400-8,800 crore) from the market. This will make it among the largest IPOs in the Indian stock market this year. 
Oyo joins a number of tech-oriented Indian companies that are going public. Zomato's Rs 9,375 crore blockbuster offering is the largest IPO in India this year. Automobile marketplace CarTrade mopped up Rs 3,000 crore. And then there is software-as-a-service company Freshworks, which went public on the Nasdaq with a $1-billion IPO.
In addition, payments app Paytm has also filed its draft red herring prospectus and plans to raise Rs 16,600 crore via an IPO at home. Others like Nykaa, Mobikwik and Policybazaar, too, are in line to list on Indian bourses. 
What are the objectives of Oyo IPO?
The IPO is likely to be a mix of fresh issue of shares as well as an offer for sale (OFS). While the company can use the fresh capital for expansion and other purposes, the OFS will allow some of its shareholders partial or complete exit. 
"The IPO papers are ready, and bankers are waiting for final approval from the company before filing it with the Securities and Exchange Board of India (SEBI)," the report said. "Most probably, the DRHP will be filed before September 30," it added. 
Who are Oyo's key shareholders?
Apart from founder Ritesh Agarwal, the company is owned by at least 15 other shareholders. These include Japanese tech investment giant SoftBank, Lightspeed Venture Partners and Sequoia Capital. 
Technology giant Microsoft, vacation rental company Airbnb and Singapore-based superapp Grab are among its other shareholders. The Oravel Employee Welfare Trust also owns the company's shares. 
What is Oyo's revenue mix by geography?
Apart from India, Oyo operates its properties across 35 countries. Around 43% of its revenue comes from India and Southeast Asia while 28% is from Europe, according to the report. 
Open Demat Account

Enter First Name & Last Name
Start investing in just
5 minsFree Demat account,
No conditions apply
0%* Brokerage
Flat ₹20 per order
Open FREE Demat Account in 5 minutes

Mobile Number
There is some issue, try later