Check out the large caps that have run up the most against their 200-day moving average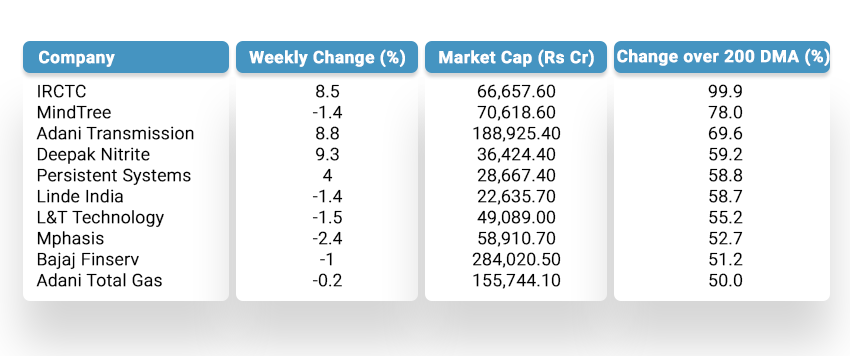 The Indian stock market continues to trade close to record highs with the 30-stock benchmark Sensex near the 60,000-mark. No wonder, then, that many companies have recorded way too much spike and are seen in the danger territory if the markets see any reversal from the current levels.
We tracked the list of large cap stocks (with market value of over Rs 20,000 crore currently) and looked at names that have shot up the most compared to their 200-day moving average (200 DMA) as also their 30 DMA.
On an average, the large cap pack had a median rise of around 26.5% in their share prices compared to the 200 DMA. As against this, the Sensex has moved up around 15% compared to its own 200 DMA.
This shows that a good number of large caps have climbed over the last six-seven months and even as the Sensex itself may have been led by a few stocks, a number of bigger companies have given high returns to their investors.
On the flip side, these stocks may be the first to crack if the market sees any sharp correction.
At the top of the heap is none other than 'PSU but tech play' IRCTC, which runs the nodal railway ticketing venture in the country and has been trying to expand its revenue sources. The stock is currently nearly twice its 200 DMA and commands a market cap of over $9 billion.
As the fear of the third wave of the Covid-19 pandemic recedes, analysts see a rosy picture for its ticketing operations as also its catering and FMCG play with its mineral water business.
IT companies MindTree, which is now controlled by L&T Group, Persistent Systems, L&T Technology and Mphasis are also among the companies that have seen their share price zoom around 50% or more compared to their 200 DMA.
Other companies in the list are Adani Transmission, Deepak Nitrite, Linde India, Bajaj Finserv and Adani Total Gas.
We also went down deeper to scan the list of stocks that have gained at least 25% compared to their 200 DMA. This list has names like Coforge, Piramal Enterprises, L&T Info, Astral, Adani Enterprises, Gland Pharma, Titan, Bajaj Finance, Schaeffler India, Alkyl Amines, HAL, Tata Steel, HCL Technologies, Tech Mahindra, Crisil, SBI Life Insurance, Balkrishna Industries, Oracle Financial, Alkem and Dr Lal Pathlabs.
30 DMA picture
If we look at the 30 DMA numbers, six stocks have recorded a double-digit rise. IRCTC again leads this pack. The other stocks in the list are Supreme Industries, Deepak Nitrite, Astral, Piramal Enterprises and Honeywell Automation.
There were also several companies that saw a dip in their stock prices compared to their 30 DMA as the Sensex went through a minor correction over the last few weeks.
These include Dr. Lal Pathlabs, ACC, Tata Steel, PI Industries, Pfizer, ICICI Lombard, Tech Mahindra, HDFC, Hindustan Unilever, Infosys, Eicher Motors, Asian Paints, Alkyl Amines and Endurance Tech.
Open Demat Account

Enter First Name & Last Name
Start investing in just
5 minsFree Demat account,
No conditions apply
0%* Brokerage
Flat ₹20 per order
Open FREE Demat Account in 5 minutes

Mobile Number
There is some issue, try later