Falling Covid-19 caseload, adequate provisioning aid revival for private life insurers

​
India's three biggest private-sector life insurers appear to be a growth path, albeit for different factors, even though the devastating second wave of the Covid-19 pandemic hurt their bottom line in the three months through June.
SBI Life Insurance Co Ltd, HDFC Life Insurance Co Ltd and ICICI Prudential Life Insurance Co Ltd showed healthy growth trajectoryfor key metrics such as annual premium equivalent(APE), renewal premiums and value of new business, according to a report by IIFL Securities.
APE, which measures business sales in the life insurance industry, climbed 35% during the April-June quarter from a year earlier while renewal premiums rose at a healthy pace of 10%.
Use this chart: https://datawrapper.dwcdn.net/TlYDU/1/)
The three companies also expanded the value of expected profits from new business (VNB) margins thanks to improved growth and better mix.
IIFL Securitiesexpects the life insurance sector to record strong growth in the current fiscal year led by optimism in the capital markets and a favourable base. The sector may outperform the broader financial sector in the near future.
Not out of the woods yet
All three companies recorded an increase in the number of Covid claims in the first quarter of FY22 vs the entire FY21. This resulted in much higher reserving for claims, especially where these were incurred but not reported (IBNR). This dragged the net profits of SBI Life and HDFC Life lower and pushed ICICI Pru Life into the red.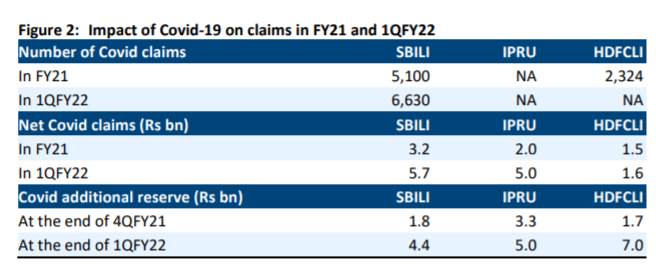 However, the firms now believe they have surpassed the impact of COVID claims owing to a drop in caseloads and prior adequate provisioning. The companies also feel that if a major third Covid wave doesn't hit the country, their current reserves will be adequate and they won't require fresh infusion of capital.
The management of the companies also anticipate continued savings growth throughout the fiscal year, but say growth in the retail protection segment may take time to recover.
Stock picks
SBI Life remains the top pick within the sector owing to a resilient customer base, strong distribution franchise and a low-cost structure, as per IIFL Research. The stock trades at 2.5 times one-year forward price-to-enterprise value (P/EV), and demonstrates the most diversified growth ranging from strong pickup in unit-linked insurance plans (ULIPs) on one side and sharp growth in retail protection.
ICICI Prudential Life also trades at 2.5 times one-year forward P/EV. Even though the stock has re-rated, it provides near-term upside given the diversified product portfolio and distribution mix.
HDFC Life trades at 3.8 times one-year forward P/EV. While the stock offers limited near-term upside given the frothy valuations, the company offers a long-term investment thesis.
Company highlights, management commentary
SBI Life:India's second most-valued insurance firm saw a sharp increase in Covid-19 reserve provisioning to Rs 4.4 billion at the end of June from Rs 1.8 billion at the end of March.
It witnessed 1.3 times increase in Covid-19 claims during the first quarter compared with the full year ended March 2021. During the previous financial year, SBI Life had settled about 5,100 Covid-19 claims.
Gross Covid-19 claims stood at Rs 7.1 billion during the quarter, while claims net of reinsurance stood at Rs 5.7 billion. Net claims stood at Rs 3.2 billion.
SBI Life management said ULIPs saw good traction in the first quarter due to the rebound in equity markets.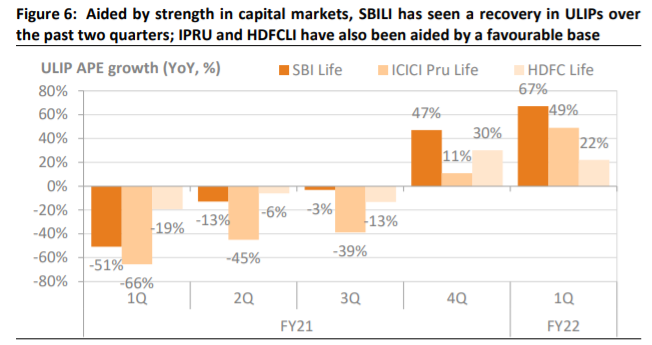 First-quarter opex ratio of 7.2% (up by 20 basis pointsyear-on-year) and commission ratio of 3.2% (up 10 basis points year-on-year) was due to cost optimization and digitisation initiatives.
ICICI Prudential Life:The company didn't disclose Covid-19 claim volumes for the first quarter. Instead, it reported total gross death claims — settled, notified and in-process claims — of Rs 11.19 billion owing to Covid-19 deaths. Covid-19 claims stood at Rs 3.54 billion in 2020-21.
ICICI Prudential Life held a provision of Rs 4.98 billion for future Covid-19 claims and Rs 3.84 billion in IBNR provision for the first quarter for non-Covid claims — in-line with standard underwriting practices.
The management attributed higher claims to a higher impact of the second Covid wave, on relatively higher affluent customers in urban centres − a key target segment for the company.
The company aims to double its VNB by FY23. This implies a compound annual growth rate (CAGR) of 28% for the next two years.
The management attributed the strong margin expansion in 1QFY22 to a change in the underlying product mix.It also indicated that the credit life segment returned to pre-Covid levels.
HDFC Life:The companysettled 70,000 claims in the first quarter owing to a steep rise in death claims. Peak claims during the second Covid wave were three-four times that of peak claims in the first wave.
HDFC Life saw its credit life segment bounce back in the first quarter, growing three-fold from a year earlier led by strength in disbursements. Its management indicated a cautious stance on the group term protection segment. It believes this a commoditised segment with competitive pricing, and with incremental claims having the potential to impact profitability to a greater extent.
HDFC Life attributed a sequential rise in the solvency ratio to lower business strain compared with the fourth quarter 2021 and continued strength in capital markets.
Its management indicated that retail claims contributed to a larger share of the elevated claims seen in the first quarter compared with group claims, adding that group claims tend to have a longer lag. It indicated that retail claims appear to have peaked in June.
​
Open Demat Account

Enter First Name & Last Name
There is some issue, try later
Start investing in just
5 minsFree Demat account,
No conditions apply
0%* Brokerage
Flat ₹20 per order