FIIs turn net buyers in 2023 with May inflow boost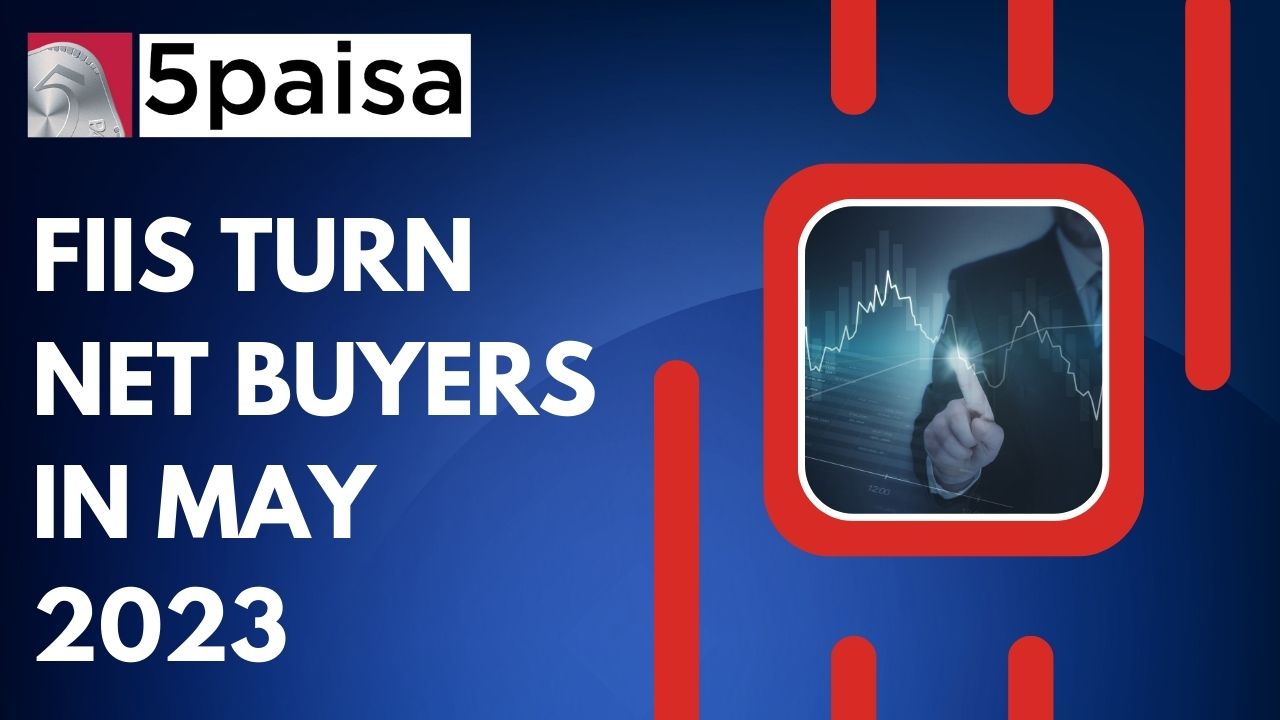 ---

In a sudden twist of events, the foreign portfolio investors (FPIs) turned net buyers in equities in 2023 overall. This is despite the FPIs selling up to $4.21 billion in the month of January 2023. Selling in February was a tad under $1 billion while March and April saw inflows. However, the real thrust has come in the month of May 2023 with sharp inflows in the first few trading sessions of May. But first the macro picture of FPI flows in the last couple of years.
FPI flow story since Calendar year 2022
The table captures monthly FPI flows into equity and debt for 2022 and 2023, with the latter being month-wise.
Calendar

Month

FPI Flows Secondary

FPI Flows Primary

FPI Flows Equity

FPI Flows Debt/Hybrid

Overall FPI Flows

Full Year 2022

(146,048.38)

24,608.94

(121,439.44)

(11,375.78)

(132,815.22)

January 2023

(29,043.32)

191.30

(28,852.02)

2,308.27

(26,543.75)

February 2023

(5,583.16)

288.85

(5,294.31)

1,155.19

(4,139.12)

March 2023

7,109.65

825.98

7,935.63

-2,036.42

5,899.21

April 2023

9,792.47

1,838.35

11,630.82

1,913.97

13,544.79

Total for 2023

(17,724.36)

3,144.48

(14,579.88)

3,341.01

(11,238.87)
Data Source: NSDL (all figures are Rupees in crore). Negative figures in brackets
As can be seen in the table above, in CY2022, FPIs withdrew Rs121,439 crore from equities and another Rs11,376 crore from debt resulting in total outflows from India to the tune of Rs132,815 crore. That is a lot of money and this is despite the FPIs infusing nearly $12 billion into Indian equities between July 2022 and December 2022. However, 2023 presents a slightly different picture.
In 2023 we have seen selling in January and February. The month of March saw positive flows but this was largely driven by the $1.9 billion infused by GQG Partners into Adani group stocks. If that was excluded, the FPIs would still have been net sellers. April 2023 was the first month of decisive net inflows to the tune of $1.42 billion. However, as of the end of April, the year 2023 numbers were still in the negative. As of close of April 2023, FPIs had sold equities worth Rs14,580 crore. However, debt markets had seen infusion of Rs3,341 crore. Hence as of the end of April 2023, net outflows from India stood at Rs11,239 crore.
 
How the numbers shifted in May 2023
May was a decisive shift and to get the right picture, one must look at the flow of the last 7 trading sessions to 09th May 2023. The table below captures that story.
| | | | | |
| --- | --- | --- | --- | --- |
| Date | FPI Flow (Rs Crore) | Cumulative flows | FPI Flow($ billion) | Cumulative flow |
| 27-Apr-23 | 1,443.53 | 1,443.53 | 176.22 | 176.22 |
| 28-Apr-23 | 3,935.54 | 5,379.07 | 482.03 | 658.25 |
| 02-May-23 | 6,468.84 | 11,847.91 | 790.98 | 1,449.23 |
| 03-May-23 | 2,991.73 | 14,839.64 | 365.90 | 1,815.13 |
| 04-May-23 | 1,389.42 | 16,229.06 | 169.74 | 1,984.87 |
| 08-May-23 | 3,852.61 | 20,081.67 | 471.35 | 2,456.22 |
| 09-May-23 | 3,162.52 | 23,244.19 | 386.80 | 2,843.02 |
Data Source: NSDL (Negative figures in brackets)
Now comes the gist of the story. FPIs have now been net buyers in equities for 7 days in a row, although this includes 2 days of April and 5 days of May. In these 9 trading days, FPIs have infused Rs23.244 crore into Indian equities with a sizable chunk coming from Mankind Pharma IPO too. Even in dollar terms, the net inflows are $2.84 billion into Indian equities in just 9 days flat.
How May 2023 made FPIs net buyers for 2023
When se cumulate only the May numbers to the previous equity flow numbers and debt flow numbers for 2023, we now get a complete picture. Here are some key takeaways.
For the month of May 2023 so far in the first five trading sessions, FPIs have infused Rs17,865 crore or nearly $2.18 billion into Indian equities.
 

However, for the month of May 2023, the flows into debt and hybrids have been marginally in the negative.
 

Despite that, the month of May has seen overall net inflows of Rs17,079 crore from FPIs or $2.09 billion in dollar terms.
 

How does the picture now look for calendar 2023 cumulative? For year 2023 so far, net equity inflows stand at Rs3,285 crore. It is marginal but positive nevertheless. That translates into $404 million in equity flows.
 

In addition; debt and hybrids in 2023 so far, saw inflows of Rs2,555 crore and as a result overall FPI flows for 2023 now stands at a positive level of Rs5,840 crore.
What triggered this change of heart?
It has hard to fathom the specific reason for the change of heart in FPIs after almost 2 years of persistent selling. Here are some possible reasons for the same.
Valuations are starting to look a lot more reasonable and the EM arbitrage that FPIs were looking at in the rest of Asia is not for real. Also, the Indian economy shows promise of above average GDP growth at a time when problems in the US and a likely recession threatens to pull down a number of export oriented emerging markets in Asia.
 

RBI has taken a growth oriented stand and has opted to hold repo rates at 6.5% although the US continues on its hawkish path. That is also raising hopes of a revival in growth. In addition, the quarterly results have not been too disappointing. Headwinds are there, but they are more in the export oriented sectors. Companies have managed to boost sales and hold profit growth even as supply chain loosening is promising to bring efficiencies in supply chains and reduce working capital costs.
 

Lastly, there is the rupee. The Indian rupee has shown a lot of strength and character even at a time when the RBI has reduced its intervention substantially. That promises to protect returns and investment value in dollar terms. Normally, rapid bull rallies have been associated with the bottoming of the rupee against the dollar.
FPIs have given the first signal that they may be keen to take a more positive approach to India investing. It remains to be seen if this momentum is sustained.
Start Investing in 5 mins*
Rs. 20 Flat Per Order | 0% Brokerage
About the Author
Disclaimer
Investment/Trading in securities Market is subject to market risk, past performance is not a guarantee of future performance. The risk of loss in trading and investment in Securities markets including Equites and Derivatives can be substantial.
Open Free Demat Account
Account belongs to
By proceeding, you agree to the T&C.