How passive funds picked up in the last three years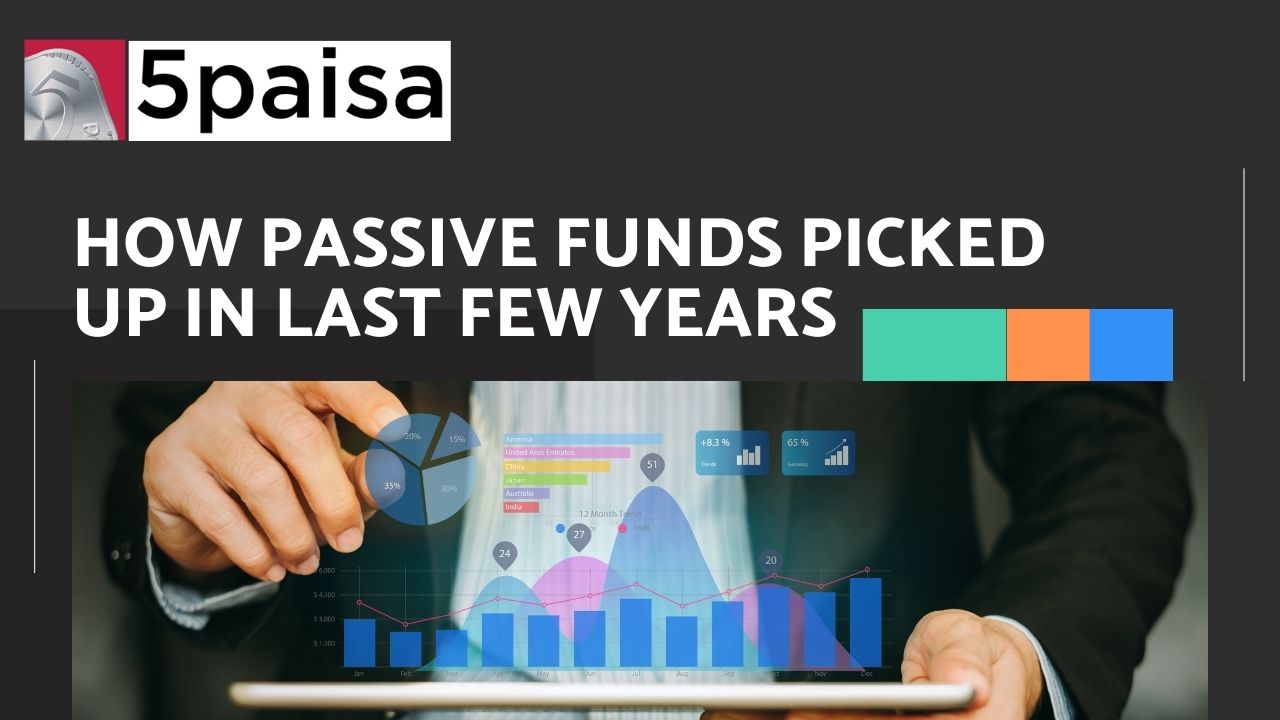 ---

What has been the big mutual fund story or narrative in the last 3 years. In fact, if you look at the post-COVID period, the mutual folios have seen tremendous growth as a new breed of millennials have entered the market. However, the bigger narrative has been rapid growth of passive funds. These passive funds are in contrast to active funds. In active funds, the fund manager decides which sectors to buy, which stocks to buy, which bonds to buy, how much to allocate etc. In passive funds, there are no such hassles. The fund manager just pegs the fund to an index like the Nifty or Sensex. Then, the attempt is just to match or mirror these indices and not beat these indices. But why have they grown?
Bet on the haystack; not on finding the needle in the haystack
This was famously said by the father of global passive investing, Jack Bogle. The haystack is an analogy for the broad based index representing the market like the Nifty or Sensex. The needle in the haystack is the active management approach, where a lot of effort is put on finding the stock that can beat the index by a comfortable margin. Over the last couple of years, beating the market is getting harder in India. Fund managers attribute this to kurtosis, since funds are barred from holding specific stocks above a certain percentage.
While Indian fund managers were able to beat the market in the past, the situation has changed in the last 2 years. Markets are getting increasingly complex with the result that just about 10-15% of the fund managers are able to consistently beat the market indices. That has paved the way for passive funds to gain currency among investors. And, these passive funds like index funds and index ETFs have been gaining ground really fast.
Growth in passive AUM since 2020 is mindboggling
Here is how the AUM of the 4 key categories of passive funds have growth over the last 3 financial years.
Fund
Category

Feb-23 AUM
(Rs crore)

Feb-22 AUM
(Rs crore)

Feb-21 AUM
(Rs crore)

Feb-20 AUM
(Rs crore)

CAGR
Growth

Index Funds

1,33,772

54,737

16,867

7,930

156.46%

International Fund of funds

22,138

22,072

10,716

2,724

101.05%

GOLD ETF

21,836

18,728

14,102

7,926

40.19%

Index ETFs

4,87,067

3,91,436

2,73,886

1,80,707

39.17%

Grand Total

6,64,814

4,86,974

3,15,571

1,99,288

49.42%
Data Source: AMFI
Among the passive funds, index funds have grown AUM at a compounded annual growth rate (CAGR) of 156.5%. we can call that an outlier due to a relatively small base. But, even if you look at the passive funds as a category overall, the AUM has grown by an impressive 49.4% over the last 3 years. Index ETFs today have the highest AUM for any category and is inching closer to Rs5 trillion. Even at that size, it has grown at 39.2% CAGR in the last 3 years. Clearly, AUM of passive fund has been building up steadily and rapidly.
Not just AUM, even passive folios are up sharply
Folios or investor accounts are the best and most reliable gauge of how the retail cult is spreading. Clearly, retail investors are also catching on to the passive investment cult as you can see from the comparative table of folios of passive funds over last 3 years.
Fund
Category

Feb-23
Folios

Feb-22
Folios

Feb-21
Folios

Feb-20
Folios

CAGR
Growth

GOLD ETF

46,73,999

37,74,398

10,89,710

4,92,753

111.68%

Global FOF

12,57,035

12,44,247

6,23,281

1,74,580

93.10%

Index Funds

33,89,328

23,42,493

9,36,077

4,76,834

92.27%

Index ETFs

1,18,54,687

97,85,826

39,42,779

17,66,536

88.62%

Grand Total

2,11,75,049

1,71,46,964

65,91,847

29,10,703

93.77%
Data Source: AMFI
How do you judge if the passive cult is spreading to retail investors. You just need to see how fast the CAGR of folios is growing. The interest part is that over the last 3 years, the CAGR growth in folios has been stronger than the CAGR growth in AUM. Interestingly, Gold ETFs that led the way with 111.7% growth in folios as most retail investors appear to have taken a small exposure to gold as a hedge. However, it remains to be seen if this enthusiasm can be sustained from FY24 onwards under the new tax rules. In this case, the folios are not just driving retail participation but also the AUM. This is a sort of promise that AUM will also grow exponentially once the tipping point is reached.
What has worked in favour of passive funds in India?
Passive fund managers are different from active fund managers in the sense that they do not worry about stock selection. All that they need to do is to select a good index and benchmark their portfolio to that index. The only thing passive fund managers worry about is to ensure that the tracking error is kept under control. The tracking error is the extent to which the fund diverges from the index. Lower the divergence, the better it is considered to be. It makes the index fund / index ETF a more authentic representation of the index. Here are 4 key factors that have accelerated the growth of passive funds in India. In fact, the growth has been totally pronounced in the last 3 years.
For the last few years, the volatility meant that investors had 2 challenges to contend with. How to buy active funds when success rate was as low as 10% to 15% and how to fund such fund managers and funds that can beat the market. The effective probability overall was just too low and that triggered interest in passive funds.
 

Cost advantage factor in driving passive funds demand. For example, total expense ratio (TER) of an active equity fund, is 2.3% to 2.5% of AUM, while for an index ETF it is as low as 0.30% to 0.40%. The choice is clear.
 

Both retail and institutional investors see passive funds as a means of diversifying the base of their portfolio. After all, passive investing has gold ETFs and FOFs apart from broad-based indices to diversify risk.
 

Finally, demand comes with supply and that has been in abundance with the surge in NFOs of passive funds. That has kept the passive fund interest ticking.
On passive funds, India may have just scratched the surface. The tipping point is yet to come.
Start Investing in 5 mins*
Rs. 20 Flat Per Order | 0% Brokerage
About the Author
Disclaimer
Investment/Trading in securities Market is subject to market risk, past performance is not a guarantee of future performance. The risk of loss in trading and investment in Securities markets including Equites and Derivatives can be substantial.India consu
Open Free Demat Account
Mobile No. belongs to
By proceeding, you agree to the T&C.