India goes slow on supporting Russia as December sanctions approach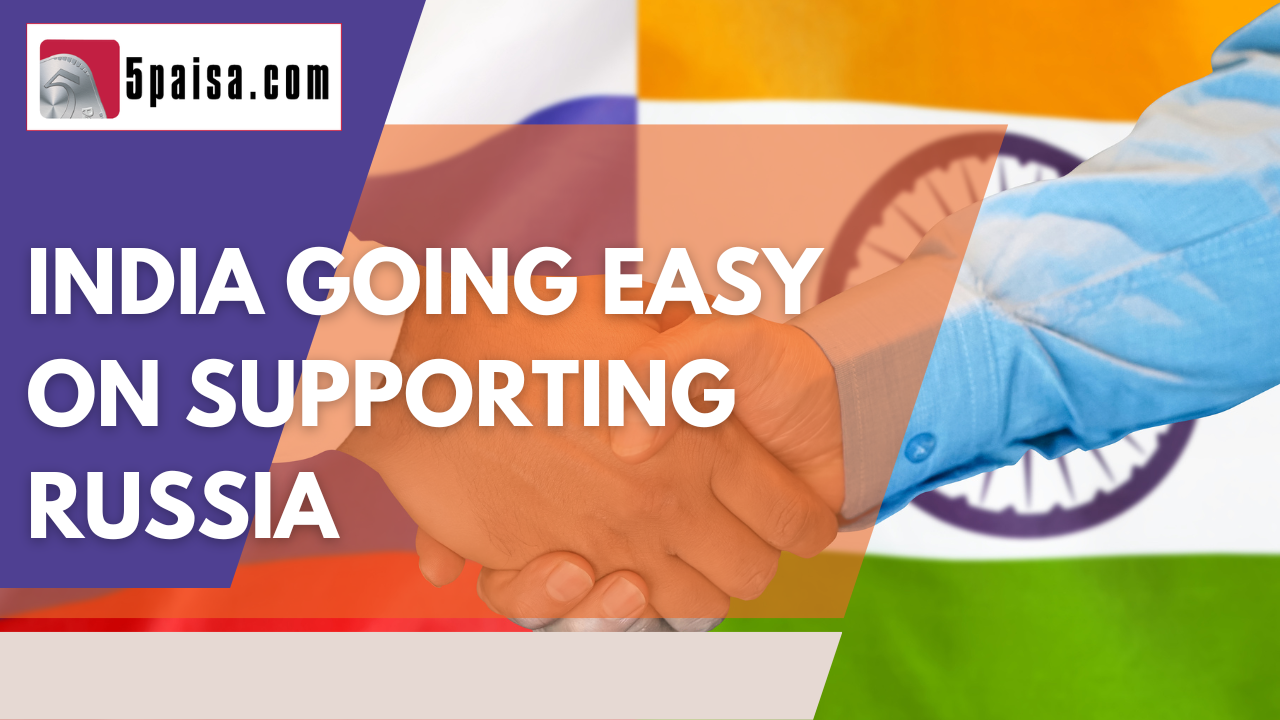 ---

Come December and the EU region will start imposing heavier sanctions on Russia for its aggression and annexation of territories belonging to Ukraine. Russia has been trying to pressure Europe to go slow on the December sanctions by cutting supplies through the Nord Stream 2 pipelines. However, that pressure has not yielded much results for Russia. Interestingly, during the entire episode, India had been at times a vocal supporter and at times a silent supporter of Russia. That is not surprising, considering the long standing defence relations that India and Russia have shared over the years. But things are changing.
Before we go to the change, how exactly did India support Russia. For starters, India refused to explicitly condemn the Russian aggression in Ukraine. At the United Nations General Assembly (UNGA), India opted to abstain from voting on the anti-Russia resolution. Similarly, at the United Nations Security Council (UNSC), India despite not having veto power, abstained from voting; again a sign of support for Russia. When the US, UK and even EU put sanctions on Russia, India refused to be drawn in and even agreed to absorb a chunk of the Russian oil supplies, albeit raking in the advantage of much lower prices. 
Now, there is a change visible in the Indian approach to Russia
India may not be vocal in its anti-Russia rhetoric like most of the West. However, there are several subtle changes that are visible now. Sample these.
•    In September 2022, when Modi met Putin at Samarkand, Uzbekistan, the message was quite clear that the present era was not the era for war. It was only worsening things for most of the vulnerable nations still recovering from the pain of the pandemic.
•    Later, when Putin called for a secret ballot at the UNGA on the issue of Ukraine, India flatly refused to support Russia and voted against the secret ballot idea. That was perhaps, the first real show of defiance by India since the Russia Ukraine war started.
•    The other important shift that has happened is that India has started to rely less on Russia for oil imports. After elevating Russian supplies into India from April to July, India has again gone back to buying oil from the Middle East. In November, India will have a massive cargo of oil from the Canadian sands in Alberta. The story is surely changing. India is still getting oil and coal from Russia, but the aggression to back Russia is waning.
India does have a point. As long as the issue was a low level war, it was all well and good. However, India finds it increasingly difficult to support Russia now for two reasons. Firstly, it is hard to support any country that indulges in rampant civilian killings. That is what Russia has done in Ukraine. Secondly, Russia has annexed Ukraine territories and India fears that supporting Russia at this juncture would legitimize such land grabs across the world, including by our North Western neighbour in Kashmir.
India is just being pragmatic in trade diplomacy
One thing India realizes is that Russian oil, in normal circumstances, is not a really feasible proposition due to the high freight costs involved. It would rather keep its long standing relationships with the Middle East and Africa and look to diversify its oil imports globally. The second issue is of trade composition. India's biggest trading partners are the US, UK, EU and China. Indo-Russia trade has been too small. India runs a massive deficit with China but surpluses with the US and UK. India cannot allow its Chinese deficit to start pinching if the US and UK and even EU start putting trade sanctions on India.
The second more pragmatic issue is of Indian corporates. Most of the corporates that are importing oil from Russia are struggling to get finance. Most of the global banks are refusing to fund or open letters of credit where the subject matter is Russian oil. Companies fear it may invite sanctions from the US. Many Indian companies are facing pressure from their US and European clients and banks if there is a Russian component to the deal at any stage. Under these circumstances, the Russia story was becoming like a cross that was tough to bear. India is signalling that it is ready to break bread with the West once again.
India is wary of the China factor
Perhaps, what really worries India about remaining close to Russia is the role of China in the entire equation. For instance, one of the concerns in diplomatic circles for India is that if the December sanctions corners Putin further, then Russia could gravitate even closer to China. Needless to say, India does not share the best of relations with China ever since the clashes between the two armies at Galwan and later at the Pangong Lake in Ladakh. These territories are also being claimed by China. Apart from China's aggression in the Asian region, India has also been unhappy with China's proximity with Pakistan.
India is veering around to the view that the more Russia depends on China, the less inclined they would be to support India in the event of any conflict with China. India really cannot afford to lose the support of the West at this juncture and rely too much on Russia. After all, good diplomacy is all about knowing which side of your bread is buttered.
 
Start Investing in 5 mins*
Rs. 20 Flat Per Order | 0% Brokerage
About the Author
Disclaimer
Investment/Trading in securities Market is subject to market risk, past performance is not a guarantee of future performance. The risk of loss in trading and investment in Securities markets including Equites and Derivatives can be substantial.
Open Free Demat Account
Account belongs to
By proceeding, you agree to the T&C.