Interview with DiGiSPICE Technologies Ltd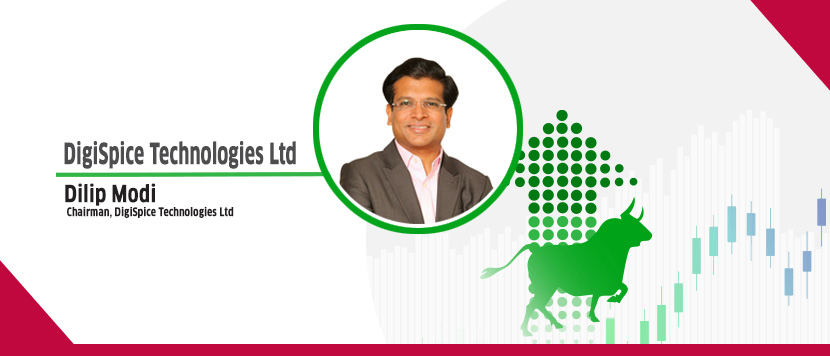 ---

Our constant endeavour towards fostering financial inclusion has driven us to evolve into a holistic technology solutions provider for Bharat, expresses Dilip Modi, Chairman, DiGiSPICE Technologies & Founder, Spice Money.
Could you shed some light on the asset-light business model of Spice Money? How are you leveraging technology, automation of processes and the wave of digital adoption?
Rural India was riddled with the problem of access. There was a lack of access to basic financial services, with bank branches situated at faraway distances and low ATM penetration. The prohibiting factor behind the lack of a large-scale ATM network is the high capital requirement & operational costs. This is why we focussed on an asset-light business model as it is the easiest way of minimizing costs and increasing the reach of our services to the hinterlands of the country.
It is important to build a platform which is agile, flexible, scalable, secure & stable so that it can cater to the needs of quick changes in the market while being ready for growth in the coming time. We believe in using low/no-code for making the existing processes more auditable and flexible giving more power to the business. 
While we make use of the latest in technology, usability and user experience is also a key element that we factor in, ensuring the development of an easy-to-use platform for our merchants. Hence, our technology is modelled around Design Thinking, User/Customer experience, and designing our products in a plethora of regional languages keeping in mind the linguistic diversity of our country as a continued key focus area for this year.
What are your plans to further expand the physical and digital presence over the next couple of years? Which new business segments are you aiming to foray into in FY23?
At Spice Money, we have been revolutionising the way Bharat banks, through a host of different initiatives. We have introduced a cutting-edge phygital super app as a marketplace offering savings, credit and insurance beyond basic banking & payment services and also a Travel Marketplace offering travel solutions focused on the rural parts of our country.
Our constant endeavour has been to foster financial inclusion in the rural regions. Our million-strong network of Spice Money Adhikaris share our vision and has been making banking services accessible to their communities while reaping the benefits of owning their business as nanopreneurs.
We are dedicated to solving the problem of access for the citizens of Bharat, bridging the rural-urban divide, and ensuring they get the same services as their urban counterparts. This is why we are looking at bringing a host of services from various sectors like banking, insurance, investments, healthcare, e-commerce etc, to the doorsteps of rural India, through our Adhikari network.
Spice Money aims to build India's largest Adhikari network with the best last-mile connectivity. What is your strategy to achieve this goal?
We understand that the correct way of serving the rural population is through solutions that are customised for them as opposed to giving them existing solutions for the urban population.
Our Adhikaris are the backbone of our services across the length and breadth of India. In order to incentivise and encourage aspiring nanopreneurs, we offer zero investment onboarding. We engage with the network day in and day out, as well as periodically, with initiatives like the Spice Money Panchayat, to ensure that we sustain their mindshare. To empower them with financial know-how and digital literacy, we have training programmes designed for them so that they can play their part in helping their communities with essential financial services through the Spice Money academy which is an industry-first educational initiative. We regularly conduct special educational sessions on our platform helping our Adhikaris to interact with industry experts to give them education and exposure which comes to them through world-class training techniques, via the Spice Money learning platform.
Not only do we empower Adhikaris, but we have also launched an initiative in which their wives are being trained with essential financial skills so that they can help in the day-to-day work or become Adhikaris on their own.
What measures are you implementing to cope with challenges posed by high attrition rates?
It is needless to say that organizations want to build and retain an efficient resource pool. The skill set and hard work of the resources decide the outcome of your project's success. Thus, retaining them for the long haul is vital to ensure profitability and business success.
At Spice Money, people first approach is in our corporate DNA. Everybody is equal with no hierarchies on the ground and seen as colleagues. Our employees are given the same opportunities and encouraged to accept responsibility and work hard. Hiring decisions are made based on talent and skill. We are growing 150% every year, and it offers a lot of opportunities for advancement and promotion to everyone working here. Spice Money employees are given the freedom to set and achieve their goals. We are committed to building a diverse, inclusive environment. Spice Money ensures to facilitate an employee-centric culture while keeping in mind the firm's long-term objectives.
We focus on developing and nurturing future leaders at Spice Money. From time to time we organize a leadership development program where employees who have potential and are ready to work for the next level, are provided with mentorship and training so that they can achieve their goals and become great leaders.
Can you highlight your key growth drivers?
Growth drivers for Spice Money would be, on one hand, the lack of access that riddles the citizens of Bharat. Lack of access to basic services like financial, insurance, healthcare etc, results in gaps that we aim to fulfil. For instance, India's ATM penetration relative to population is one of the lowest in the emerging markets, and only less than a fifth of the ATMs are in rural areas. According to a recent report, the total number of ATMs in India stands at 2,55,000 as of January 2022 which is a step in the right direction but is not adequate to serve our huge population. With our continuous efforts, we have successfully established 1 lakh micro-ATMs across the country. We cover 95% of India's rural pin codes, which makes us uniquely positioned to build the largest ATM network in the country.
On the other hand, phenomenal smartphone penetration over the past three years, from 36.5% in 2018 to 67.6% in 2021, and substantial internet penetration along with the continued push from the government towards digital, has also helped us grow.
What is your outlook for FY23?
At Spice Money, we are creating an Open Network for Assisted Digital Distribution (ONADD) to solve the problem of access for the citizens of Bharat, as a holistic tech solutions provider for rural India and go beyond just payments to offer other financial products like credit, savings, insurance, healthcare, e-commerce and a lot more. As we are a tech platform, we are also being leveraged by manufacturers for building digital products around mobile education and jobs, which can integrate into our platform and reach out to our customers.
With our successful journey of building and offering tailor-made solutions for the rural population, we have been revolutionising the way Bharat banks. Our constant endeavour towards fostering financial inclusion has driven us to evolve into a holistic technology solutions provider for Bharat on the back of our technological expertise and a strong foothold in the hinterlands of India.
Start Investing in 5 mins*
Rs. 20 Flat Per Order | 0% Brokerage
About the Author
Disclaimer
Investment/Trading in securities Market is subject to market risk, past performance is not a guarantee of future performance. The risk of loss in trading and investment in Securities markets including Equites and Derivatives can be substantial.
Open Free Demat Account
Mobile No. belongs to
By proceeding, you agree to the T&C.