Interview with PG Electroplast Ltd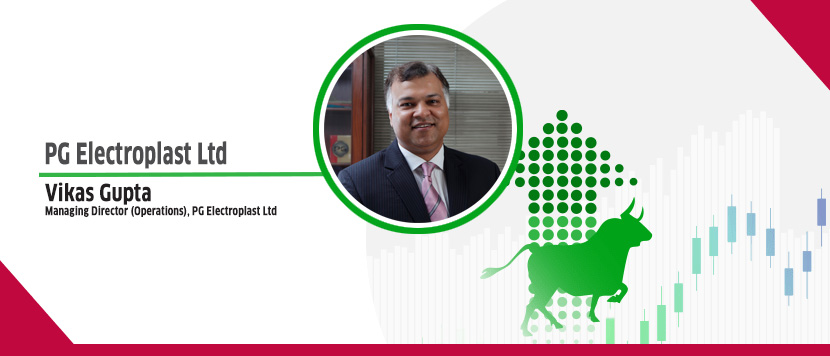 ---

 India is increasingly winning the China+1 opportunity due to factors like untapped domestic market, and a clear government focus on Make in India, explains Vikas Gupta, Managing Director (Operations), PG Electroplast Ltd   
Can you elucidate how PG Electroplast is uniquely positioned in the home appliances and consumer durables space in India?
PG has been in this industry for 45 years now, having started operations in 1977. The business focus and model has evolved continuously as time progressed. We started as a TV components manufacturer, and by 1995 were making complete black and white TVs. Two years later, we started making color TVs, and subsequently backwards integrated to start manufacturing PCB assemblies and plastic injection moulded components. By 2010 we were the largest TV manufacturers in India, making 3.5-4 million units annually for almost all brands in India. However, there was a sudden technology shift and the industry went from CRT TVs to flat-screen TVs in a very short period.
Due to the various free-trade agreements, India had entered into around that time, we had an inverted duty structure in the country and the electronics manufacturing started shrinking as components had duty while finished goods were being imported duty-free. The manufacturing for these panel TVs was all overseas and this had a significant impact on our business. The company focused on its plastic moulding business, as plastic components being bulky, would be difficult to replace. From 2015 onwards as the business improved, and the environment for manufacturing started becoming positive in India, the company has been adding at least one new capability or increasing capacities every year.
Our growth has been organic, based on our customers' demands and requirements. We have learned from our past experiences and are now present in many different product categories and have a large portfolio of national and multinational brands. Our long relationships with customers, agility and flexibility, along our demonstrated history of quality and deliverance have made us a reliable and preferred partner.
PG Technoplast Pvt Ltd (PGTPL), the company's subsidiary has qualified under the PLI scheme for white goods in November 2021. How is it game-changer for the company?
In recent times, India has consistently ranked as one of the world's fastest-growing economies. The world's largest democracy is quickly becoming one of its largest economies too, which has also brought along with it interest and investments from foreign companies and investors. This growth, however, has majorly been driven by the nation's service sector, with the manufacturing sector playing second fiddle. One of the most exciting things about our nation is the opportunity it has to harness its young working population, which could theoretically propel it to becoming a superpower. But before it can capitalize on its so-called demographic dividend, it needs to provide its young population with gainful employment. A fact that our current government knows very well and is working towards tirelessly.
The recent geopolitical situation, owing to the US-China trade war and the Covid-19 pandemic along with its accompanying supply chain disruptions, has created a tremendous opportunity. India is increasingly winning the China+1 opportunity. This is due to a variety of factors, but two of the most important are a large untapped domestic market and the government's clear focus on Make in India. Imports of consumer durables are being discouraged, with increasing restrictions on foreign goods and hikes in basic customs duties. The government has been working to provide the required infrastructure for global manufacturing, by setting up manufacturing clusters that are conducive to production.
India's electronics manufacturing sector is currently not at par with the competing global nations, as it faces a 'disability' of around 8-11% due to gaps in the nation's infrastructure, logistics framework and domestic supply chain, high finance costs, insufficient training in required skills and lack of focus on R&D. The Production Linked Incentive (PLI) Scheme for white goods introduced by the government is providing significant financial incentives to boost domestic manufacturing and attract large investments in the white goods manufacturing value chain. As stated in the scheme, its prime objectives include removing sectoral disabilities, creating a robust component ecosystem and subsequently economies of scale, employment generation and enhancing exports.
The scheme has the potential to boost the domestic manufacturing of electronics in India and make the country globally competitive. The scheme entails an incentive of 4-6% on incremental sales of components manufactured (over the base year) under target segments, to eligible companies, for five years after the first Investment year. In an industry with razor-thin margins, this scheme is a clear game changer. I am sure that in the next 3-4 years, we will have a large component ecosystem in the country for the manufacturing of finished goods, where the import intensity is relatively higher today. The scheme is also incentivizing R&D as well as the development of core competencies and capabilities which will help the industry become sustainable and globally competitive in the long term.
PG Electroplast's wholly-owned subsidiary, PG Technoplast has already received approval under the PLI Scheme for white goods. It has committed capital expenditures of Rs 321 crore to manufacture plastic moulded components, sheet metal components, heat exchangers, cross flow fans and PCB assemblies. We are currently concluding the first phase of the capital expenditure under the scheme and hope to be able to contribute to growing the components ecosystem in the nation. We believe PG will be a meaningful player in the industry going forwards and are confident that we can help fulfill the goals defined in the scheme.
What are your capex plans for FY23?
We are planning a major expansion in our washing machine business. We are increasing capacity 100% from 50,000 units to 1,00,000 units per month. We expect to cement our place as a strong number two in the outsourcing market for the same. We are also investing in three new open data management (ODM) platforms which will allow us to offer 24 new SKUs.
FY23 will see us further backwards integrating into AC manufacturing. We will start manufacturing PCB controller assemblies this year for ACs, which will allow us to now manufacture around 45-50% of the RAC BOM in-house.
We are also increasing our production capacities for the Indoor Unit blowers, or Cross flow Fans (CFFs), substantially as our products are seeing good acceptance in the market. PG is also investing in significantly bolstering its AC R&D facilities and we are also increasing our team. To support our future business plans, we are also increasing our plastic injection moulding and sheet metalwork capacities.
Can you highlight the key growth triggers for the company?
The company expects significant traction in its focus area of products - both ODM and OEM space for air coolers, washing machines and room air conditioners. Expectations are also rife in the plastic moulding in the consumer durables space in washing machines, room air conditioners, refrigerators, ceiling fans and sanitaryware products. The management is optimistic about the AC business and is investing to create capacities and capabilities for the same. Its wholly-owned subsidiary, PG Technoplast has had two manufacturing facilities come online this year which triple the group's AC manufacturing capacities.
PG is also venturing into the ODM space for Room ACs, and has invested in two platforms of AC Indoor Units and two platforms of AC Outdoor Units which have enabled us to offer more than 50 models spanning the complete range of Room ACs from 0.75-ton models to 2.0-ton models, of various star ratings, both inverter and fixed speed models. In washing machines, the company is targeting growth in both semi-automatic and fully automatic washing machines. We are now augmenting the same by a further 60% this year to support the increased demand for FY23. We are also investing in three new platforms for semi-automatic washing machines, which will allow us to offer products with wash capacities ranging from 6 kg, all the way to 14 kg.
In the air coolers business, the company is optimistic about growth in sales in FY23, aided by favourable demand and key investments made by the company. The company has developed two new platforms of air coolers being offered as ODM solutions to customers. In the plastic moulding business, the company has been focusing on the speciality plastics moulding business and gaining traction in the sanitaryware market. Riding on the tailwinds provided by the shift in the global supply chain away from China and the impetus provided to the electronics industry by the incumbent government, the company intends to rebuild its electronics business.
In addition to making PCB assemblies for LED TVs for a few customers on an OEM basis, the company's new LED TV manufacturing line in Greater Noida is expected to drive the growth of this segment.
Start Investing in 5 mins*
Rs. 20 Flat Per Order | 0% Brokerage
About the Author
Open Free Demat Account
Mobile No. belongs to
By proceeding, you agree to the T&C.