Netweb Technologies India IPO gets 30% Anchor Allocated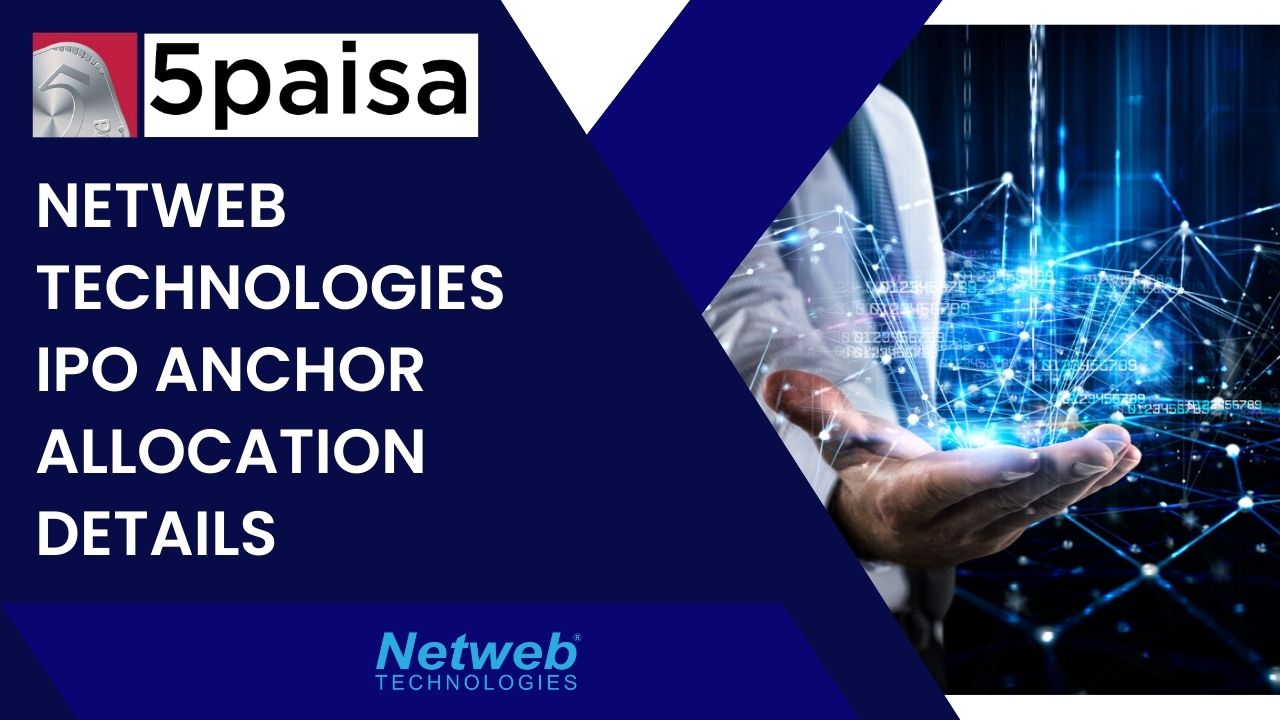 ---

The anchor issue of Netweb Technologies India IPO saw a robust response on 14th July 2023 with 30% of the IPO size getting absorbed by the anchors. Out of the 1,26,20,000 (1.262 crore) shares on offer, the anchors picked up 37,80,300 shares accounting for 30% of the total IPO size. The anchor placement reporting was made to the BSE late on Friday. The IPO of Netweb Technologies India Ltd opens on 17th July 2023 in the price band of ₹475 to ₹500 and will close for subscription on 19th July 2023 (both days inclusive). The entire anchor allocation was made at the upper price band of ₹500. Let us focus on the anchor allotment portion ahead of the Netweb Technologies India Ltd IPO.
Before we go into the details of the actual anchor allotment, a quick word on the process of anchor placement. The anchor placement ahead of an IPO/FPO is different from a pre-IPO placement in that the anchor allocation has a lock-in period of just one month, although under the new rules, part of the anchor portion will be locked in for 3 months. It is just to give confidence to investors that the issue is backed by large established institutions.
However, the anchor investors cannot be allotted shares at a discount to the IPO price. This is explicitly stated in the SEBI revised regulations as under, "As per the Securities and Exchange Board of India (Issue of Capital and Disclosure Requirement) Regulations, 2018, as amended, in case the Offer Price discovered through book building process is higher than the Anchor Investor Allocation Price, then the Anchor investors will be required to pay the difference by the pay-in as specified in the revised CAN.
An anchor investor in an IPO is normally a qualified institutional buyer (QIB) like a foreign portfolio investor or mutual fund or insurance company or a sovereign fund which invests before the IPO is made available to the public as per SEBI regulations. Anchor portion is part of the public issue, so the IPO portion to the public (QIB portion) is reduced to that extent. As initial investors, these anchors make the IPO process more attractive for investors, and instil confidence in them. Anchor investors also largely aid in price discovery of the IPO
Anchor placement story of Netweb Technologies India Ltd
On 14th July 2023, Netweb Technologies India IPO completed the bidding for its anchor allocation. There was an enthusiastic response as the anchor investors participated through the process of book building. A total of 37,80,300 shares were allotted to a total of 25 anchor investors. The allocation was done at the upper IPO price band of ₹500 per share which resulted in an overall allocation of ₹189.02 crore. The anchors have already absorbed 30% of the total issue size of ₹631 crore, which is indicative of the robust institutional demand.
Listed below are the 17 anchor investors who got allotted at least 2.50% of the total anchor allocation individually. The entire anchor allocation of ₹189.02 crore was spread across 25 major anchor investors. The top 17 anchor investors listed below accounted for 87.08% of the total anchor allocation of Netweb Technologies India Ltd.
| | | | |
| --- | --- | --- | --- |
| Anchor Investor | No. of Shares | % of Anchor Portion | Value Allocated |
| Nippon India Small Cap Fund | 2,70,030 | 7.14% | ₹13.50 crore |
| ICICI Prudential Innovation Fund | 2,70,030 | 7.14% | ₹13.50 crore |
| Nomura Funds Ireland – India Equity | 2,70,030 | 7.14% | ₹13.50 crore |
| Goldman Sachs India Equity Portfolio | 2,70,030 | 7.14% | ₹13.50 crore |
| Regents of University of California | 2,70,030 | 7.14% | ₹13.50 crore |
| Eastspring Investments India Fund | 2,70,030 | 7.14% | ₹13.50 crore |
| Hostplus Pooled Neuberger Fund | 2,70,030 | 7.14% | ₹13.50 crore |
| Tata Small Cap Fund | 2,02,500 | 5.36% | ₹10.13 crore |
| ICICI Prudential Life Insurance | 2,02,500 | 5.36% | ₹10.13 crore |
| Whiteoak Capital Flexicap Fund | 1,60,620 | 4.25% | ₹8.03 crore |
| Motilal Oswal Midcap Fund | 1,47,780 | 3.91% | ₹7.39 crore |
| HDFC Dividend Yield Fund | 1,35,030 | 3.57% | ₹6.75 crore |
| HDFC Defence Fund | 1,35,030 | 3.57% | ₹6.75 crore |
| ABSL Digital India Fund | 1,08,000 | 2.86% | ₹5.40 crore |
| ABSL Small Cap Fund | 1,08,000 | 2.86% | ₹5.40 crore |
| Franklin India Technology Fund | 1,01,250 | 2.68% | ₹5.03 crore |
| Franklin India Opportunities Fund | 1,01,250 | 2.68% | ₹5.03 crore |
Data Source: BSE Filings
The GMP has remained stable at around ₹342, and it shows a very attractive premium of 68.40% on listing. This has led to reasonable anchor response with the anchors taking in 30% of the total issue size. The QIB portion in the IPO will be reduced to the extent of the anchor placement done above. Only the balance amount will be available for QIB allocation as part of the regular IPO.
The general norm is that, in anchor placements, smaller issues find it hard to get FPIs interested while larger issues do not interest from mutual funds. However, in the case of Netweb Technologies India Ltd, it has been a mix, getting good response from FPIs but it has also got strong response from the domestic mutual funds and the domestic insurance companies, considering its product positioning in the Indian market. The number and spread of the Foreign Portfolio Investors have been fairly healthy in this case. With strong SIP flows, most equity funds are flush with cash at this point of time and that has helped the MF appetite for anchor allocation in this IPO of Netweb Technologies India Ltd. Nippon India MF, HDFC MF, ICICI Prudential MF, Aditya Birla Sunlife MF, Axis MF, Tata Mutual, Whiteoak and Franklin India were among the major AMCs to participate in the anchor allotment of Netweb Technologies India Ltd.
Out of the total 37,80,300 shares allotted by way of anchor placement, Netweb Technologies India Ltd allotted a total of 22,27,680 shares to 19 domestic mutual fund schemes across 9 AMCs. The mutual fund allocation represents 58.93% of the overall anchor allocation ahead of the IPO.
Here is a quick background of Netweb Technologies India Ltd. It is a 24 year old company offering high-end computing solutions (HCS). This comprises computing and supercomputing systems; apart from making available shared infrastructure facilities like private cloud and hyper-converged infrastructure (HCI), AI systems, high performance storage and data centre servers. It offers a 360 degree solution to clients as it designs, manufactures, and deploys HCS which includes proprietary middleware solutions, end-user utilities, and precompiled application stack. The company is looking to leverage on the big opportunity with AI an ML being extremely computing capacity hungry. It has undertaken installations of over 300 Supercomputing systems and 50 private cloud and HCI installations.
The customers of Netweb Technologies India Ltd straddle across the sectoral mix. It includes end-user industries like IT, ITES, entertainment, BFSI as well as the government owned defence sector and the education and R&D segment. In terms of specific client profiles, some examples of its institutional and academic clients include IIT Jammu, IIT Kanpur, NMDC Data Centre, Graviton Research Capital, Institute of Nano Science and Technology, Jawaharlal Nehru University (JNU) etc. Its high end computing facilities are also utilized by the Indian space program.
Start Investing in 5 mins*
Rs. 20 Flat Per Order | 0% Brokerage
About the Author
Disclaimer
Investment/Trading in securities Market is subject to market risk, past performance is not a guarantee of future performance. The risk of loss in trading and investment in Securities markets including Equites and Derivatives can be substantial.
Open Free Demat Account
Account belongs to
By proceeding, you agree to the T&C.