Rishabh Instruments IPO gets 30% Anchor Allocated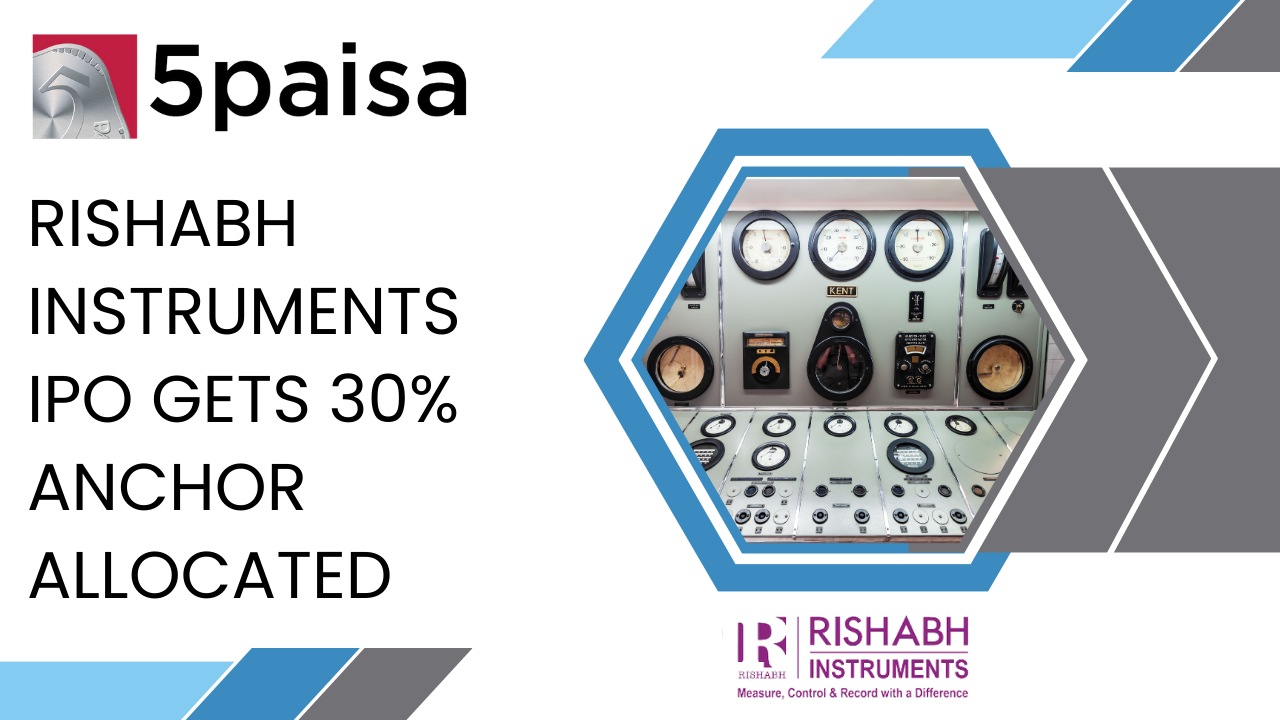 ---

About the Rishabh Instruments IPO
The anchor issue of Rishabh Instruments Ltd saw a relatively strong response on 29th August 2023 with 30% of the IPO size getting absorbed by the anchors. Out of the 1,11,28,858 shares (111.29 lakh shares approximately) on offer, the anchors picked up 33,38,656 shares (33.39 lakh shares approximately) accounting for 30% of the total IPO size. The anchor placement reporting was made to the BSE late on Tuesday, August 29th, 2023; a day ahead of the IPO opening. The IPO of Rishabh Instruments Ltd opens on 30th August 2023 in the price band of ₹418 to ₹441 and will close for subscription on 01st September 2023 (both days inclusive).
The entire anchor allocation was made at the upper price band of ₹441. This includes the face value of ₹10 per share plus a premium of ₹431 per share, taking the anchor allocation price to ₹441 per share. Let us focus on the anchor allotment portion ahead of the Rishabh Instruments Ltd IPO, which saw the anchor bidding opening and also closing on 29th August 2023. Before that, here is how the overall allocation will look.
| | |
| --- | --- |
| QIB Shares Offered | Not more than 50.00% of the Net offer |
| NII (HNI) Shares Offered | Not less than 15.00% of the Offer |
| Retail Shares Offered | Not less than 35.00% of the Offer |
The overall allocation to QIBs includes the anchor portion, so the anchor shares allotted will be deducted from the QIB quota for the purpose of the public issue.
Finer points of anchor allocation process
Before we go into the details of the actual anchor allotment, a quick word on the process of anchor placement. The anchor placement ahead of an IPO/FPO is different from a pre-IPO placement in that the anchor allocation has a lock-in period of just one month, although under the new rules, part of the anchor portion will be locked in for 3 months. It is just to give confidence to investors that the issue is backed by large established institutions.
However, the anchor investors cannot be allotted shares at a discount to the IPO price. This is explicitly stated in the SEBI revised regulations as under, "As per the Securities and Exchange Board of India (Issue of Capital and Disclosure Requirement) Regulations, 2018, as amended, in case the Offer Price discovered through book building process is higher than the Anchor Investor Allocation Price, then the Anchor investors will be required to pay the difference by the pay-in as specified in the revised CAN.
An anchor investor in an IPO is normally a qualified institutional buyer (QIB) like a foreign portfolio investor or mutual fund or insurance company or a sovereign fund which invests before the IPO is made available to the public as per SEBI regulations. Anchor portion is part of the public issue, so the IPO portion to the public (QIB portion) is reduced to that extent. As initial investors, these anchors make the IPO process more attractive for investors, and instil confidence in them. Anchor investors also largely aid in price discovery of the IPO
Anchor placement story of Rishabh Instruments IPO
On 29th August 2023, Rishabh Instruments IPO completed the bidding for its anchor allocation. There was a strong and robust response as the anchor investors participated through the process of book building. A total of 33,38,356 shares were allotted to a total of 16 anchor investors. The allocation was done at the upper IPO price band of ₹441 (including premium of ₹431 per share) which resulted in an overall allocation of ₹147.23 crore. The anchors have already absorbed 30% of the total issue size of ₹490.78 crore, which is indicative of fairly robust institutional demand.
Listed below are the 16 anchor investors who got allotted shares as part of the overall anchor allocation quota for the IPO of Rishabh Instruments Ltd. The entire anchor allocation of ₹147.23 crore was spread across these 16 major anchor investors, of which only 1 anchor investors got allotted less than 4% of the anchor portion. These 16 anchor investors listed below accounted for 100% of the total anchor allocation of Rishabh Instruments Ltd and their participation will set the tone for retail participation in the IPO.
| | | | |
| --- | --- | --- | --- |
| Anchor Investors | No. of Shares | % of Anchor Portion | Value Allocated |
| Aditya Birla Life Insurance Co. | 4,14,970 | 12.43% | ₹18.30 crore |
| Sundaram Flexi Cap Fund | 3,48,738 | 10.45% | ₹15.38 crore |
| Nippon India Small Cap Fund | 3,14,942 | 9.43% | ₹13.89 crore |
| Quant Dynamic Asset Allocation Fund | 2,56,270 | 7.68% | ₹11.30 crore |
| Nippon India Flexi Cap Fund | 2,51,974 | 7.55% | ₹11.11 crore |
| Bandhan Emerging Business Fund | 2,07,502 | 6.22% | ₹9.15 crore |
| Bandhan Multi-Cap Fund | 2,07,468 | 6.21% | ₹9.15 crore |
| Ashoka India Equity Fund | 1,81,648 | 5.44% | ₹8.01 crore |
| Tata Multi-Cap Fund | 1,81,648 | 5.44% | ₹8.01 crore |
| 3P India Equity Fund | 1,81,648 | 5.44% | ₹8.01 crore |
| Quant Manufacturing Fund | 1,58,700 | 4.75% | ₹7.00 crore |
| HDFC Infrastructure Fund | 1,41,746 | 4.25% | ₹6.25 crore |
| HDFC Dividend Yield Fund | 1,41,746 | 4.25% | ₹6.25 crore |
| HDFC Defence Fund | 1,41,746 | 4.25% | ₹6.25 crore |
| HDFC Transportation and Logistics Fund | 1,41,746 | 4.25% | ₹6.25 crore |
| Sundaram Equity Savings Fund | 66,232 | 1.98% | ₹2.92 crore |
| Grand Total Anchor Allocation | 33,38,656 | 100.00% | ₹147.23 crore |
Data Source: BSE Filings
While the GMP has surged to a robust level of ₹76, it shows an attractive premium of 17.23% on listing. This has led to reasonable anchor response with the anchors taking in 30% of the total issue size. The QIB portion in the IPO will be reduced to the extent of the anchor placement done above. Only the balance amount will be available for QIB allocation as part of the regular IPO.
The general norm is that, in anchor placements, smaller issues find it hard to get FPIs interested while larger issues do not interest mutual funds. Rishabh Instruments Ltd has witnessed anchor interest from domestic mutual funds, foreign portfolio investors, and even insurance companies.
Rishabh Instruments Ltd, in consultation with the book running lead managers (BRLMs) have allocated a total of 25,60,390 shares to domestic mutual funds, spread across 13 mutual fund schemes of 6 mutual fund AMCs. The mutual fund allocation alone is 46.69% of the total anchor book of Rishabh Instruments Ltd with an investment value of ₹112.91 crore.
Read about Rishabh Instruments
Brief on the Rishabh Instruments Ltd business model
Rishabh Instruments Ltd was incorporated in 1982 to manufacture, design and develop instruments for testing and measuring as well as manufacture Industrial Control Products (ICP). Basically, Rishabh Instruments offers cost-effective methods to measure, control, record, analyse, and optimize energy and processes. Rishabh Instruments Ltd also provides complete aluminium high-pressure die-casting solutions for customers in need of close tolerance fabrication. This finds applications in areas like automotive compressor manufacturing and automation high precision flow meters. These products are also used in machining, and finishing of precision components. Today, Rishabh Instruments Ltd also has a strong footprint in Europe, thanks to the acquisition of Lumel Alucast in 2011. Lumel Alucast is a European non-ferrous pressure casting company which specializes in the manufacture and supply of low-voltage current transformers.
The company also offers the outsourcing of certain manufacturing processes. This includes the manufacturing services like mould design and manufacturing, EMI and EMC testing services, Electronic Manufacturing Services (EMS), and very customized software solutions to enhance the performance of products. Broadly, in terms of business segments, Rishabh Instruments Ltd has 4 key verticals. These verticals include Electrical automation devices, Metering, control, and protection devices, Portable test and measuring instruments, and solar string inverters. Currently, the company has 3 manufacturing plants located in India and it services its local and international clients with the support of over 150 dealers in India and another 270 dealers spread across 70 international locations.
The issue will be lead managed by DAM Capital Advisors (formerly IDFC Securities), Motilal Oswal Investment Advisors and Mirae Asset Capital Markets. KFIN Technologies Ltd (formerly Karvy Computershare Ltd) will be the registrar to the issue.
Start Investing in 5 mins*
Rs. 20 Flat Per Order | 0% Brokerage
About the Author
Disclaimer
Investment/Trading in securities Market is subject to market risk, past performance is not a guarantee of future performance. The risk of loss in trading and investment in Securities markets including Equites and Derivatives can be substantial.
Open Free Demat Account
Account belongs to
By proceeding, you agree to the T&C.