Why McDonalds India has dropped tomatoes from its menu?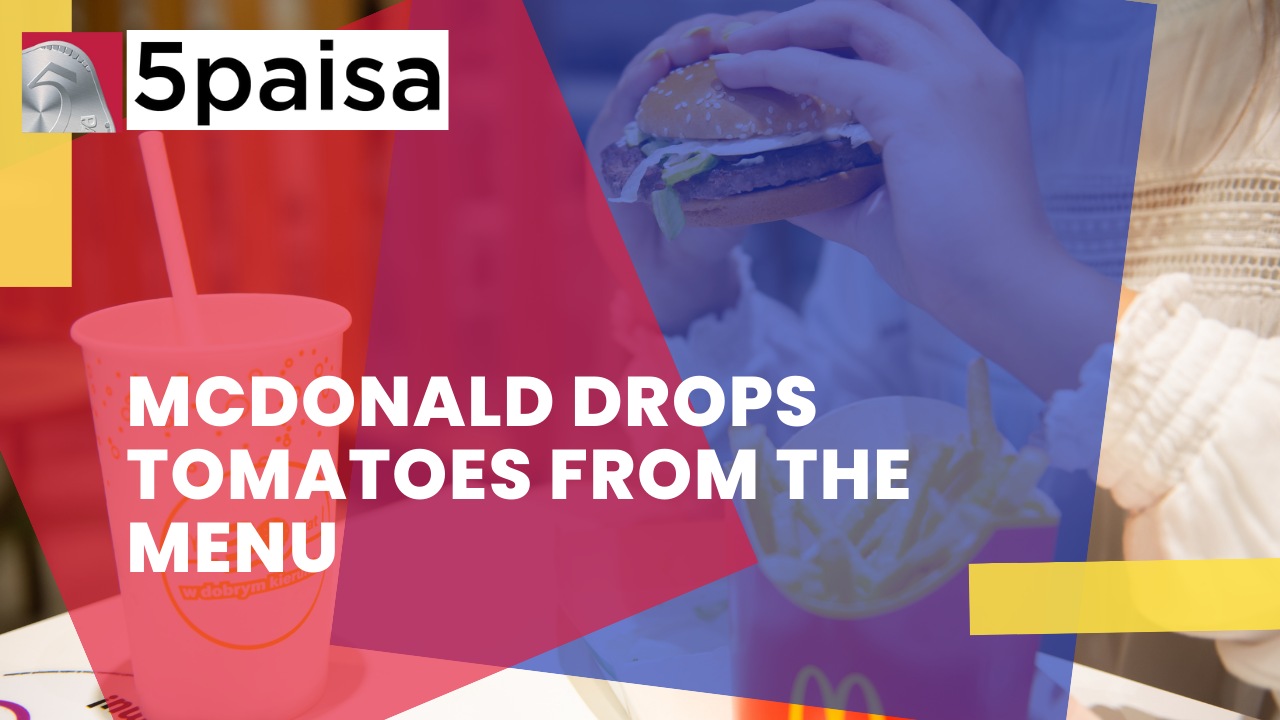 ---

You must have surely heard of the famous song by John Denver, "Home grown tomatoes, home grown tomatoes; What would life be like without homegrown tomatoes; Only two things that money can't buy; That's true love and home grown tomatoes."
If the current tomato situation is anything to go by in India, then people may have to soon start growing tomatoes at home. Not just because it is getting too pricey, but also because tomatoes are just not available in the market. It is not just the average housewife facing this problem with the tomatoes. Even billion dollar companies like McDonald's are facing a severe tomato crunch in India.
Why are tomatoes off the McDonald's menu?
Most of the McDonald's outlets in India are prominently displaying signs that the fast food giant has dropped tomatoes from their burgers and wraps. Actually, it is hard to imagine any of the McDonald dishes without the ubiquitous tomatoes. It not only gives taste but also gives freshness and a special flavour to the fast foods. Most people may consider fast foods to be dull and boring and it is these tangy tomatoes that really add some spice and excitement to the burgers and wraps. How would be it eating these carb rich burgers and wraps without the tangy tomatoes? But, McDonald's has its reasons too.
For McDonald's, it is not just about the steep price. The price can be absorbed or even partially passed on to the customers. It may not really pinch too much. The problem is the supply shortages and quality concerns after prices of tomatoes soared to record level. In some parts of India, the price of tomatoes spiked as much as 250% to 300% in a single month with most people cutting back on tomato consumption due to the affordability factor. For McDonald's, it is also the reality that the kind of bulk tomatoes that they require are just not available. At least, not with the kind of quality and flavour that McDonald's would normally expect in India.
In several outlets across the North, the centre managers at McDonald's have complained that despite their best efforts, they were not able to procure adequate quantities of tomatoes which pass their stringent quality checks. As a result, McDonald's is constrained to serve its burgers and wraps without the tomatoes. The problem is not just due to the price but due to the supply chain related issues. The tomato shortage is most acute in the North and East, so they have adopted this no-tomato policy across their 150 outlets in these regions. For now, McDonald's hopes it would be a temporary seasonal issue only.
It is not an all-India problem yet for McDonald's
For now, McDonald's outlets are only restricting this to outlets where there is a genuine supply chain constraint. That is predominantly in the North and, to a lesser extent in the East. While McDonald's has 150 outlets in the North and the East, it has bulk of 357 outlets in the West and the South. Store managers have confirmed that there is no such tomato supply issue in the West and the South. So, the problem is still very regional in nature and most likely temporary due to weather related reasons.
If you look at the impacted outlets in the North and East as percentage of overall India outlets, it is just about 10% to 15% outlets that have stopped serving tomatoes in their menus. So, it is still a localized problem in certain regions and as a percentage of overall outlets, it is still not a major issue for McDonald's. Will that impact the demand for McDonald's products and give an edge to competitors like Burger King and others?
Competitors are gaining at multiple levels
It is not just at the level of the quick service restaurants (QSR) that the impact is being felt but also at a product positioning level. Apparently, the problem of tomato shortage is not as serious for Burger King as it is for McDonald's, even in the North and the East. Apparently, they had larger stocks of tomatoes and that has helped them, although it is not clear how long such stocks will last.
Market observers realize that the impact on McDonald's would be minimal. Today, tomato price and availability are a national problem and every household and business are facing it. Hence such a notice would not come as a surprise for most people. For the loyalists, it would be just about getting over the next few days before tomatoes come back on the menu.
In any crisis, it eventually boils down to how the crisis is handled and how the story is communicated. In terms of communication, McDonald's appears to have got it right. They appear to be underlining time and again that there were not able to get adequate quantities of tomatoes passing their world class stringent quality checks. In India, and across the world, people still place a lot of premium on quality and taste when it comes to food.
If the right message is sent out, it could actually work positively for them. Of course, there is the story of tomato puree companies that are pushing their tomato paste and tomato puree as an alternative to fresh tomatoes. We have to see how that evolves over time, although the FMCG story could be a lot more complicated.
What has created this tomato crisis in India?
The sharp rally in tomato prices started around early June 2023 and it rallied by up to 90% I June. Things just went berserk in July wherein the prices doubled or tripled in a number of cities. The lowest increase in price of tomatoes in the last 2 months has been in Hyderabad, which itself is a whopping 23%. But what has caused this surge in tomato prices? The primary culprit for the surge in tomato prices has been crop damage.
There was unusually hot weather in the main growing areas of Karnataka, coupled with incessant rain. It is ironic because just a few months back, farmers were literally dumping tomatoes at the mandis. Ironically, the average price of tomatoes is still below the level of last year, but the real issue time around is the supply. People are just not able to get enough of the vegetable of appropriate quality.
According to commodity market experts, the key reason for the spike in tomato prices has been a fall in arrivals into mandis, which has fallen by nearly 25%. The pain has been felt in the biggest tomato growing states of Karnataka, Maharashtra, and Telangana. A combination of delayed monsoons and deluges have created this shortage. Arrivals in the market are hit by supply and logistics issues as incessant rains have washed away highways in many places. All in all, it looks like the problem may persist for some more time. For McDonald's customers, they will have to get used to eating burger without tomatoes.
Miles Kington famously explained the difference between knowledge and wisdom using the example of tomatoes. According to Kington, "Knowledge is knowing that tomato is a fruit. Wisdom is not putting it in a fruit salad." For McDonald's, the real piece of wisdom is preparing its customers for burgers without tomatoes without losing the flavour and also without losing the customer.
Check out Best FMCG Stocks
Start Investing in 5 mins*
Rs. 20 Flat Per Order | 0% Brokerage
About the Author
Disclaimer
Investment/Trading in securities Market is subject to market risk, past performance is not a guarantee of future performance. The risk of loss in trading and investment in Securities markets including Equites and Derivatives can be substantial.
Open Free Demat Account
Account belongs to
By proceeding, you agree to the T&C.