Who doesn't want Money?? Especially if someone assures you to double the amount you have invested that too within a short period of time definitely anybody would fall prey to such Ponzi schemes. The fraudsters are greedy and that end ups in the biggest scams especially in country like India. Indian Stock Market has always been in lime light for all the biggest scams. But there are so many other scams taking place in India which has shocked and opened eye of those who invest their hard earned money without even thinking for a second how much loss it would create. One such financial scam or the chit fund scam which happened In India is SARADHA GROUP SCAM.
The Collapse of the Ponzi Schemes operated by Saradha Group led to significant political crisis and financial instability in the economy. The Group offered the investors outrageous Profits and reliable investment schemes and this attracted many to the Ponzi Schemes. The origins of the fraud may be traced back to Group's front line enterprises, which raised money from the public by issuing bonds and debentures such as secured bonds and preferential debentures.
The Saradha Group Establishment
The SARADHA Group was established in the year 2006.  The Saradha Group had its base in West Bengal and was established by the mastermind Mr. Sudipto Sen, the chairman of Sarada Group of Companies. Saradha Group was named after Sarada Devi, the wife of spiritual Ramakrishna Paramahamsa of West Bengal. Ramakrishna Paramahamsa and Sarada Devi were blindly followed and believed by people as they were into spirituality. Now Mr. Sudipto Sen used her name for his company to gain confidence among people and develop faith of the investors in his schemes. The Saradha Group promised investors huge returns for their invested amount.
Background
Business Sudipto Sen introduced the programme in the beginning of 2000s in West Bengal. West Bengal is known as the centre of Naxalite and also India's "Ponzi Capital".  It was operated by Saradha Group an umbrella organisation with 200 private participants. The strategy which was designed for modest investors gained popularity as the schemes offered significant profits.  A Large network of agents received commission of more than 25% when they collected money from the investors.  In few years The Saradha Group raised roughly Rs 2500 crore.
The business developed its brand through various marketing techniques.  In addition the company used various celebrity endorsements and also supported traditional activities like Durga Pooja and investments in football clubs to draw attention of Public. This initiative quickly spread to areas like Odisha, Assam and Tripura and by then around 1.7 million people had already invested in the schemes.
Initially he raised money in the form of redeemable bonds and secured debentures but as per Indian Securities Regulations and Indian Companies Act, a company cannot raise capital from more than 50 people without issuing proper documents like prospectus, and balance sheet after due permission from Securities and Exchange Board of India(SEBI). So in 2009, when SEBI raised questions about the working of the company Sudipto Sen opened around 239 companies to confuse SEBI and operate the chit fund peacefully.
The Saradha Group used various tricks and methods to raise funds. Collective Investment Schemes(CIS) included tourism packages, forward Travel, Hotel booking, timeshare credit transfer, real estate , infrastructure finance and motorcycle manufacturing were used as a trap by this group. Many investments were sold in the form of chit fund as they were regulated by state government and not by SEBI. But all these activities were being watched by SEBI.
Celebrities Join The Group
Sudipto Sen was able to raise about 2500 crores in a few years of time. The Group continued to raise capital from ordinary people and the bulk of its investors put around Rs 50000 each. In this way he maintained a goodwill and name of Saradha Group as he appointed big film stars and celebrities as brand ambassadors which had names like Mithun Chakraborty , Satabdi Roy. Also Sudipto Sen appointed TMC MP, Mr. Kunal Ghosh as the CEO of  the media group.
Acquiring Media Through Politicians
Under the Leadership of Kunal Ghosh , The Saradha Group acquired Bengali News Channels like the TARA News and Channel 10. The group also added several general entertainment channels to its group namely, Tara Music and Tara Bangla, Tara Punjabi, TV Southeast Asia, and one FM radio station. They also acquired several established local television channels and newspapers to gain investors' interest and faith.
They owned eight newspapers in five languages namely, Sakalbela, and Kalom (Bengali newspapers), Seven Sisters Post and Bengal Post (English newspapers), Prabhat Varta (Hindi newspaper), Ajir Dainik Baturi (Assamese newspaper), Azad Hind (Urdu newspaper), and Parama (Bengali weekly magazine). 
Enterance To AutoMobile and Agro Business
In 2011, Saradha Group bought Global Automobiles, a heavily indebted motorcycle company.  It also bought other companies like West Bengal Awadhoot Agro Private Ltd and Landmark Cement to showcase them to their agents and depositors and hence convince them that the Saradha Group had diversified interests and is running successfully with various other sectors.
Police and Political Connections
Though SEBI kept an eye on the SARADHA GROUP ACTIVITIES of raising fund they lacked powers as per law to investigate the matter without magisterial permissions and they were pretty sure that such type of fund raising that too a huge amount is not possible without political influence.  It is believed that Sudipto Sen had close connections with TMC leaders as he paid huge money to several politicians and police officers so as to ensure that no one traps him for fraud case. He also employed wives of police officers to prevent investors from raising alarm against his investment programmes.
The Sarada Group gifted patrol motorcycles to Kolkata Police and the government deployed and distributed ambulances and motorcycles sponsored by the SARADHA GROUP in the Naxal hit areas of the states.
The Saradha Group Scam
SEBI was persistently chasing SARADHA GROUP for its activities since 2010. Since SEBI's actions forced Sudipto Sen to change his methods to raise funds, SEBI warned the West Bengal Government about the SARADHA GROUP Chit Fund Activities in the year 2011.  Since public warning were being raised by the MPS of West Bengal about this CIS activity , the CBI probed in. The warnings were issued to the group by MPs Somendra Nath Mitra and Abu Hasem Khan Choudhary and TMC leader Sadhan Pande. The RBI also asked West Bengal government on 7th December 2012, to initiate action against the companies that were indulging in the financial malpractice.
SARADHA GROUP fortune started to shatter towards the end of 2012 when complaints started piling for payment defaults. In the year 2013 as Sudipto Sen ran out of cash and ideas to cheat people , he started facing the downfall and collapse of his organisation.  Sudipto failed to calm his investors and their allegations for defaulting their payments. Sudipto wrote a letter on April 6th, 2013 and mentioned all details about the scam and the amount of the scam was worth over 10,000 crore. After writing this letter Sen went absconding. On 22nd April, Mamta Banerjee announced four member judiciary inquiry commission to probe in to the scam and also set up a relief fund for the investors.
Arrest of the Scamster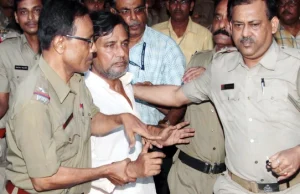 After detecting the scam the state government set up a Rs 500 crore relief fund for small investors who had put money in the scheme, to prevent from going bankrupt. In written confession Sudipto Sen had mentioned names of many politicians who were directly or indirectly involved in the scam.  This scam brought four regulators together i.e. SEBI, RBI and the Income Tax Department and corporate affairs ministry to further investigate the matter.
In few weeks time Saradha Group was ordered to immediately stop taking funds from the public and the officials of Saradha Group were arrested along with the properties being seized. The four regulators were bought together to unify the regulations of investment schemes since they were governed by different laws and regulations and were prone to fraud and regulatory loopholes. The SEBI Act was also amended so that the SEBI had the power to search without prior magisterial permission to investigate the illegal money collection schemes.
The West Bengal State government then set up a Special Investigation Team to investigate the case. After many interrogations and investigations Sudipto Sen was finally jailed for seven years and various cases remain pending on him. The CBI in their effort to retrieve money of the investors are still trying to get back money that is sent abroad.  After all, the poor and middle class investors lost money. People who were once friends became enemies and each and every household had a bankrupt depositor or an agent. Now SEBI is in the process of auction of the properties and assets of Saradha Group of Companies so as to recover the amount.
Lessons For The Investors From THE SCAM
BLIND INVESTMENTS
A 50-year old domestic help lady living in the outskirts of Kolkata invested Rs 30000 in the deposit run scheme by Saradha Group. She lost her entire amount as the company shut its operations. An agent of the company attempted suicide out of the fear to face depositors. Those who invested money were poor and uneducated. They believed in the words of the agents and the company's false claims. The blind investors ended up loosing money. These people will never be able to recover their lost amount as the scam is huge and the recovery will take many years.
REGULATORY REFORMS
The scam exposed significant gaps in India's Regulatory framework. As a response the government implemented strict reforms to strengthen regulations and oversight of investment schemes, chit funds and collective investment plans. SEBI now has strict guidelines and increased powers to curb fraudulent activities.
INVESTOR AWARENESS
The Saradha Group Scam served as a wake up call for investors emphasizing the need for conducting thorough research seeking professional advice, and investing in SEBI regulated schemes and financial products only. It also made people aware that financial literacy is also important while taking investment decisions.
STRINGENT PUNISHMENT
The legal proceedings against Saradha Group culminated in the conviction of the key individuals involved. Sudipto Sen and others received sentences for their frauds. Despite of the strict rules and punishments fraudsters are finding ways and means to do frauds and earn money. It is upon the investor to take a wise decision before investing
DOCUMENTS AND VERIFICATION NECESSARY
Each and every investment schemes which are SEBI Regulated provide prospectus and fund related details. Investors before investing should read, verify and then make investment.
EVERY ONE BUYING IT
Investors often fall prey to such pitches where the agents or company say everyone buys it , you should also invest. Before falling for this trap investor must first think whether such type investment will benefit them or not. 
Conclusion
The Saradha Group Scam has taken life of many agents , depositors , executives and directors. The Saradha Group Scam will remain etched in the Indian History reminding about the financial frauds one should be aware of. These kind of luring schemes and high yielding investment options sometimes are attractive but it can change the game for the common man forever. The scam shed the light on the vulnerabilities in the financial system, necessitating reforms, investor education, and strengthened regulatory measure. With this incident investors should learn to protect themselves from the frauds and protect the integrity of the Indian financial system.