Azadi Ka Amrit Mahotsav is an initiative of the Government of India to celebrate and commemorate 75 years of independence and the glorious history of its people, culture and achievements.
This Mahotsav is dedicated to the people of India who have not only been instrumental in bringing India thus far in its evolutionary journey but also hold within them the power and potential to enable Prime
Minister Narendra Modi's vision of activating India 2.0, fuelled by the spirit of Aatmanirbhar Bharat.
The official journey of Azadi Ka Amrit Mahotsav commenced on 12th March 2021 which started a 75-week countdown to our 75th anniversary of independence and will end post a year on 15th August 2023.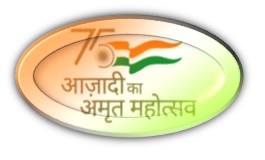 Before we begin the topic Lets discuss few important facts
The Government of India decided to celebrate the 75 years of Independence of India by giving tribute to freedom fighters.
As a part of this initiative Government decided to do various programs and named the celebration as
Azadi ka Amrit Mahotsav
Amrit Mahotsav meaning Nectar of grand celebration which signifies the 75 years of India's independence from British Raj.
The government of India also started a campaign Har Ghar Tirangawhere it is facilitating the delivery of a 20 x 30 inch National flag to every household at a subsidy rate of ₹25.
In addition, during this celebration, the country will remember all the significant landmarks during India's independence movement.
India will gain new power for future growth, and Azadi ka Amrit Mahotsav reminisces the elixir of the value of freedom.
It echoes motivation from freedom warriors, new visions, new resolutions, and self-dependence.
It strives to facilitate the youth and scholars to shoulder the accountability for fulfilling the country's efforts in recording the history of our Independence fighters.
Furthermore, it aims to showcase the accomplishments of the independence movement to the world.
Har Ghar Tiranga campaign under Azadi Ka Amrit Mahotsav
The Indian National Flag represents free India, evoking patriotism in the hearts of the masses. One can proudly associate the 'Tricolor' with the many brave souls who dedicated, even gave up their lives, so that the National Flag could fly high.
From the moment it was first hoisted, it has symbolized all our victories as a nation.
The National Flag of India was adopted in the meeting of the Constituent Assembly on 22nd July 1947, days before India gained Independence on 15thAugust 1947.

The colors of the National Flag of India hold great significance and were chosen distinctively to portray the spirit of India.

Saffron indicates strength and courage, white indicates peace and truth and green stands for fertility and growth.
The Chakra present in the center of the Flag symbolizes motion, progress, and advancement.
The dignity of the National Flag of India is governed by the 

Flag Code of India and its amendments. It describes the conventions, practices, and instructions for the display of the National Flag.

'Har Ghar Tiranga' was a campaign under the aegis of Azadi Ka Amrit Mahotsav to encourage people to bring the Tiranga home from 13th-15th August 2022.
Our relationship with the flag has always been more formal and institutional rather than personal.
Bringing the flag home collectively as a nation in the 75th year of independence thus becomes symbolic of not only an act of personal connection to the Tiranga but also an embodiment of our commitment to nation-building.
The idea behind the initiative is to invoke the feeling of patriotism in the hearts of the people and to promote awareness about the Indian National Flag.
India Celebrates 75 Years Of Independence
India is the birthplace of Democracy. India has proved that we as a country have a inherent strength which comes from our diversity and common thread of patriotism.
India is an aspirational society where changes are being powered by a collective spirit. Despite challenges India has always proved itself and have kept moving forward.
The way the world is viewing India has changed over the years. Today World looks India with pride hope and problems solver.
Key points of PM Modi's Independence Day speech at Red Fort
India needs to be a developed nation in next 25 years
During his Independence Day speech, PM Narendra Modi said that Indians must work towards a developed country and remove any vestiges of colonialism.
He added that Indians must also retain their roots while ensuring unity in diversity.
PM Modi said that citizens must also carry out their duties.
We must work towards a 'viksit bharat'
As we enter the amrit kaal, we must resolve to fulfil the dreams of India's freedom fighters, said PM Modi. 
"We must resolve to work towards a 'viksit bharat' and remove any vestiges of colonialism from any corner or in our hearts.
India is an aspirational society
India is an aspirational society where changes are being powered by a collective spirit. The people of India want positive changes and also want to contribute towards it. Every govt has to address this aspiration society.
We must fight against dynastic politics
PM Modi hit out at dynasty politics in his address at the Red Fort. Stating that it's a challenge for India, he called upon the citizens to fight against the "bhai-bhateeja", "parivardvadi" politics.
Corruption is eating away at the foundation of India.
I want to fight against it. I call upon the 130 crore Indians to help me fight against corruption.
Some people keep glorifying those who have been convicted of corruption and spent time in jail. We must ensure an attitude of hatred towards corruption and the corrupt.
        5. 'Respect Women, Support Nari Shakti'
Saluting the role of women in India's struggle for independence, PM Modi said that every Indian is filled with pride when they remember the strength of the women of the country – be it Rani Laxmibai, Jhalkaribai, Chennamma, Begum Hazrat Mahal.
PM Modi said respect for women is an important pillar for India's growth and stressed the need to extend support to 'Nari Shakti'.
 Pride of Nari Shakti will play a vital role in fulfilling the dreams of India. Respect for Women is an important pillar for India's growth. We need to support our Nari Shakti.
Conclusion
Over the past 17 months, Azadi Ka Amrit Mahotsav has truly shaped into an initiative that is powered and led by the aspirations and hopes of the people of India, with outreach across both urban and rural areas, especially smaller towns and local communities.
Events and initiatives organized under Azadi Ka Amrit Mahotsav have seen enthusiastic and a wide range of participation, from the Central, State, and Local Government bodies to private sector entities to individuals, especially the youth.
Leveraging this momentum and patriotic fervor of Azadi Ka Amrit Mahotsav, the focus is now on nation-building for the future—focusing especially on the next 25 years when we shall achieve the historic milestone of 100 years of India's Independence.
India has emerged as a leader and is continuously evolving. Our beloved 'Tiranga' is soaring higher with each passing day, and our Independence Day is a reminder for preserving its integrity with all that we have.
In the 75th year of independence, the only thing the people of the nation should remember is that independence has not come so easy.
It is not something that should be taken for granted. It took a whole lot of struggle to achieve independence and it will sustain only when we value it. If people become indifferent to what they have achieved, then it is bound to fall apart.
This celebration ofAzadi ki Amrit Mahotsav is rather an occasion for embracing those values that keep the democracy vibrant.
It is a reminder for all of us to express gratitude to our forefathers. It is an occasion for making a resolution for all of us to contribute our bits to make this vibrant democracy going.