Airtel and Jio wins Google Money. Google who is a tech giant plans to invest around $10 billion dollar in India over the next 5-7 years by way of equity investments, partnerships and other arrangements to "accelerate digitalization" in the country.
Well will tech giant invest in India only with the aim of Digitization? Google claims the investment is being made for so that India gets cheaper android services, 5G Networks and more cloud services in India.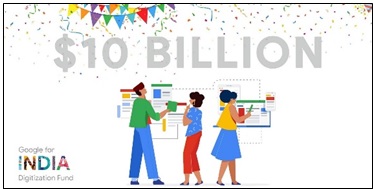 Google for India Digitalization Fund
Google Announced $10 billion dollar investment in India over the next 5-7 years which is approximately 75000 crore. This funding is called "Google for India Digitalization Fund".
The fund will be deployed to accelerate the tech giants  efforts through a mix of equity investments, partnerships, operations, infrastructure, and ecosystem investments.
Google Investment has following aims
First, enabling affordable access and information for every Indian in their own language, whether it's Hindi, Tamil, Punjabi or any other.
Second, building new products and services that are deeply relevant to India's unique needs
Third, empowering businesses as they continue to embark on their digital transformation.
Fourth, leveraging technology and AI for social good, in areas like health, education and agriculture.
But Why Google is Taking so much interest in India ?
India is a key overseas market for Google Company, where a range of its products and services including Search, You Tube and Android have made inroads with much of the entire online population.
The nation of 1.3 billion people has emerged as perhaps the last great untapped growth market for American and Chinese giants.
More than 500 million people in India are online today and over 450 million smartphones are in active use in the country.
Google Investment in Airtel and Jio
After India Digitalization Fund was announced Google made announcement that it will be investing $4.5billion investment in to Reliance's Jio Platforms. They paid this gargantuan sum to acquire a 7.7% stake in the company and a seat on its board.
Google announced that it will be investing up to $ 1 Billion in India's number two telecom Bharti Airtel. The deal got greenlit by the Competition Commission of India. $ 700 million will go in to the picking a minority (1.28%) stake in the telco.
Another $ 300 million will be set aside for commercial deals that the two companies may pursue together.
How Airtel and Jio will help for Digitizing India
Google already has 95% market share in India's mobile phone market through its Android Operating system. It also has payments app that occupies the number two spot in India's UPI ecosystem. Also people use them in some or the other way, then why Google needs India's telecoms?
The answer is simple!
There are around 350 million folks in India who are still using feature phones. Google doesn't have access to these customer base.
But they are connected to the largest telecom players in India which is Airtel and Jio.
These users can quickly be converted to use Google once they migrate to new technology.
Then it will be Google who will make money. Google in collaboration with Jio has already brought in low cost 4G smartphones called JioPhone Next with Reliance to steer people to the internet age. And also plans to do the same with Airtel.
Also Google is eyeing for Google Cloud deal to be increased from current 10% share when compared to its market rival Amazon AWS which has currently 33% .
So what are benefits for Indians With the Deal ?
Reliance agreed to shift its legacy business onto Google Cloud infrastructure and use the platform for its massive ecommerce project –Jiomart. So here India will get better cloud solution provider and make transitions for many entities.
MSME's to be benefited as digital payments and broadband services will be available for them . And as the sector is already contributing 29% to the country's GDP a better digital environment can help MSME sector perform in much better way.
Well all such deals depends on how the Tele companies effectively put Google money to use . All the speculations may or may not be true. But one thing is sure that Google has always tried its best to Satisfy Indian Consumers with many such partnerships deal.