"Free Trade Agreement  is necessary because Every man lives by exchanging "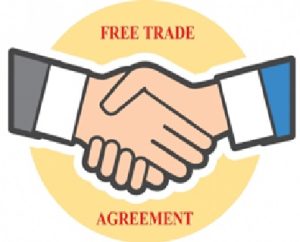 As the saying goes Man needs to exchange so that he gets a better living. The concept of exchange is not restricted to two individuals , today it is a global concept. With Globalization Trade relations have boosted between all countries. The goal of globalization is to boost economies around the world by making markets more efficient. Trade Relations also developed the concept of Trade Agreements
What are Trade Agreements?
Trade agreements occur when two or more nations agree on the terms of trade between them. They determine the tariffs and duties that countries impose on imports and exports. All trade agreements affect international trade.
So what are Free Trade Agreement ?
FTAs are the arrangements between two or more trading alliances that primarily agree to lessen or dispose of customs tariff and non-tariff barriers on substantial trade between them.
Under a free trade policy, goods and services can be bought and sold across international borders with little or no government tariffs, quotas, subsidies, or prohibitions to inhibit their exchange. The concept of free trade is the opposite of trade protectionism or economic isolationism.
In the modern world, free trade policy is often implemented using a formal and mutual agreement of the nations involved. However, a free-trade policy may simply be the absence of any trade restrictions.
Why Free Trade Agreement is Significant for India
1.  It is an Opportunity for India in the post Covid World
2.  Increase Global Supply
3.  A Bigger Market Size
4.  Increase in Exports
FTAs have been beneficial for India. From 1993 and 2018, India's exports of manufactured products grew at an annual average of 13.4% to nations with which it has trade agreements
India Israel Relations
Israel and India are preparing to resume Free Trade agreement and for discussing the same Indian Delegates arrived at Jerusalem.
Israel's Economic Ministry said a senior team from India's Industry and Trade would meet with their Israeli counterparts to discuss the ground rules but did not say when actual trade negotiations would resume.
India Israel Economic Ties have become stronger and both the countries have developed close relationship for about more than eight years and ever since Indian Prime Minister Narendra Modi has been in power the two countries have developed a partnership for strategic, military and technology.
Bilateral Trade between India and Israel totalled $6.3 billion in 2021 which is up from $ 200 million in 1992.
Israel has emerged as one of the biggest suppliers of weapons alongside the United States and Russia. Former Israeli ambassador Mr Ron Molka said that the trade would be great deal and would also ease trade barriers for Israeli Companies Operating in India.
Commercial Relations
India is the largest buyer of Israeli military equipment and Israel is the second-largest supplier of military equipment to India after Russia. From 1999 to 2009, military business between the two nations was worth around US$9 billion. Military and strategic ties between the two nations extend to intelligence-sharing on terrorist groups and joint military training.
In recent years, bilateral trade has diversified into several sectors such as pharmaceuticals, agriculture, IT and telecom and homeland security. India is Israel's third-largest trade partner in Asia and seventh largest globally. Major exports from India to Israel include precious stones and metals, chemical products, textiles and textile articles, etc.
Major imports by India from Israel include precious stones and metals, chemicals and mineral products, base metals and machinery and transport equipment.
Agriculture:
Under a comprehensive Work Plan for cooperation in agriculture signed on 10 May 2006 India has benefited from Israeli expertise and technologies in horticulture mechanization, protected cultivation, orchard and canopy management, nursery management, micro-irrigation and post-harvest management particularly in Haryana and Maharashtra.
Israeli drip irrigation technologies and products are now widely used in India. Some Israeli companies and experts are providing expertise to manage and improve dairy farming in India through their expertise in high milk yield.
Defence & Security:
India imports critical defence technologies from Israel and There are regular exchanges between the armed forces.
There is cooperation on security issues, including a Joint Working Group on Counter-Terrorism.
India and Israel signed three important agreements on Mutual Legal Assistance in Criminal Matters, Cooperation in Homeland Security, and Protection of Classified Material.
Since 2015, IPS officer trainees have been visiting the Israel National Police Academy every year for a one-week long foreign exposure training at the end of their training in the National Police Academy, Hyderabad.
The Army has decided to order launchers, Spike Anti-Tank Guided Missiles (ATGM) and additional Heron Unmanned Aerial Vehicles (UAV), from Israel through the emergency procurement route.
Cooperation in S&T and Space:
India-Israel cooperation in S&T is overseen by the Joint Committee on S&T, established under the S&T Cooperation Agreement signed in 1993.
In 2017, an MoU for establishing the India-Israel Industrial R&D and Innovation Fund (I4F) by the Department of Science and Technology, India and the National Authority for Technological Innovation, Israel was signed.
This MoU, with a contribution of $ 20 m from each side over 5 years, is expected to play an important role in enabling Indian and Israeli enterprises to undertake joint R&D projects
Benefits for India from the Free Trade Agreement
The full potential of this relationship will be achieved only when business and commercial interests are mutually beneficial and the associations directly affect people. The benefits will need to be accessible and available for common citizens. Benefits Are listed as Follows
THIS IS IT
Israel can benefit from the Transformational journeys of many self-help women's collectives in India that have shown the way with the grassroots development model.
Israel is one of the few countries that can Help India in achieving self-reliance in the production of semiconductors. On citizen-to-citizen level engagement, both countries must come forward to build an institutional mechanism to share their community practices.
For example, India needs to learn a lot from the Inspirational role Kibbutz and Moshav as agriculture cooperatives play in nation-building in Israel. 
There is a strong need to use Soft power diplomacy to build people-to-people bridges and to add to economic benefits through robust inter-country tourism.
India's world-class institutes of higher education could benefit from the strong culture of research and innovation that thrives in Israel. 
The current crisis scarcity of Semiconductor chips can occasion a partnership by building chip manufacturing in India. 
Nothing touches our lives better than Cultural exchanges and connections. Indo Israeli Cultural connections have become stronger over the years
This needs to be revived after the current disruption and a Two-way street needs to be created.