INS Vikrant – India's First Swadeshi Aircraft carrier is the largest ship ever Built in maritime history. Prime Minister Narendra Modi commissioned the first indigenously designed and built aircraft today on 2nd September 2022 at Cochin Shipyard Limited in Kochi.
Before we begin the topic lets understand What is INS Vikrant ?
INS means Indian Naval Ship and IAC means Indigenous Aircraft Carrier
INS Vikrant is an aircraft carrier constructed by the Cochin Shipyard Limited for the Indian Navy. It is the first aircraft carrier which is built in India.
Vikrant is the largest naval ship to be designed and built in India, and with this accomplishment, the country joins the band of nations that have demonstrated such capability with major countries like United States (US), the United Kingdom (UK), France, Russia, Italy, and China.
The name Vikrant is a tribute to India's first aircraft carrier Vikrant R11 bought from the UK and commissioned in 1961. The name Vikrant was derived from the Sanskrit word 'Vikranta', meaning 'Very powerful' and 'brave'. 
The first INS Vikrant was a national pride symbol and played an important role in several military operations during Indo Pak War and was lastly decommissioned in the year 1997.
It has a large amount of indigenous equipment and machinery, involving major industrial houses in the country- BEL, BHEL, GRSE, Keltron, Kirloskar, Larsen & Toubro, Wartsila India etc. as well as over 100 MSMEs.
The ship would be capable of operating an air wing consisting of 30 aircraft comprising of MIG-29K fighter jets, Kamov-31, MH-60R multi-role helicopters, in addition to indigenously manufactured Advanced Light Helicopters (ALH) and Light Combat Aircraft (LCA) (Navy).
Challenges
Dependence on Imports for Subsystems and Components
Firstly we need to understand there are three components from the design to final outcome in any warships. That are Float , Move and Fight
Indian Navy has been able to achieve about 90% indigenization in the 'FLOAT' category, followed by about 60% in 'MOVE' category depending upon the type of propulsion.
However, in the 'FIGHT' category we have achieved only about 30% indigenization. Imports make up the remainder.
Chinese Influence in the Indian Ocean
China has significantly expanded its engagements in the Indian Ocean region over the past three decades, raising fears among American and Indian strategists that its growing naval presence.
Although China's ultimate aims in the Indian Ocean remain somewhat ambiguous, it is clear that the Chinese leadership is actively pursuing capabilities that would allow it to undertake a range of military missions in the region.
Cost and Time Overruns
The Navy suffers from cost and time overruns throughout most production projects, for example, INS Vikramaditya was inducted into service more than 10 years after it was purchased.
Outdated Submarines
A submarine fleet is considered indispensable to support the Navy's aircraft carriers, among other duties.
Currently, the Navy employs 15 conventional submarines, each of which requires breaking surfaces to charge its batteries, making them prone to detection every time they are launched.
INS Vikrant: Inside India's Newly-Commissioned Aircraft Carrier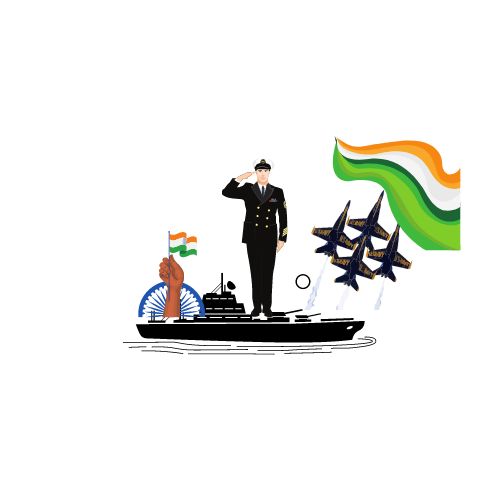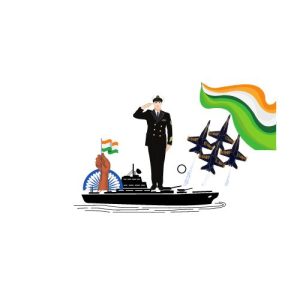 The 45000 tonne Vikrant got the prefix INS at a formal commissioning ceremony. The vessel – 262m (860ft) long and almost 60m (197ft) tall – is the first aircraft carrier India has designed and built on its own.
It has the capacity to hold 30 fighter planes and helicopters. Prime Minister called the carrier a "Floating City" and symbol of indigenous potential.
With INS Vikrant, India has joined the list of countries which manufacture huge aircraft carriers with indigenous technology. It has filled the country with a new confidence.
India's other aircraft carrier, INS Vikramaditya, can carry more than 30 aircraft. The UK Royal Navy's HMS Queen Elizabeth can carry about 40 and the US Navy's Nimitz class carriers can accommodate more than 60 aircraft.
At present, Vikrant is at the government-owned Cochin Shipyard in Kerala state – where the ship was built and where the commissioning ceremony was held. Once it's in service, it will eventually be the workplace – and home – for 1,700 crew members.
There are three galleys, or pantries, which have coffee-vending machines, tables and chairs, and places to keep large utensils. If you combine these galleys, close to 600 personnel can have their meals at the same time.
The ship is powered by four Gas Turbines totalling 88 MW power and has a maximum speed of 28 Knots. Built at an overall cost of close to ₹20,000 crores, the project has been progressed in three Phases of the contract between MoD and CSL, concluded in May 2007, December 2014 and October 2019 respectively. The ship's keel was laid in Feb 2009, followed by launching in August 2013.
With 76% of the ship's parts sourced indigenously – around 500 Indian firms were roped in . The shipyard is now investing in a new dock – to be ready by 2024 – to build India's next aircraft carrier.
Indian Navy sees the new warship as a key addition to its arsenal. India can now deploy an aircraft carrier on both its eastern and western seaboards and expand its maritime presence.